IMPACT!
A Volunteer Initiative for Adults Over 50
IMPACT! is a new volunteer initiative designed for Baby Boomers looking to use their skills, passion, and leadership to make a difference in people's lives through hands-on volunteering opportunities.
We are a one-stop shop for connecting Jewish Clevelanders to personal and powerful volunteer experiences in Cleveland and in Israel. Commitments range from one day, to one week, to one year, and can be tailor-fit to your interests.
Whether you are a long-time volunteer looking to meet others, or new to volunteering and need help finding the right opportunity, the Jewish Volunteer Network's IMPACT! initiative is here for you.
Learn more below

Certification Workshops & Pro Bono Services
What are your skills?
You've spent a lifetime building a skill set that can be useful to others. As IMPACT! volunteers find personal fulfillment using your professional talents to help others in need. Or, learn something new through workshops and certification courses. There are many meaningful volunteer opportunities that require training before getting started. We can help you build new skills while doing good for others.

Social Programming
What do you like to do?
We offer social and educational programming for IMPACT! volunteers. Get to know other volunteers like you who are discovering a new phase of their lives. Explore films, gallery tours, Jewish learning opportunities, discussion groups, and more while making new friends.

Volunteer Opportunities
What are your interests?
We will custom match your personal and/or professional passions from a vast selection of volunteer opportunities in our Jewish and general community. You'll work one-on-one with our IMPACT! coach to identify the opportunities that best fit your interests and schedule.
Trips & Travel
Would you like to travel?
We offer IMPACT! volunteer service missions that are unlike any other travel experience you can find. Travel with us and explore local and global cultures with a cohort of fellow Jewish Clevelanders. See the landscapes, live the culture, meet the people, and help make communities stronger. Join us!
Meet our IMPACT! Staff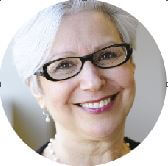 Meet Susan, our Jewish Volunteer Network Director
---