04/30/2019
Bedford Nissan Vehicles Add to Jewish Federation of Cleveland Security Fleet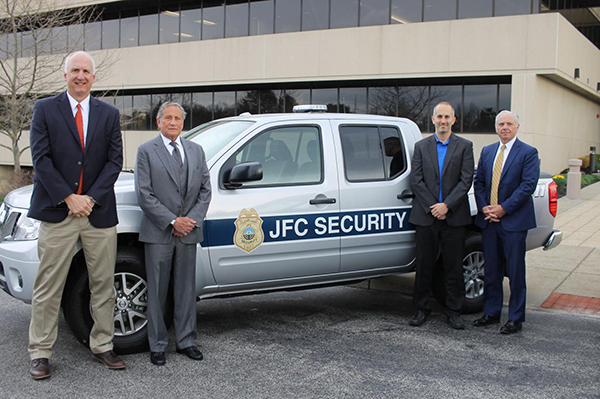 Article reprinted with permission from Cleveland Jewish News
ALYSSA SCHMITT | STAFF REPORTER
In an effort to support and make the Jewish community more secure, one auto dealership has stepped up in a big way by donating two pickup trucks to the Jewish Federation of Cleveland for use by its security provider. This increases the mobile security fleet from two to four vehicles.
Matt Greenberg, the executive manager at Bedford Nissan, had discussed with Federation President Erika B. Rudin-Luria becoming more actively involved in the Cleveland Jewish community. When the Tree of Life Congregation massacre happened Oct. 27, 2018, in Pittsburgh, Greenberg accepted Rudin-Luria's proposal of increasing the JFC Security, LLC's patrol by arranging the donation.
"Unfortunately, we live in a very challenging time right now," Greenberg said. "I've grown up Jewish, I've been involved in the Jewish community since I was a little kid here in Cleveland and I definitely feel that trying to protect our own is very important. I've worked in the car business for a long time and fortunately, we do have access to these nice vehicles and I just thought that this would be a great way to give back to the community and try to help in any way I could."
The additional vehicles will be used by licensed professional security staff of JFC Security and will be on patrol seven days a week, wherever the Jewish community is present or Jewish community events are taking place, said Oren Baratz, senior vice president of external affairs for the Federation.
"Adding two additional mobile patrol vehicles was an option we always had and as a result of Pittsburgh, we decided to go that route," he said.
He added that, up until Pittsburgh, Federation coordinated security for the local Jewish schools. Now, Federation will pay JFC Security, LLC to provide security to Jewish organizations with preschools and to synagogues. To be able to do that, it needed more patrol units. With the additional security responsibilities, JFC Security plans to hire more security staff.
In an email statement, Rudin-Luria said the donation will have an effect on the community for the foreseeable future.
"By donating these vehicles, they have made a profound impact on what JFC Security can do to keep our community safe and welcoming for many years to come," Rudin-Luria wrote.
Bart Bookatz, president of Berkowitz-Kumin-Bookatz Memorial Chapel in Cleveland Heights and chair of the security committee for the Federation's board of trustees, added donations like these help Federation focus on other needs throughout the community.
"It's important to realize that actions like Matt's allow us to continue to free up dollars to help Federation in their other programing and services to the community, so that continues and we don't have to draw from those resources," Bookatz said. "Acts of generosity like that enable those programs to continue."
Federation had two mobile units – a sedan and an SUV – until the donation. The trucks were donated to Federation for the next three years and the terms of the donation will be revisited after that time.
The vehicles provide Federation with an off-road, heavy-duty option and enough space for security equipment "necessary to provide the service we do to the community," said Jim Hartnett, security director of JFC Security.
Cleveland's Federation is one of the only federations that has its own mobile fleet. Other federations contract through security companies.
"We're pretty unique. A lot of federations are looking to get to the level we're at right now," Hartnett said.
Having its own security provider also gives more input to Federation's security efforts as it can assess the quality of people JFC Security hires and the level of training they possess, Baratz said.
Bookatz said the community should be proud of the level of security.
"We are a goal setter for federations around the country as to where they would like to see their federation go in terms of security," he said. "We have been blessed, in my opinion, to have a security provider with great professionals who had the foresight to see what community security should be and to have the ability to have a good working relationship with our Federation to obtain that and a community that understands a need for that security."
While Federation increases its security presence through the community, it also must find a balance so not to create panic.
"The whole issue of finding the balance between increasing security and not creating a sense of panic and keeping that balance is something we deal with every day," Baratz said. "On the other hand, I'll say one of the things that we (hear) from the community also on a daily basis is the increased security is something that is wanted and is appreciated from the community. I think it's got to do a lot with the big drive that we have all the time of educating the community, engaging the community and increasing the understanding of the community of their responsibility."m is."
---
Related Items