02/04/2021
Community Leaders to Discuss White Supremacy, Digital Equity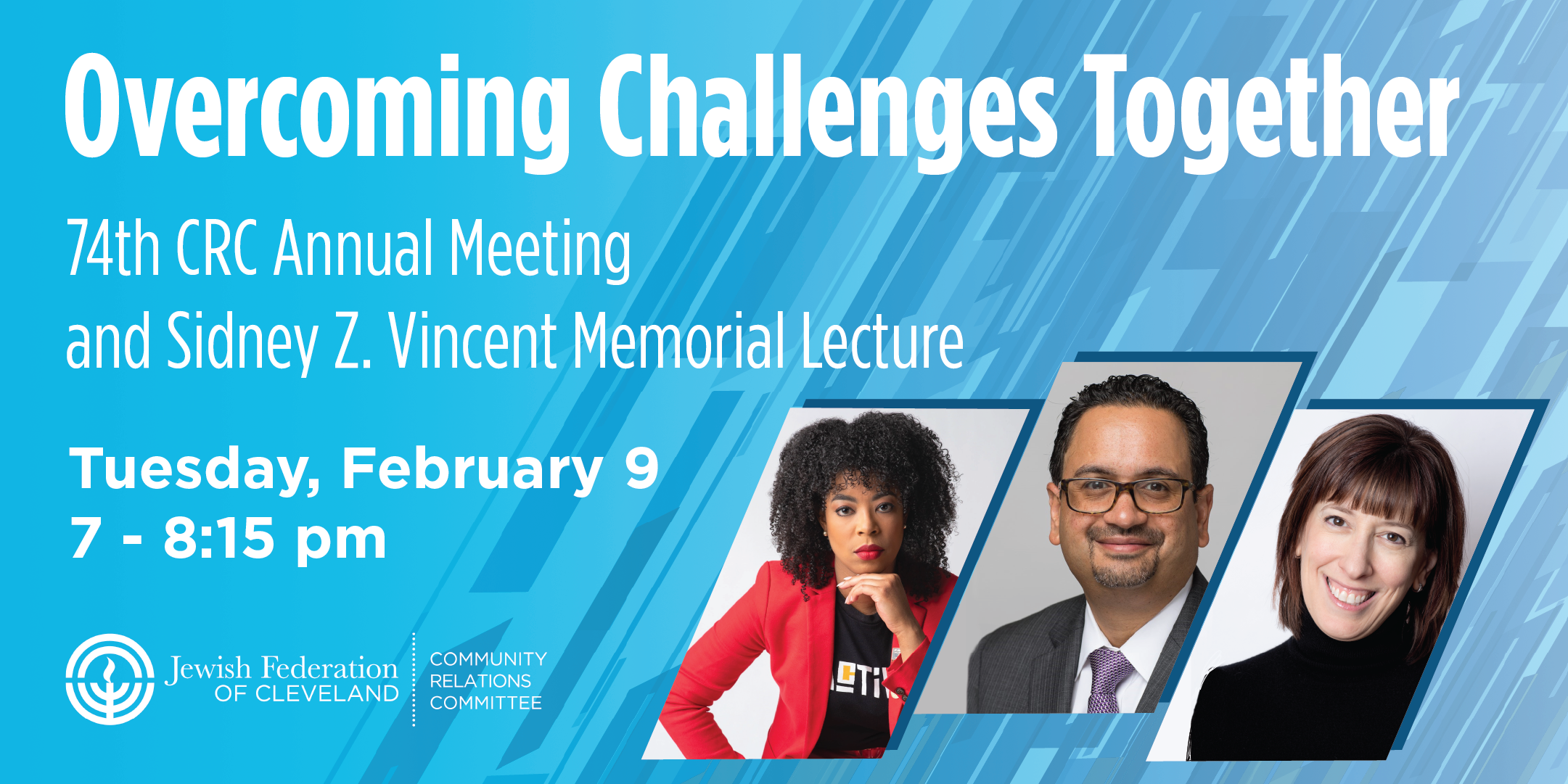 McKENNA CORSON | STAFF REPORTER
Article reprinted with permission from Cleveland Jewish News
Black, Latinx and Jewish community leaders will discuss current issues plaguing their communities and how residents can come together to provide help during the virtual 74th annual meeting of the Jewish Federation of Cleveland's community relations committee and Sidney Z. Vincent Memorial Lecture at 7 p.m. Feb. 9.
Panelists include Danielle Sydnor, president of Cleveland NAACP; Victor Ruiz, executive director of Esperanza; and Erika B. Rudin-Luria, president of the Federation. The event, "Overcoming Challenges Together," will be moderated by Keisha González, program manager of social impact investing and community development initiatives at the Cleveland Foundation.
Tackling problems experienced by the local minority populations was an "obvious" choice for CRC's meeting, said Howard Rabb, event co-chair.
"With the CRC at the Federation, the idea is to reach out to our friends in the community," said Rabb, a resident of Solon and member of Park Synagogue in Cleveland Heights and Pepper Pike. "We had been speaking to the Latinx community and the African American community for some time, but especially recently with all of what has happened in the African American community with the issues with police departments and especially with racial equity. We just want to know how we can help."
An open forum between effective and interesting speakers served as the ideal format where panelists could talk with each other and to community members.
"We've had a lot of talks amongst ourselves, but as many talks as we can have amongst the communities as opposed to about the communities – we're going to try to do better," said Rabb, an attorney with Dworken & Bernstein Co., LPA in Cleveland and Painesville. "We're going to try to have as many conversations with them as we have about them."
The panelists will tackle problems like racial equity, digital equity, white supremacy, social media and COVID-19. Rabb said the three communities can help one another by sharing similar problems and coming to a solution together or by discovering unique abilities a community might have that could help another solve their issues.
The meeting is open to the public, and Rabb encourages community members to join in for the opportunity to learn ways they can help.
"If people in any of these communities, especially the Jewish community, are interested in how they can help the other communities and how there are concrete steps they can take to help when they read about racial equity issues or immigration issues, they should attend," Rabb said. "If they take an hour and listen to this panel discussion, they may walk away with a practical answer to that question: 'How can I help?'"
The meeting will be kicked off with virtual performances by Julia De Burgos Cultural Arts Center and Karamu Performing Arts Theatre, both in Cleveland.
---
If You Go
WHAT: 74th annual meeting of the Jewish Federation of Cleveland's community relations committee and Sidney Z. Vincent Memorial Lecture
WHEN: 7-8:15 p.m. Feb. 9
WHERE: Virtual
MORE INFO: The event is free. To register, visit bit.ly/3rhdbxr.