11/30/2015
Ofer Levin Collection Visits Cleveland
Article reprinted with permission from Cleveland Jewish News.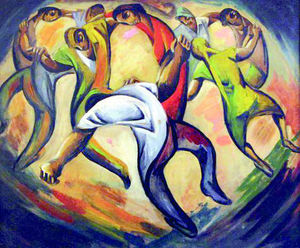 By Carlo Wolff
The blurring of individual and locale – and their symbiosis – are central to "Israel: Land and Identity," a provocative exhibition of 46 works in various media on view at the Roe Green Gallery in the Jewish Federation of Cleveland's Jack, Joseph and Morton Mandel Building in Beachwood.
The show, which runs through May, marks the first time art from the Ofer Levin Collection of Jerusalem has traveled outside Israel, according to curator Emma Gashinsky, the Jerusalem-based art historian who put together the Beachwood display with Erica Hartman-Horvitz, a co-chair of the Cleveland Israel Arts Connection.
Acquired from Dr. Gideon Ofrat, a noted collector, the Levin Collection is "especially concerned with Jewish themes," Gashinsky said in a Nov. 19 interview at Roe Green. The notion of land – both actual and promised – courses through the exhibition; the oldest work dates from 1908; the newest, from 2011.
The culture it explores spans the "New Jew" key to the development of Israel through the 1960s, and the fragmenting of that notion with the advent of regional wars starting in that decade. The works range from Albert Rubin's "Dome on the Rock," a luminous, straightforward, if faintly gauzy landscape, to "Sleeping Soldiers and a Bulldozer," Pavel Wolberg's striking photographic conflation of agricultural and military motifs.
What Wolberg sees is mundane; how he presents it, deadpan and close up, is radical.
Politics often underlies this display.
"It's about the sacrifice of the sons in order to fulfill the dream of the land," Gashinsky said of the Wolberg, adding the land – whether represented realistically or surrealistically – is the constant, in this exhibit and in Israel itself.
Some of the art, like Moshe Matorsky's vividly representational "Hora," an oil painting from 1935, seems familiar, though the subject matter is strongly nationalistic; other pieces, like two Gerard Marx "Jerusalem Shots," are not only specific to their locale, they're also pointedly aggressive. These photos of a Jerusalem empty in the wake of the Arab-Israeli War seem to bleed – not surprising considering Luxemburg native Marx literally shot them as part of the artistic process.
"The underlying relationship, at the core of this exhibition, between representations of place and definitions of identity, reflects the prevalent assumption in contemporary cultural discourse, that scenic images stand for complex social concerns and identify issues which exceed their aesthetic-naturalistic function," Gashinky writes in "Landmarks of Identiy," a section of the exhibition catalogue.
"Israel: Land and Identity," besides being a visual stimulant, functions as a map of the evolving Israeli psyche. Its quality and variety suggest the Levin Collection is reason enough to travel to Jerusalem. May the meticulously assembled Roe Green showing be satisfaction enough for those unable to make that trip.
WHAT: "Israel: Land and Identity"
WHEN: Through May 2016
WHERE: Roe Green Gallery, Jewish Federation of Cleveland, 25701 Science Park Drive, Beachwood
INFO: Reach Sylvia Owen at 216-593-2856 or sowen@jcfcleve.org
---
Related Items