05/10/2019
Yom Ha'atzmaut Draws More Than 1,000 to Cleveland Celebration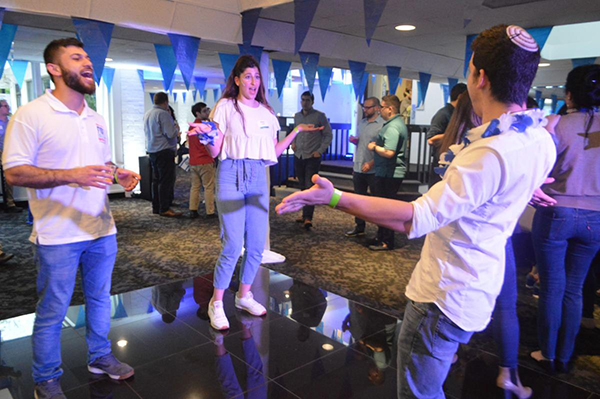 Article reprinted with permission from the Cleveland Jewish News
JANE KAUFMAN | STAFF REPORTER
More than 1,000 people schmoozed, partied, listened to performers and danced at a Yom Ha'atzmaut celebration May 9 at Landerhaven in Mayfield Heights.
The free event held by the Jewish Federation of Cleveland, marked the 71st anniversary of Israel's Independence Day.
Children created Israel-themed art projects with the help of parents and grandparents. Starting off the evening, Funk A Deli played klezmer music and DanceIsraeli! performed.
Later, mentalist Eran Biderman, who was born and lives in Tel Aviv, wowed the crowd with card tricks and what he called shows of telepathy.
New York-based Capaim played two sets, rounding out the evening with high-energy covers of Israeli and popular songs that had Israeli soldiers in uniform dancing along with Shinshinim, Federation staff and others.
A seven-member delegation of the Israel Defense Forces took part in the celebration, with its leader, Col. Shadi Abu Faris, speaking.
"Every year this day is a moment of excitement and pride," he said. "Dear friends, I stand here as a proud member of the Druze community whose fate has been entwined with the Jewish people from the time of Jethro and Moses, and as the commander in the Israel Defense Forces, I am committed to protect Israel as a democracy and Jewish state. I want to thank you, the members of the Jewish community of Cleveland, for your ongoing support of Israel."
The crowd applauded when he finished his remarks.
The Blue and White Party drew about 125 young adults to their own room, complete with dance floor, multicolored lights, dance floor, bar and Israeli food.
Prior to his performance, Biderman did some parlor tricks at the Blue and White Party.
Biderman said he was inspired by his grandfather, who was from Istanbul, to try mind reading.
"He was the first magician I ever knew," Biderman said. "He showed me, and I was inspired."
At 33, Biderman said he has made his living as a mentalist for the past 12 years.
In the children's room, children, their parents and grandparents created sand art, strung beads with Hebrew letters and made posters using stickers of Israeli scenes. Children left their shoes and grandparents behind to crawl into an inflatable obstacle course set up for them.
In the atrium, renamed the shuk after Jerusalem's famous outdoor market, vendors set up booths.
On the patio, A World of Magic / Ellie's and Kantina offered American street food, while Sababa's offered primarily Israeli fare: felafels, shwarma and schnitzel wraps.
Event chairs were Tamar and Elliot Smith of Beachwood and Connie and Neil Waxman of Pepper Pike.
Sponsors included the Cleveland Jewish News, as well as dozens of synagogues, Jewish day schools and Jewish organizations.
---
Related Items