04/27/2017
Yom Hazikaron to Honor Israeli Soldiers
Yom Hazikaron to honor Israeli soldiers, slain civilians
Article reprinted with permission from the Cleveland Jewish News.
By Amanda Koehn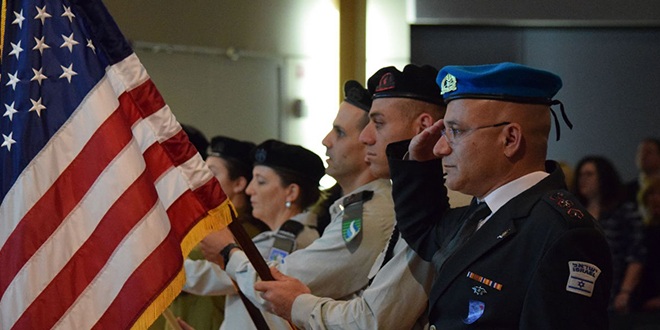 The Jewish Federation of Cleveland will hold a Yom Hazikaron ceremony to honor Israel Defense Forces soldiers who died fighting and Israeli civilian victims of terror at 7 p.m. April 30 at the Mandel Jewish Community Center in Beachwood.
Yom Hazikaron translates to "Memorial Day." A delegation of Israeli soldiers will be present for the ceremony, which will include readings from community members, both in Hebrew and English, and a speech by a soldier.
Ayelet Isaac, the Federation's shlicha, or Israeli emissary, said the program will feature songs whose lyrics were written by killed Israeli soldiers, to music created by Israeli musicians – a special new addition this year. She said the history behind the songs are important, as after the soldiers died, the lyrics were a moving discovery for their families.
"Some of families didn't even know their sons used to write," Isaac said.
Moreover, the wreath laying presentation part of the ceremony, which typically involves community representatives and soldiers, this year will include wreaths presented by local Jewish day school and synagogue students.
"It's a very, very moving ceremony, very solemn," said Mark Sack, a committee member for the event and former IDF soldier.
Yom Hazikaron
WHAT: Ceremony honoring Israeli civilian terror victims and soldiers who died fighting
WHEN: 7 p.m. April 30
WHERE: Mandel Jewish Community Center, 26001 S. Woodland Road, Beachwood
INFO: Free and open to the community, registration is encouraged at jewishcleveland.org/news/event_rsvp/yom_hazikaron_2017
---
Related Items