Upcoming Events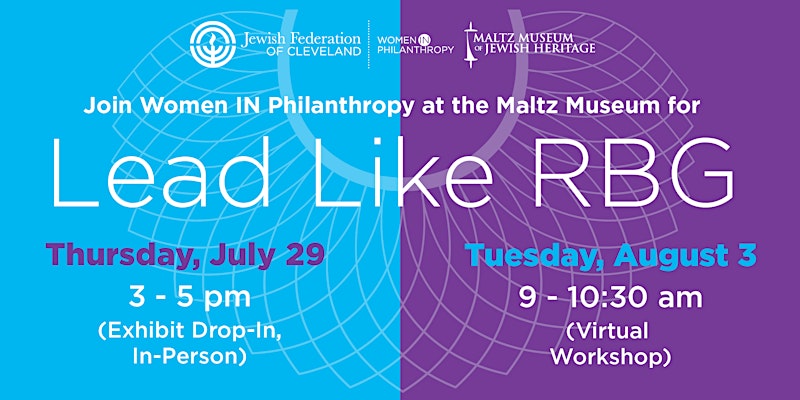 "Lead Like RBG": An Interactive Workshop
Thursday, July 29, 3:00 pm – 4:00 pm, 4:00 pm – 5:00 pm
Tuesday, August 3, 9:00 am – 10:30 am

Join Women IN Philanthropy at "Lead like RGB", an interactive workshop that will empower, invigorate and unleash your leadership influence.

Jennifer Cohen and Kyla Schneider, executive leadership development consultants with Ratliff & Taylor, will guide us through a number of truth elements that Justice Ruth Bader Ginsburg embodied as she navigated her personal and professional endeavors. This workshop will explore RBG's sensibilities about consensus and dissent, civility, use of language, and her courage as a truth teller.
Notorious RBG: The Life and Times of Ruth Bader Ginsburg" Exhibit (in- person, optional)
Thursday, July 29
Tour 1: 3:00 pm – 4:00 pm
Tour 2: 4:00 pm – 5:00 pm
Maltz Museum of Jewish Heritage
2929 Richmond Road, Beachwood, OH 44122
This is an optional drop-in opportunity to view the RBG exhibit in-person at the museum. Limited spots available.
Virtual Workshop
Tuesday, August 3, 9:00 am – 10:30 am
---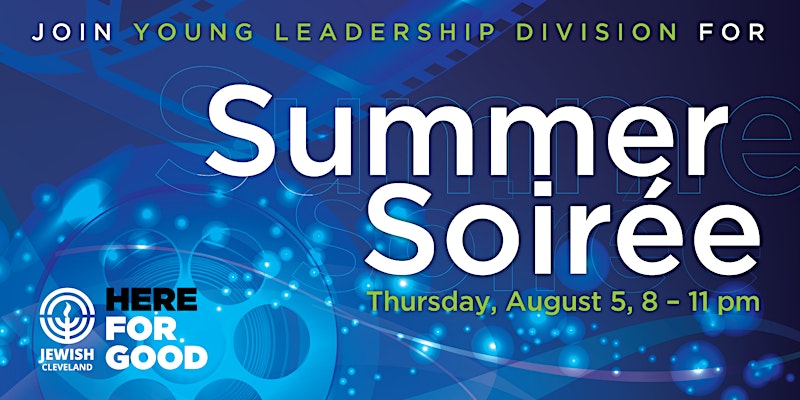 Summer Soirée goes to the drive-in!
Thursday, August 5, 8:00 pm – 11:00 pm

Summer Soirée is back and we're ready to celebrate summer! Join YLD as we bring our Jewish young adult community together again. Reunite with old friends, make news ones, and enjoy an awesome young adults' night out. Bring a blanket and lawn chairs to make our night under the stars and in front of the big screen unforgettable.

Mayfield Road Drive-In Theatre
12100 State Rte 322, Chardon, OH 44024

Guests can bring their own snacks or choose to purchase food at the theatre.

Cost: $18 per person
Space is limited! Register early to save your spot.
---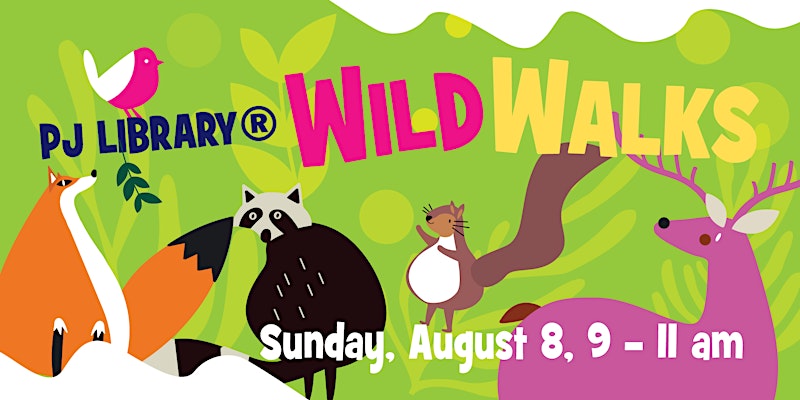 PJ Library® Wild Walks
Sunday, August 8, 9:00 am –10:00 am, 10:00 am –11:00 am

Discover who's who in the Wildlife Yard at Penitentiary Glen and find out what happens in wildlife rehabilitation. We will learn about the Jewish value of protecting animals, and meet some of Ohio's threatened and special interest species.

Cost: $10 per family
Limited to 20 people per session

Tour 1: 9:00 am –10:00 am
Tour 2: 10:00 am – 11:00 am
---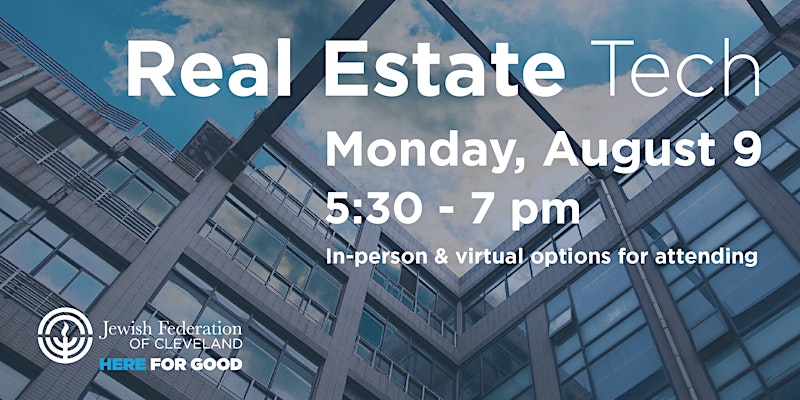 Real Estate Tech
Monday, August 9, 5:30 pm - 7:00 pm

Discover how the acceleration of technology during the COVID-19 pandemic has impacted the real estate industry. Plus, meet and network with other real estate professionals.

Panelists include:
Adam Baratz, vice president of business operations, Qualia, leading digital real estate closing platform.
Mark Holz, president, Frontier Land Group, multi-family property acquisition and management and residential land development
Roman Telerman, chief financial officer, MRI Real Estate Software, leading management software for owners, operators, and investors
Steven Soclof, chair, Jewish Federation of Cleveland Real Estate Affinity Group (moderator)
---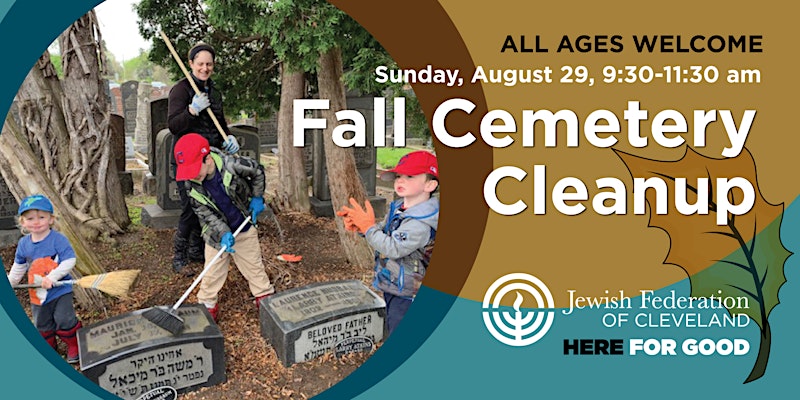 Fall Cemetery Cleanup
Sunday, August 29, 9:30 am - 11:30 am

Honor those that came before us by volunteering for general cleanup of branches and debris at Chesed Shel Emeth Cemetery prior to the High Holidays.

Location:
Chesed Shel Emeth Cemetery
3740 Ridge Road
Cleveland, OH 44144

---
Past Events
The Jewish Federation of Cleveland is pleased to offer these presentations. Views and opinions expressed by guests in these presentations are their own and do not necessarily reflect the position or policies of the Federation.