Upcoming Events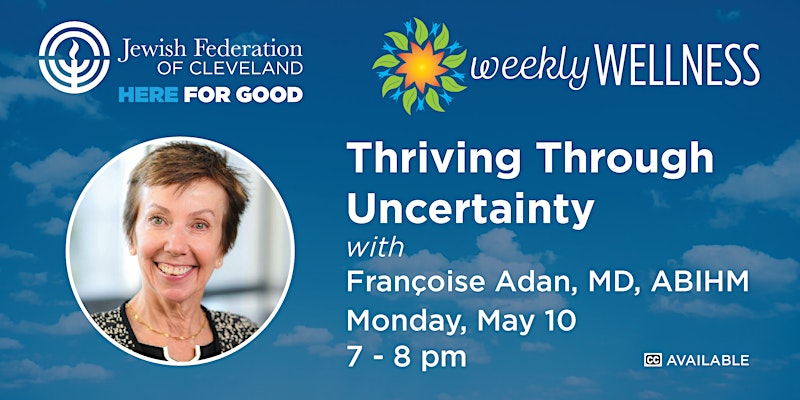 "Thriving Through Uncertainty": A Discussion with Dr. Françoise Adan
Monday, May 10, 7:00 – 8:00 pm
Closed captioning will be provided.
A Jewish Federation of Cleveland Weekly Wellness event.
In a time with so much uncertainty surrounding the COVID-19 pandemic, how can we continue to integrate wellness into our lives?
Françoise Adan, MD, ABIHM, chief whole health and wellbeing officer of University Hospitals (UH) and the director of UH Connor Integrative Health Network, will provide practical tools to navigate the coming months. She'll share how you can manage stress through your passions, and maintain your physical health and mental wellbeing during this time of uncertainty.
---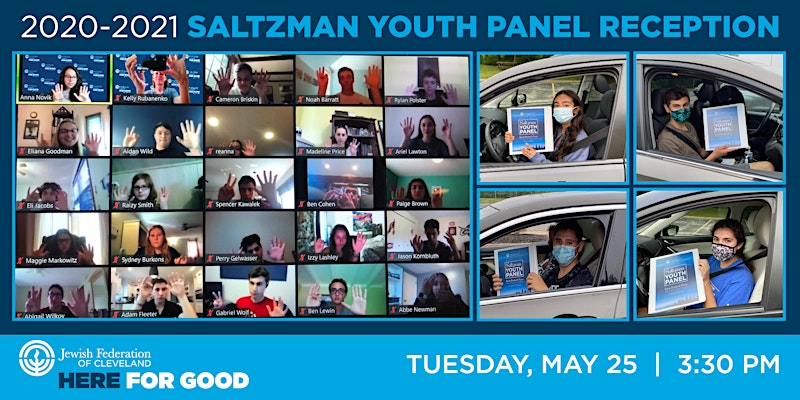 Saltzman Youth Panel Reception
Tuesday, May 25, 3:30 – 4:30 pm
Please join us as we honor the 2020 – 2021 Maurice Saltzman Youth Panel with a virtual recognition ceremony.
Following our recognition ceremony, please join us for the Board of Trustees Zoom meeting at 4:30 pm where the panelists will present their grant recommendations for approval. A separate link will be provided.
2020-2021 Saltzman Youth Panel
Jake Abrams, Jessica Abrams, Margaret Abrams, Sofia Baris, Jessica Brown, Paige Brown, Sydney Burkons, Talia Charnas, Benjamin Cohen, Adam Fleeter, Perry Gelwasser, Jackson Goldberg, George Goldstein, Dana Granot, Aviva Groys, Eli Jacobs, Sophie Jennings, Jonah Kaminsky, Spencer Kawalek, Samuel Klein, Jason Kornbluth, Isabelle Lashley, Ariel Lawton, Shaindel Lefkowitz, Benjamin Lewin, Maggie Markowitz, Ben Miller, Abbe Newman, Jack Petti, Madeline Price, Shira Rosenberg, Romi Roth, Moshe Schachter, Rebecca Shapiro, Teilah Simon, Miri Smith, Raizy Smith, Jack Spiegle, Reanna Tsirlin, Jordana Turoff, Abby Wilkov, Ethan Winger, Gabriel Wolf
2020-2021 Saltzman Youth Panel Peer Advisors
New leadership position created this year
Noah Barrat, Cameron Briskin, Lauren Clar, Adina Firestone, Eliana Goodman, Rylan Polster, Aidan Wild
---
Past Events
The Jewish Federation of Cleveland is pleased to offer these presentations. Views and opinions expressed by guests in these presentations are their own and do not necessarily reflect the position or policies of the Federation.