09/05/2017
Campaigner of the Week: Ronny Fisher
Ronny has been a Campaigner for 35 years! Find out why he loves doing his part in the Campaign for Jewish Needs, and the importance of telling stories, relaying needs, and discussing the issues when making the 'ask.'
Q - Why is it important to be a Campaigner?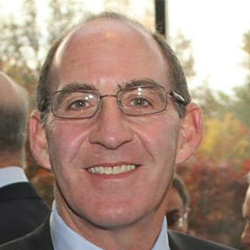 The Federation touches so many lives here in Cleveland and around the world. None of it happens without the dollars raised by our Campaign. If you don't ask, you don't get. But it's so much more than the actual 'ask;' it's telling the stories, relaying the needs, discussing the issues, and anything else necessary to help make your donor feel valued, appreciated, and relevant - regardless the size of the actual gift. We have a lot of folks to talk to every year and I feel a personal responsibility in doing my part and, in turn, it's very much become a part of who I am. I haven't looked back in 35 years!
Q - Why should the community become involved with the Federation?
As a Jew in Cleveland, it is hard not to have benefited or at the very least, crossed paths in some way with the great work the Federation does. What it amounts to is simply making Cleveland, Israel, and the rest of the Jewish World a safer and better place to live, and who wouldn't like to be involved with that! I see new faces every time I attend an event or meeting, and these folks are really engaged in the community process. They are smart, articulate and have a deep sense of caring for our Jewish community, which is where it starts!
Q - How do you enjoy your free time?
I love spending time with my wife, LuAnne, and our three dogs, Winnie, Cody and Charlie - no matter what we're doing! I play golf, I exercise, and I enjoy the time I have with my three children, who are all out of town.
---
Related Items