09/14/2018
Campaigner of the Week: Scott Spiegle
Meet Scott Spiegle, our Campaigner of the Week!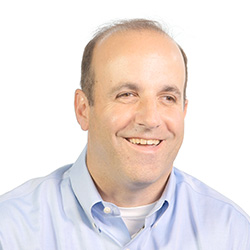 Why is it important to be a Campaigner?
It is important to be a Campaigner because I enjoy asking others to join me in supporting our Jewish community. The Federation campaign touches everyone in our Jewish community, in addition to helping Jews in Israel and 70 countries throughout the world. I've been involved with campaigning since high school, nearly 30 years ago, making phone calls on Super Sunday and I haven't stopped since.
Q - Why should the community become involved with the Federation?
We all want a strong Jewish community here in Cleveland, Israel, and around the world, and we must be the providers. The Campaign for Jewish Needs touches everyone and every aspect of our community, and we must support it. I feel very strongly that it is our responsibility. Cleveland has a great Jewish community with many wonderful agencies. With the resurgence of the city and the affordable living here, more young people are choosing to settle here and raise a family – that's the future of our community.
Q - What is a fun fact about you?
I love to spend time with my wife, Shani, and our sons, Sam (17) and Jack (15); watching them in all their athletic events at school. I am a die-hard Indians fan. In addition to raising money for Federation, I spend my free time raising money for the JCC, Hawken School, and Fairmount Temple. As the Chair of the IDF Education Corps/Havat HaShomer Partnership with Federation's Overseas Connections Committee, I love traveling to Israel. On one trip, I had the opportunity to climb Masada's snake path twice in a 12-hour period.
---
Related Items