05/10/2016
The Candle of the Jewish People Burns Bright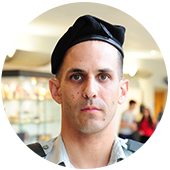 Israeli soldier Major Amit Tzuman shared his story of bravery with 450+ Clevelanders at our Yom Hazikaron commemoration, honoring Israel's fallen soldiers and civilian victims of terror. 
First, thank you for your support. It's an honor for me to share my story. My name is Amit. I'm thirty five years old, married to Shimrit and we have three children: Gur, Noga, and Nery Israel.
I served for the last seventeen years in the 188 brigade, tanks core. On the fourth of July in 2014, I finished my studies at the IDF college and I started my duty as an operations officer. Two days later, the Tzuk Eitan war began and we got the order to prepare our forces.
On the seventeenth of July, we started to fight in the north area of Gaza. After two days, I got a phone call early in the morning from the division that we had a new mission.
On the nineteenth of July, a Saturday morning, we, the commanders, went for a patrol to prepare for the mission. A group of terrorists penetrated Israel from Gaza through tunnels and fired with machine guns and anti-tank missiles on us.
Two of my friends were killed. Major Amotz Greenberg, forty-five years old, married to Sagit and a father of three children, and first sergeant Adar Bersano, twenty one years old, son of Lital and Gil and brother of two. Adar was part of the brigade commander team and Amotz was doing his reserve service.
I was injured in the head and ears and had shrapnel all over my body from the missile.
At the moment it happened, I was full of adrenaline. I called other commanders for help and tried to fight. I knew that I had to fight, that there is no other option. I didn't understand that I was injured.
After a few minutes, I lost a lot of blood and then I lost consciousness. There were moments that I thought would be my last and my life has been through. I thought about Shimrit and Gur and Noga and my other family. Those were hard moments.
The next thing I remember was when I woke up in the hospital and I saw my wife and my parents standing next to me and crying. They told me about Adar and Amotz. They told me that they died. It was a difficult moment for me and I didn't believe them.
I remember both of them. They were beautiful. They were full of life. I remember their faces, their voices, their smiles.
I miss Adar and Amotz every day and I can't stop thinking of them. They are a part of me and my family.
Over the next few months, I went through rehabilitation with the goal of returning to my position in the army.
Shimrit and I decided to continue with our lives and not allow the enemy to break our spirit. Instead, we chose to bring a new life into the world.
Five months ago, Shimrit and I welcomed a new baby boy into the world. His name is Neri Israel and he was born on Chanukah.
Neri Israel means that the candle of the Jewish people will continue to burn bright and never go out.
Tonight my heart is in Israel with the bereaved families.
---
Related Items