03/26/2014
Cleveland and Israeli Teens to Make Carnegie Hall Debut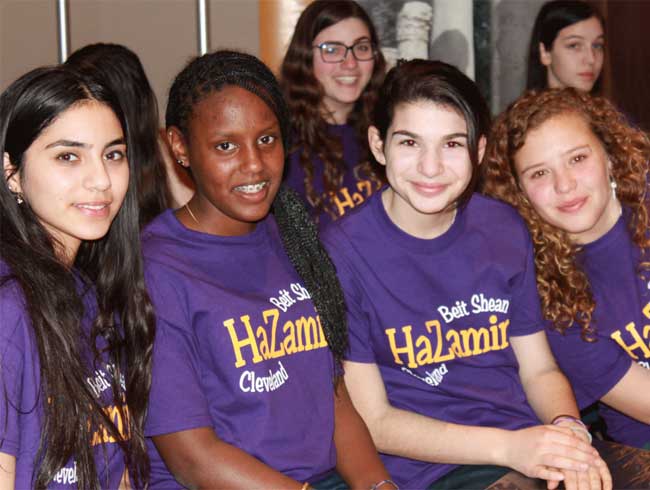 CLEVELAND – The Jewish Federation of Cleveland hosts nine teens from our Israeli sister city of Beit Shean, Israel, for a unique opportunity to sing with eighteen local teens from Cleveland's HaZamir Jewish High School Choir. Together, they will perform at New York City's Carnegie Hall on Sunday, March 30 at 3:00 p.m.
HaZamir, the International Jewish High School Choir, has chapters in Cleveland, Beit Shean and 22 other communities around the world. It is a program of the Zamir Choral Foundation under Matthew Lazar, founder and director. The concert will bring together over 300 singers from cities across America and Israel. In preparation for their Carnegie Hall performance, the singers have been training throughout the year with a selection of sacred and contemporary Jewish music.
Teens from Beit Shean will visit Cleveland for one week prior to their Carnegie Hall debut. All are welcome to the choir's open rehearsal on Wednesday, March 26 at 6:00 p.m. the Stonehill Auditorium at the Mandel JCC, 26001 S. Woodland Road, Beachwood. Guests are invited to the rehearsal to learn about the Beit Shean – Cleveland partnership and HaZamir Cleveland.
Fran Gordon, a member of the Federation's Beit Shean Committee, and a supporter of HaZamir, initiated the creation of the Beit Shean chapter in September, 2014 to create an opportunity for youth from both Beit Shean and Cleveland to learn about each other and their Jewish heritage through music. Beit Shean is only the second HaZamir chapter in Israel.
For individual tickets for the Carnegie Hall performance, and other information, visit www.wizadjournal.com or call 212-870-3333. No reservations are required for the choir's Cleveland rehearsal on March 26.
About Beit Shean:
Beit Shean is one of the oldest cities in Israel and a place of great historical significance. Its village of Menahemia, founded in 1901 is home to some of the first people who immigrated to Israel.

A visit to Beit Shean is an overwhelming experience for so many as it makes you understand the fragile and hard-fought existence of Israel. Cleveland and Beit Shean have been partner cities since 1995 and have worked together to improve the lives of the Israelis living in this region.
---
Related Items