11/30/2018
Federation Campaign Comes to a Close on Dec. 12
Article reprinted with permission from Cleveland Jewish News.
By Alyssa Schmitt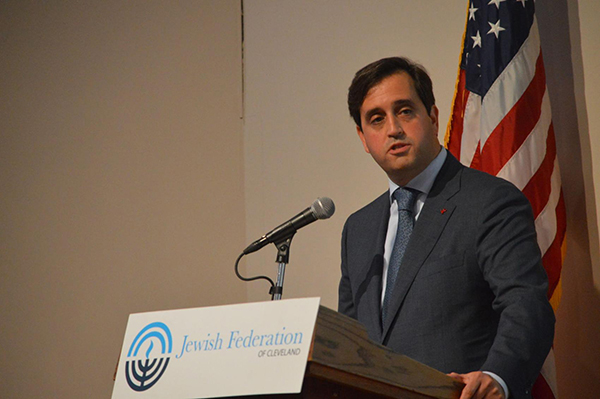 The Jewish Federation of Cleveland will announce the total amount raised in the 2019 Campaign for Jewish Needs Dec. 12 at Beatrice J. Stone Yavne High School in Beachwood during the annual Campaign Closing Celebration.
The Federation's annual fundraising campaign serves Jewish Cleveland and the global community. Last year, the campaign raised $32,238,328 from more than 9,700 donors, in addition to a $500,000 match. This year, Jeff Wild, the campaign chair, said the campaign is ahead of last year's pace with a donor count of 6,000 and on pace of the amount raised with more than $26 million. The goal is to have 10,000 donors by the close.
"We're ahead of last year's pace in terms of donor count and we're well ahead of last year's pace in terms of new donors, which is very exciting," he said. "Whether we get to the 10,000 donor number really depends on what happens in the next two weeks but we feel it's very attainable. With that being said, we have to stress there's a lot of work we have to do in the next two weeks. We have people that are working day and night on reaching out to donors and our volunteer work force has been absolutely incredible."
The closing event will feature music and food from Cleveland, Israel and Russia. Attendees will also hear reflections on this year's theme, "The Impact of Together," from outgoing Federation President Stephen H. Hoffman.
In the aftermath of the shooting that killed 11 people at Tree of Life Congregation in Pittsburgh, which took place during the campaign, Wild said there was a re-evaluation of the funds allocated to securing the synagogues, day schools, agencies and the Jewish community. The Federation spends $1.2 million on security and it's expected to increase, thus the campaign needs to raise more money than originally planned.
"We've made the decision just in the last week that we have to increase our security expense by $2 million a year (to $3.2 million)," he said. "We didn't know that going into this campaign. So we are focused, in the last couple of weeks, on making sure people understand the security needs in our community while important a number of weeks ago are critically important today."
The campaign also changed its donation approach by using the Federation's online platforms, which Wild credits for the increase in new donors.
"When we talk about this being a communal campaign, we need to make sure we reach as many people in the community as possible," he said. "We changed our approach, not just on Super Sunday, but throughout our campaign. We're utilizing technology effectively through our online platforms. Because of that and the changes that we've implemented, our new donor count is much farther ahead than we were last year."
Also, Natan D. Milgrom will receive the 2018 Amb. Milton A. and Roslyn Z. Wolf Young Campaigner of the Year Award. The award recognizes leadership, dedication and hard work by a young leader on behalf of the Campaign for Jewish Needs.
---
Campaign Closing Celebration
WHEN: 7 p.m. Dec. 12
WHERE: Beatrice J. Stone Yavne High School, 2475 S. Green Road, Beachwood
INFO: Registration $15 per person. To register, visit jewishcleveland.org, email campaign@jcfcleve.org or call 216-593-2900 x740
---
Related Items