02/05/2019
Federation CRC Annual Meeting and Vincent Memorial Lecture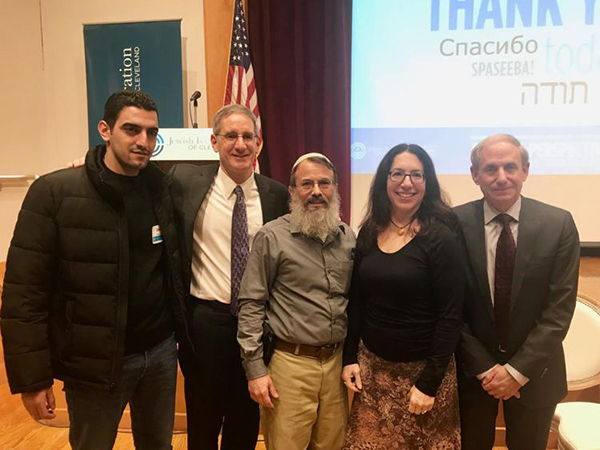 Article reprinted with permission from the Cleveland Jewish News
Shani in the City
On Jan. 24, the Jewish Federation of Cleveland's community relations committee held its 72nd annual meeting in conjunction with the Sidney Z. Vincent Memorial Lecture at the Mandel Jewish Community Center in Beachwood for 225 attendees, including many community leaders.
The event was chaired by Debby Rosenthal and Andrew Kohn.
It is always a challenge to find consensus on a committee or organization. Now, imagine if your mission was "fostering a grassroots movement of understanding, non-violence and transformation among Israeli and Palestinians."
That's exactly what co-founder and Israeli settler, Rabbi Hanan Schlesinger along with Palestinian youth director Shadi Abu Awward are challenged with in running their ambitious organization, Roots.
On the first stop of their tour, Schlesinger and Abu Awward energetically shared their "a-ha" moment, which transitioned them from blind hate to finding a sliver of understanding and compassion. Schlesinger described their mission as "preparing the groundwork of the future — to create a new model of coexistence." The mission is manifest through a joint initiative, which offers camps, art classes, religious ceremonies and other opportunities to interact and listen.
Their risk-taking experiment to lay the foundations of peace is inspiring.
However, when asked by an audience member if any politicians on either side have bought into their message, Schlesinger answered with a simple, "No." And, Abu Awward followed with, "Of course, no!"
Their efforts are not in vain as proved by Palestinian-American Faten Odeh who commented at the end, "This evening has been very eye-opening for me. I was just in Palestine and it's funny that I had to come back to Cleveland to hear the perspective from the other side."
---
Related Items