02/27/2019
Five Questions with JFNA's William Daroff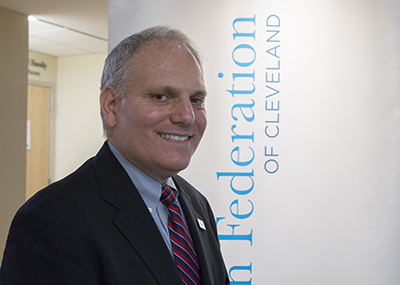 William Daroff lobbies on behalf of the Jewish people as the director of the Washington DC office and the senior vice president of public policy for the Jewish Federations of North America (JFNA). While his work is in Washington, he remains a Clevelander at heart.
Find out how his Cleveland upbringing help frame his life in Jewish communal work, and how Judaism plays a big part in him becoming a vegan.
Five Questions with … William Daroff:
How did growing up in Cleveland shape your Jewish identity?
William Daroff: Cleveland is my home. I grew up in Shaker Heights, and most of my immediate family still lives in the area. I'm a hard core Cleveland sports fan, which keeps me connected and I love all there is to know about the city and the Jewish community here. I think it's a great example for the rest of the country as to how to flourish as a community. It's wonderful. When I came back home after college is when I fully became engaged in Jewish life. I was on the Young Leadership Board here at the Federation. I was active with different organizations like American Jewish Committee and Bellefaire JCB. And at that point, I saw the majesty that is the Cleveland Jewish community – the connection, the depth of connection the people have with other local and global Jews.
How does JFNA's Washington DC office relay the many voices of the Jewish communities around the country to the appropriate people in government?
William Daroff: JFNA is the umbrella organization of North America's 148 Jewish Federations, as well as 300 smaller network organizations. JFNA's mission is to provide services, information, and guidance to a collective that the Federations can feed into. As far as the Washington office, the idea is to have all the Federations having a separate office to push forward their public policy agenda. We are involved in every aspect of public policy concerns of the Jewish Federation movement. From U.S./Israeli relations in Iran to tax policy, social services policy, and Homeland Security funding. We listen to all aspects of the Federations – from the president, government affairs, community affairs – what issues are most important to them, so we have a game plan that works.
What advice do you give to future generations who are interested in government and public policy?
William Daroff: I speak to kids all the time and tell them that the best way to be involved is to get involved. It could be small, like writing editorials to the local newspapers or commenting on Facebook and posting on Twitter. Or it can be bigger; it could mean doing your high school senior project interning on Capitol Hill like I did. It can be going door to door for a local politician. It can be going to city council meetings. But lesson number one is to be present and active. And lesson number two is to think about the people you interact with now as a 15-year-old or a 20-year-old will likely still be around when you turn 30 or 40; these are life-time relationships you are building now. People have memories – especially in the age of social media – so keep in mind how you interact with them now. Try to be the person who other people want to be around and want to engage with. The way you conduct yourself is incredibly important for you to be able to advocate for the ideas you care about and the policies that matter so much to you.
What has social media brought to politics and to JFNA? Is it a helpful tool?
William Daroff: I got into social media early, first with LinkedIn; then, as an early adopter to Facebook and Twitter. The reason I liked it initially, and still enjoy it today is because it makes the world a much smaller place. My ability when I tweet a photo or post something on Facebook allows me, allows JFNA, allows anyone who I am friends with to be able to connect with anyone in the world. In order to make our world a smaller place, in order to connect us as a people in a way that we couldn't even fathom a decade ago. That part appeals to me. There's a need to democratize Jewish leadership and I think social media makes it a lot more personal. We are there with them and one community. It's all about who we interact with – social media is such a great tool to connect to the Jewish people.
Something else you're very passionate about is veganism. How did Israel and Judaism affect your decision to become a vegan?
William Daroff: Six and a half years ago, I was in Israel for about six weeks with family. I had a lot of pita bread, hummus, and shawarma. When I got home, I had gained a lot of weight and knew I needed to find a way to lose some of those extra pounds. I spoke with my wife, who had been a vegetarian for a while. We found a book called The Engine 2 Diet, which is written by a Clevelander – Rip Esselstyn, whose brother I went to Hawken with and whose father was one of the founders of the Cleveland Clinic. It's a vegan and plant-based/vegetable diet for health reasons. I initially lost a lot of weight, and I continue to lose a lot of weight. But it morphed into more than just a health thing for me, my blood pressure went down, my cholesterol went down. But beyond that, there are environmental impacts that are improved by going vegan. Personally, I look at the way animals raised for meat are being treated as cruel. I've become connected with an organization called Jewish Veg that talks about how Jewish values are in sync with the values of veganism, of being compassion of animals.
To learn more about public policy in Cleveland, contact Amy Kaplan at akaplan@jcfcleve.org or 216-593-2832 or Debbie Klein at dklein@jcfcleve.org or 216-593-2834.