05/04/2016
Gross Schechter Israel Blog
Check out what the 8th Graders at Gross Schechter Day School have been doing during their trip to Israel!
May 4, 2016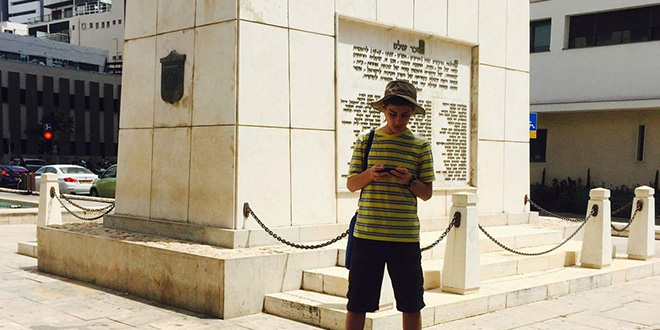 by Adam Kahn
The waves crashed up against the rocks on the Tel Aviv beach. The sea breeze hit our faces. Everyone gathered together under the rainbow in the sky. The whole class sang the prayer "Shehachiyanu". We could not be happier that this day is finally here!
We then headed to the Founder's Monument. There stood a memorial that held 66 names that remember the founders of the great city of Tel Aviv. One of those names was my great- great- grandfather, David Nahum Weisbord Livini. As my great grandparents and grandparents on my mom's side lived and died during the Holocaust, my grandparents on my dad's side were building our new Jewish State. I read to my class the story of my great great grandfather as the city of Tel Aviv was alive with excitement.
Our next site that we saw was Independence Hall. This was the building where David Ben Gurion declared that the land where we were standing would be our Jewish State.
Next we traveled to the city of Cholon and participated in a tour through the eyes of a blind man. The journey lasted 70 minutes through complete darkness while only using our senses of touch, smell and hearing. It was an amazing way to begin this journey.
Currently we are on the bus ride to the hotel. After showers and dinner we will be included in a Erev Yom Hashoah ceremony with Kibbutz Shefaiim.
Our first day has been jammed packed with so many memories, and it's hard to believe that this is only the beginning of more and more to come.
May 5, 2016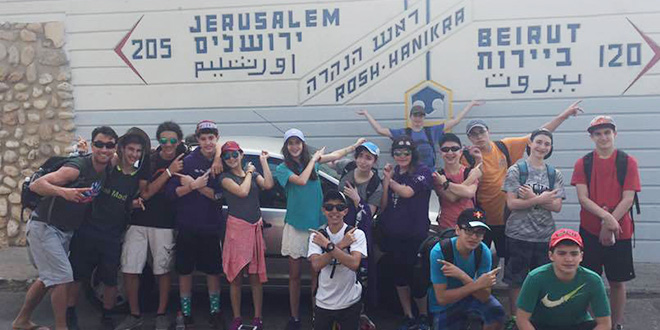 A Day at Rosh Hanikra and Atlit
by Aidan Gross
It was 10:00 in the morning; we were outside the detention center waiting for the siren we have learned about all these years- the siren that signals Yom Hashoah. Everything stopped, the cars pulled over, and everybody got out of them. It gave me 1 minute to just think. It was a very peaceful and meaningful time where all I did was stop and remember. After the siren, everything went back to normal and we arrived to the holding facility for the Jewish illegal immigrants who tried to move to Israel.
When we arrived at the detention center, we had a conversation about the Jewish immigrants and we learned new things about why Yom Hashoah is on the 27th of Nissan. After that, we went to the rooms where the immigrants were held- the beds were hard and the rooms were crowded. I can't picture what it would have been like to have to live there especially after these same people escaped the atrocities of the Holocaust.
Our last destination was Rosh Hanikra, and the view was great! We watched a video about the history, and we learned that every 1,000 years as the water hits the rocks, it shrinks by about 1 meter. We went down to the caves and saw the waves crashing against the rocks and it was awesome. So far the trip has been great, meaningful and I'm excited to see what's to come!
May 6, 2016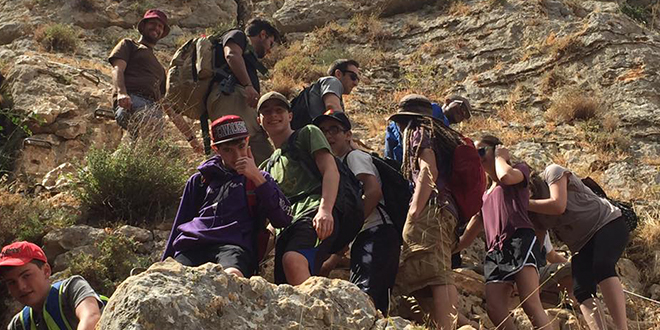 Hiking Mt. Arbel
by Brian Caplan
The view was gorgeous from atop Mt. Arbel. While it was lightly raining, we prayed with breathtaking views of all the other mountains around us and the Kineret just below us. As we finished praying, and the weather cleared up, our friends from the Mandel school pulled up in their van. After some fun games to get us all awake and introduced, we started our decent down Mt. Arbel. The first third down was the most dangerous. The path winded in between stone and on the edge of terrifying drops. Although some were anxious and scared, we all got to the bottom and had a real fun time. After the hike, we drove to Hoshaya and traveled back in time to the Mishna period through stories told by Menachem. We learned the Kosher way to make pita and made some. It was delicious. The best part by far in Hoshaya was the donkey rides. We went along a path in pairs; one guiding the donkey and one riding. We even named them! Unfortunately, Noah and I picked the slowest donkey. Now we are on our way to the holy city of Tzfat where we will have our first Shabbat. I am very excited to celebrate Shabbat with all of my closest friends. Can't wait for another fun filled day.
May 8, 2016
Shavua Tov From Tzfat
by Grace Bloom
"Yeverechecha" is a very familiar and meaningful word to me. In a simple sense means "bless", but it holds so much more meaning than that to me. Every Friday, I feel the warm, loving hands of my parents on my head as they say these words with the same inflection as the week before, speaking slowly and calmly. I make silly faces to my brother and my savta and feel completely at home. This Friday evening's "yeverechecha" had a surprising meaning; I thought it was going to feel foreign without my parents' hands on my head, but to my surprise it was the same. The entire week before this one moment I was homesick to the point of tears and panic. I had never been overseas until I stepped foot in Ben Gurion airport. But when I stood in the small room in our crumbling hotel in Tzfat, I forgot about all my anxiety and homesickness. I forgot the heartache, the distance, the exhaustion, and the pain. At that moment, as I felt the warm, loving hands of my friends on my shoulders, I finally felt at home. This was the beginning of the best Shabbat of my life.
My classmates and I reluctantly surrendered our phones to Mrs. Amkraut and Mr. Faulkner as dusk began to fall over the ancient bricks and slanted streets. My long black skirt swayed in the cool, evening breeze. My ears filled with the sounds of intense prayer emitting from both sides of the dividers (mechitza). We then traveled onto another service that was held on the corner of a street peppered with commotion. A strange hand under a dimly lit shwarma sign suddenly pulled me. I was reluctant to join in, but I gradually got more and more involved, jumping and singing praise with people from all different walks of life. I felt more connected to Hashem than any time before.
After an exhilarating prayer experience, we returned to a dining room where every word one said was echoed across the way. A meal which included several delicious courses which were devoured by the hungry, growing teens. The laughter flew through the room as did the love. We joined in zmirot, a tradition held dear in my household, and performed an energetic Birkat Hamazon. Havdalah concluded our time in Tzfat, and we realized that the devices we were handed were nothing compared to the togetherness and view of Mount Meron we experienced over this amazing Shabbat.
An early Happy Mothers Day to my mother and to all the Schechter moms, we love you and miss you so much!
May 9, 2016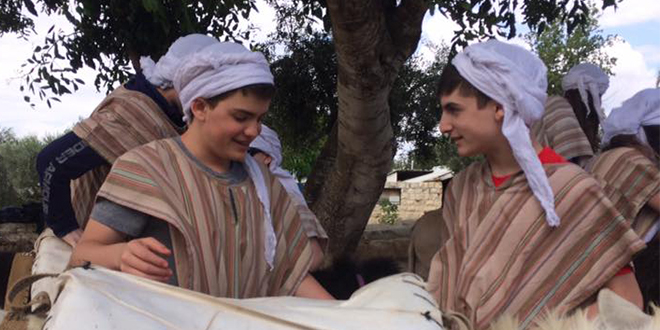 Jordan River Rafting
by David Israelstam
The view was absolutely amazing while we were slowly floating down the Jordan River with our pen pals by our side. The sun wasn't too hot but not too cold either. It was just perfect.
We met our pen pals in the morning and played ice breakers with them which was very fun. It was amazing to have the opportunity to hang out with people my own age who live across the world and see how their lives compared to ours. We didn't only enjoy the amazing view of the mountains behind the large trees, but we communicated with our pen pals and gradually became closer and closer in a matter of an hour. It was great to meet new people and have the chance to experience the way they live life.
We said goodbye to them knowing that tomorrow we would meet them again tomorrow and even get to have dinner in their homes!
After a long bus ride, we went to a cemetery. While it was very sad, we listened to stories about dreams and life of the pioneers of those who settled in Israel. I was very happy I had the chance to sit and think about how great life is and knowing I shouldn't take advantage of one minute.
Today was very fun, but at the same time it gave me time to think about many things in my life that I couldn't imagine thinking in America.
May 10, 2016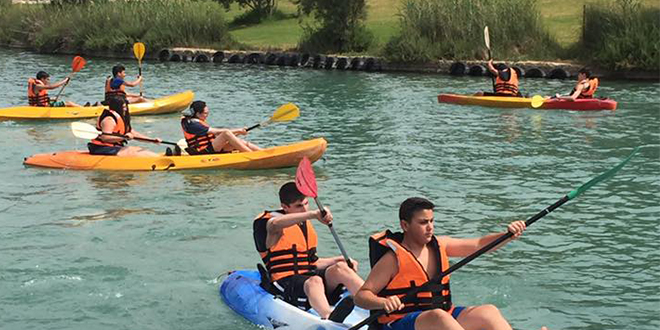 Day Two with Our Beit Shean Pen Pals
by Mollie Stadlin
A while ago, within the excitement of the trip, we learned that we were going to have Israeli pen pals from Beit She'an. I was filled with happiness at the thought of having a pen pal in Israel, from Beit She'an, Cleveland's sister city. It was comforting to know that once I arrived in Israel, I would have some friends other than my classmates