06/29/2018
Jewish Cleveland Families Share their Favorite Summer Activities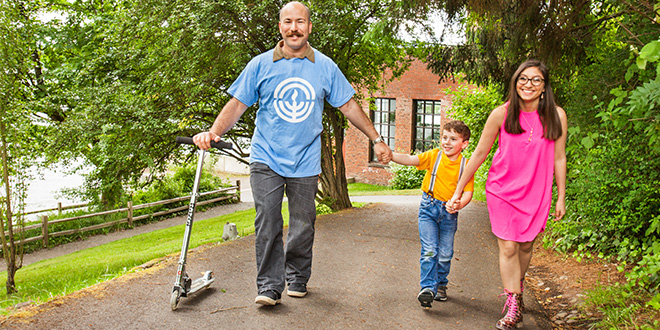 Looking for something new and different with your family this summer? Fellow Jewish Cleveland parents share some of their favorite summer activities – from visiting the zoo, to farmers markets, to getting messy with paint. There's something for everyone! 
"My favorite thing to do with my girls in the summer is get messy outside. I buy a ton of washable paint and let them paint away on our driveway. Keeps them entertained for hours! Another favorite is I fill tons of buckets with water. Grab some large paint brushes from the dollar store and let them paint the house!" — Marla S.
"There is nothing like the Beachwood pool for my kiddos on a hot summer day coupled with a yummy lunch and popsicles of course!" — Eleanor G.
"We love Lake Metroparks Farmpark. After visiting all the cute animals, we play on the farm-themed playground, and push all the funny animal sound making buttons. Before we head-off to one of the local restaurants for lunch, we take a relaxing ride with a tractor-drawn wagon." — Alexandra V.
"We love the Cleveland Zoo, Lake Metroparks Farmpark, Cleveland Botanical Gardens and going to several different of parks. The girls love playing outside!" — Alyson S.
"In the summer, we love to go to festivals, farmer's market, meet up with friends at a local playground, and having BBQs. We also love to go berry picking at a local farm. A couple of our favorite Cleveland spots are Edgewater Park for flying kites and Cane Park for musical performances." -— Shelley F.
For more information on PJ Library and the Young Families department, please contact Leah Taylor at ltaylor@jcfcleve.org or 216-593-2853.
In partnership with the Jewish Federation of Cleveland and the Harold Grinspoon Foundation, PJ Library® in Cleveland is generously funded by Mort (of blessed memory) and Iris November in celebration of Debra Ann November's life.
---
Related Items