04/30/2018
Kohrman Receives Federation's Eisenman Award
Reprinted with permission from Cleveland Jewish News.
by Amanda Koehn
While receiving the Charles Eisenman Award from the Jewish Federation of Cleveland, S. Lee Kohrman addressed Jewish continuity, injustice and the importance of ensuring the U.S. and Israel become more just places in the future.
At the same event – the Federation's 114th annual meeting April 26 at Fuchs Mizrachi School in Beachwood – Amb. Dani Dayan, Consul General of Israel in New York, gave a keynote address and Federation lay leaders highlighted its longtime president, Stephen H. Hoffman, who will retire at the end of the year.
While accepting the award, Kohrman said his incentive to give back stems from being provided opportunities early in his life, compelling him to do for others. He specifically spoke about his concerns for ensuring Jewish continuity in the United States.
"The numbers in America are daunting, yet I am an optimist – as I believe all of the prior recipients of this award were," he said. "There's a great deal of work for us all."
Among Kohrman's most significant volunteer efforts include his work with the Myers Foundation and Jewish Family Service Association to establish the Myers Campership Program in 2012. The program provides Jewish camp funding for families who can't afford it. He also helped develop a nationwide effort in Israel to help Ethiopian-Israeli families and children close the developmental and performance gap compared to non-immigrant Israelis.
He commented on a sense of shared Jewish obligation to fight injustice in the U.S., Israel and around the world.
"For our country, we cannot be blind to racism and poverty, those being the most challenging impediments to realization by all of the American dream," he said. "And that unless we act on the belief that the dream must be readily attainable by all, sooner or later it will be available to none.
"For Jewish-Americans, it means we cannot be blind to the need to work very hard to make it clear to succeeding generations the value of the continuity of a liberal, knowledgeable and relevant Judaism. And that Judaism in America is unthinkable without the existence of Israel, but only if Israel then is democratic, inclusive and compassionate.
He added that, while proudly expressing one's nationality should be valued, "nationalism that demonizes the other for the purpose of international supremacy may well, in this increasingly shrinking planet, destroy us all."
Dayan discussed the state of Israel at 70 and key current events, such as the U.S. embassy moving to Jerusalem May 14, which coincides with the day Israel proclaimed independence in 1948.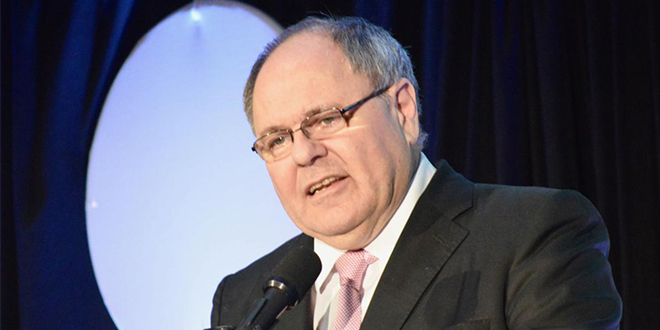 When asked by the audience about challenges of the embassy move, he replied there were, "none, just opportunities."
"To move an embassy in Israel from Tel Aviv to Jerusalem should be as natural as moving the refrigerator from the bathroom to the kitchen," he said. "An embassy belongs to the capital in Jerusalem."
Federation board chair Gary L. Gross also commended Hoffman on his final annual meeting in the role he's held for 35 years. Hoffman in February announced his plans to retire.
Gross specifically highlighted Hoffman's initiatives to help Ethiopian Jews in Israel, transform Jewish education in Cleveland and prepare Jewish professionals for leadership roles in the Federation and other Jewish organizations.
"During his tenure, he elevated every single facet of our world to enable us to anticipate the ever-changing needs of our community here and abroad through his deep commitment and compassion," Gross said, adding that Hoffman demonstrated "the true meaning of community and the endless power of tzedakah."
The event, attended by more than 400 people, also included electing the 2018 Federation board of trustees and an update on the organization's strategic plan.
Gross said a priority of the Federation in the coming year is to make Jewish Cleveland more inclusive toward all segments of the community.
"This includes making clear to those who felt excluded in the past, or assumed that they were not Jewish enough, they are valued members of Jewish Cleveland," he said.