04/16/2018
S. Lee Kohrman to Receive 2018 Eisenman Award
The Jewish Federation of Cleveland will continue a 90+ year tradition recognizing a leader in the community for their exceptional civic contributions through the Charles Eisenman Award. This year's recipient is S. Lee Kohrman of Beachwood. The Federation will honor Kohrman and celebrate the strength of our community at the 114th Annual Meeting on Thursday, April 26 at 7:30 pm at Fuchs Mizrachi School (26600 Shaker Blvd, Pepper Pike). All are welcome to attend this free event.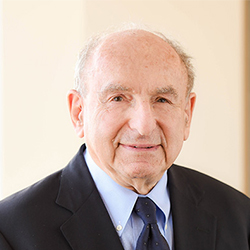 "To be associated in this fashion with the past recipients is a great honor and to serve the Jewish people has been a great privilege," Kohrman said.
Since 1996, Kohrman has served as President of the David and Inez Myers Foundation, which makes grants broadly in Northeast Ohio, nationally, and around the world. Under Kohrman's leadership, the grant making of the Foundation has expanded to reach hundreds of organizations, with grants in excess of $120 million.
Kohrman and the Myers Foundation, in partnership with Jewish Family Service Association (JFSA), also established The Myers Campership Program in 2012, an innovative initiative that promotes Jewish continuity for families in financial distress. To date, hundreds of children have received a complete Jewish overnight camp experience as a result of the program, and the program's success has led the way for three other major Jewish communities to adapt a similar model.
Committed to serving underserved communities around the world, Kohrman has helped establish a nationwide effort in Israel to help Ethiopian-Israeli families, known as the PACT (Parents and Children Together) program. Kohrman led the Cleveland community's effort to close the developmental and performance gap that separates the immigrant population from their peers, successfully integrating them into Israeli society. Since its inception in 1999, PACT has reduced the kindergarten repeat rate among Ethiopian-Israeli children from 48% to 2%.
Kohrman has previously served as President of the Jewish Education Center of Cleveland (formerly the Bureau of Jewish Education). He also served for many years as a trustee for community organizations including the Jewish Federation of Cleveland, BBYO, American Jewish Joint Distribution Committee, Musical Arts Association, University Circle Incorporated, Mt. Sinai Hospital, and the Cleveland State University Foundation, in which he has been an ardent supporter of its scholarship program and providing education opportunities to those who otherwise could not afford them. Kohrman founded the Mt. Sinai Health Care Foundation and served as its initial chair, establishing the allocation direction that the foundation follows to this day. He also twice chaired the Federation's annual Campaign for Jewish Needs as well as a special campaign for Russian and Ethiopian emigration.
"Wherever Lee has served, he has brought great intellect, tremendous tenacity, and a commitment to do the right thing," said Stephen H. Hoffman, Federation President. "From enhancing BBYO to Jewish overnight camping, Lee has dreamed it up, put it on his shoulders, and here it is happening. It's an amazing series of accomplishments."
Kohrman, a native Clevelander, is Partner Emeritus at Kohrman, Jackson and Krantz. Since joining the firm in 1955 after its founding by his father in 1918, he has focused his legal practice on helping entrepreneurs in Northeast Ohio and throughout the country start and grow their companies. He has served in the United States Army and is a graduate of Harvard College and Harvard Law School.
In addition to the presentation of the Charles Eisenman Award, the annual meeting will feature remarks by Ambassador Dani Dayan, Consul General of Israel in New York, who will discuss "Israel at 70" in celebration of Israel's milestone anniversary of independence. The program also includes an election of Federation trustees and a brief address by Jewish Federation Board Chair, Gary L. Gross. For more information or to RSVP, please visit www.jewishcleveland.org, email infomgr@jcfcleve.org or call 216-593-2900 x740.
---
Related Items