01/15/2016
Making an IMPACT!
Article reprinted with permission from Cleveland Jewish News.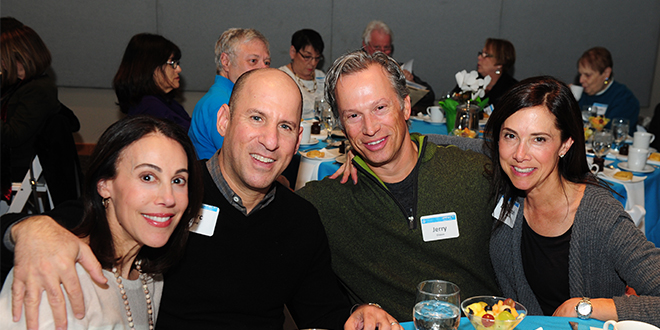 By Jonah L. Rosenblum 
Old is good – especially when old people do good.
That was the central message of the Jewish Federation of Cleveland's inaugural "IMPACT!" event Jan. 7 at Beachwood's Mandel Jewish Community Center.
It was a point hammered home by Dick Goldberg, former national director of Coming of Age, an initiative that engages adults over 50. He spoke at length about why "old is good," "doing good is Jewish" and "volunteering is good."
Then, a panel comprised of retired math teacher Mindy Davidson, former Mt. Sinai Health Care Foundation program officer Ann Freimuth and Jones Day partner Zachary Paris provided living examples of exactly what Goldberg was talking about.
All three have left their former careers behind, at least to some extent, and have begun the process of finding something new and meaningful to engage in. Davidson has begun tutoring. Freimuth is set to help Cleveland Clinic with its art collection. Paris teaches history, while still maintaining some clients at Jones Day.
For IMPACT! chair Bonnie Marks, it was a thrilling showcase, as about 400 people packed the Mandel JCC's Stonehill Auditorium.
"We are absolutely blown away," Marks said.
Yet, Marks wanted to make sure the event struck the right chord. She said that she did not want people to be intimidated by the success of those on stage. Freimuth, for example, benefitted from lifelong connections within the Jewish community. Paris benefitted from a chance dinner that led to his getting connected with John Carroll University in University Heights.
"You don't have to have had a father who was president of the JCC to be involved," Marks said. "If you really want to be involved, we're going to help you do that."
It seemed like the event hit its mark, leaving attendees with a sense of optimism.
"It felt very good," said Merle Kiwi of Shaker Heights.
"It was very good," said Joseph Balakirsky of University Heights.
It sparked questions from the audience as to their own retirement: Do you miss the daily social part of work? Are you able to maintain connections? What if you still need to work for income? Many are defined by their careers – have you been re-defined?
"We knew we'd struck a chord when we had the response that we did," Marks said.
As impressive as the panel was, the trio promoted the process as well as the end goal, with its mix of ages and progress along the post-retirement journey. With their differing tales, they showed how there are many different ways to go about post-retirement.
For example, though she has found tutoring work that lines up well with her teaching career, Davidson said that she is still searching for opportunities and indicated that she is just at the beginning of her journey.
"There's still something out there I haven't found yet," Davidson told the audience.
Freimuth, who was involved in the city's health-care scene through the Mt. Sinai Foundation, found with the Cleveland Clinic a chance to embrace her love of the arts and museums by working with the hospital's art program.
"It was not just an opportunity to explain the value of art, but an opportunity to connect with people," Freimuth said.
Like Davidson, Freimuth said that she is open to other opportunities. For example, she noted that she might bring her skills from being a career counselor at the Weatherhead School of Management to play for the IMPACT! project, helping those who want to get involved connect with opportunities that best fit their desires and skills.
"I want to keep my time free, so if something wonderful comes along, I'm free," Freimuth said.
Paris was perhaps the farthest along, having taught for some time at John Carroll, while unlike some of the others, also maintaining duties at Jones Day.
"It's the most fun I've had in decades," Paris said of his teaching job. "It's a very heady thing to be called 'professor.'"
That's a post-retirement attitude many in the audience could surely get behind.
The key, according to Goldberg, is to find something. There is no one philosophy behind that search. For example, someone leaving behind an accounting career might want to use his or her skills to help the impoverished manage their taxes – or he or she might never want to look at an IRS form again. Some might want to take on a dream they had as a child – or a hobby or passion they never before had time to pursue.
Goldberg noted that volunteering and getting involved post-retirement has a number of benefits, including warding off depression, healing the world and staying healthier.
And he argued that his audience, largely seniors, has a unique ability to affect change, due to its blend of skills, talent, energy and commitment. He noted that age is often associated with increased kindness and wisdom, backing that up with a colorful story about a pair of senior citizens who, unable to drive home in a blizzard, walked into a Pizza Hut and ordered a pizza for delivery. As long as the delivery person was going to their house, would he be willing to take them with him? The story was humorous – but it also had a point.
"The world can be a better place, and we can play a role in making it one," Goldberg said.
IMPACT!, Goldberg said, is about turning a "source," the tremendous number of talented people seeking meaning post-retirement, into a "force." That's where the resources of the Jewish Federation of Cleveland, which is behind the IMPACT! initiative, come in handy.
"It is the umbrella organization for everything that goes on," Marks said. "That's why it can be the ultimate resource."
---
Related Items