08/11/2017
Mensch of the Month: Laura Salkin
Find out how Laura Salkin of Shaker Heights is making an IMPACT! by volunteering.
Q - What is your involvement with IMPACT?
It all started with one visit to 'Unstuff The Bus' at Kids in Need Resource Center. I felt the service I performed was worthwhile in helping the children in the City of Cleveland. They were able to go back to school with lovely school supplies. As a former teacher, I truly appreciated the need for children to be able to have the tools they need on the first day of school. I've also volunteered with IMPACT! through their Done in a Day opportunities at the Greater Cleveland Food Bank and Kids' Book Bank. I am currently a member of the IMPACT! Program Committee where we discuss new ideas for volunteering.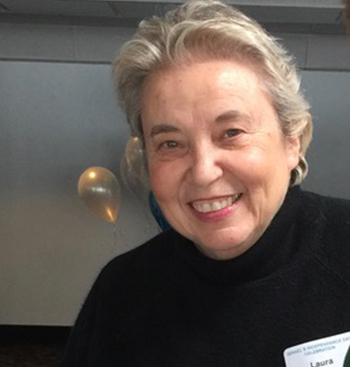 Q - What type of volunteering do you look for?
As a former teacher and now grandmother, I am always looking to get further involved with helping the youth of Greater Cleveland; it has been a while since I could give back and make a small bit of difference in these children's lives. I like to be able to pick and choose the day that I can do a project, which is why I choose the Done in a Day volunteer opportunities.
Q - How has the IMPACT! volunteer initiative assisted you in choosing your volunteer options?
IMPACT! is a wonderful outlet for volunteering and learning more about other opportunities. I get a wonderful feeling when returning home after volunteering. I feel the service is worthwhile in giving back and making a small bit of difference for future generations. It only takes one time and you'll find yourself wanting to come back to do more.
For volunteer opportunities or more information on IMPACT!, contact Susan Hyman at 216-593-2887 or shyman@jcfcleve.org.
---
Related Items