06/01/2018
On the Road to Bail Reform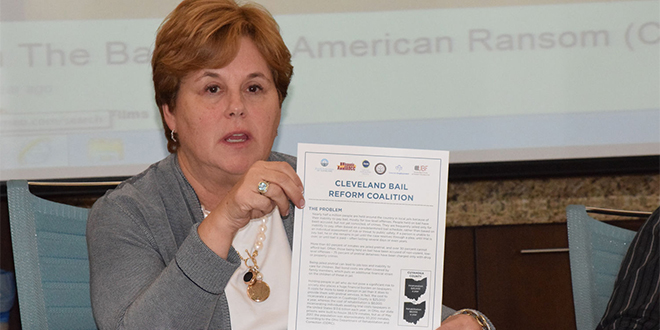 Article reprinted with permission from Cleveland Jewish News.
by Bob Jacob
Newly formed Cuyahoga County coalition lobbies state legislators
COLUMBUS – About two dozen men and women from Greater Cleveland with diverse backgrounds and faiths boarded a chartered bus last week with one purpose in mind: to advocate for Ohio bail reform.
They spent about four hours in front of state officials – explaining their position and stating their case in an attempt to make Ohio House Bill 439 the best it could be – during Cleveland Bail Reform Coalition Columbus Advocacy Day on May 23.
One of the participants, Roy Waterman from Queens, N.Y., was making his first trip to the state capital. He was the only non-Clevelander on the bus, but had the most insight into the job that lay ahead.
Waterman, in his capacity as criminal justice project manager at the Jewish Council for Public Affairs, joined members of the Jewish Federation of Cleveland, United Black Fund, NAACP, Hispanic Alliance, Towards Employment and Lutheran Metropolitan Ministry to make their voices heard about HB 439, a bail reform bill, which would head to the Ohio Senate if passed in the state House of Representatives. JCPA is the umbrella organization for the Jewish community relations councils and committees and Waterman joined the group to learn more about the local coaltion's efforts.
The Cleveland Jewish News joined them to document their efforts.
How it began
During the bus ride to Columbus, Waterman opened up to the CJN about many issues he's confronted in his life.
He also spoke about bail reform, mass incarceration, which he calls "institutional racism," the "money-grabbing" justice system, "antiquated" cash bail reform process, the "enormous" cost to taxpayers, the "desperate" need for change and what he feels is the need for fewer new prisons and more rehabilitation.
Waterman has good reason for his keen understanding of the bail and prison systems. He spent more than 12½ years in state and federal prisons in New York and Virginia.
Upon his release, he co-founded Drive Change, a social enterprise nonprofit through which he created a food truck business to train, employ and mentor former prisoners. He won an award for best food truck in New York City. This experience led him to want to become a full-time advocate for reform and in early 2018, he joined JCPA, the national hub of the Jewish community relations network based in New York City.
Waterman said he fielded many job opportunities but "was holding out because I felt like none of them were a good fit, and when I (saw) this opportunity, I was like, 'Hmm, I feel like this could be a challenge,' but it also could be monumental to partner with a Jewish organization that wants to be involved with criminal justice reform, which to me was kind of unheard of. I looked at it as the Jewish community re-engaging with the modern day civil rights movement, which is to end mass incarceration."
He grew up in what he describes as a nice family with both parents working, unlike most in his neighborhood, and an older sister who never was in trouble with the law.
"I went to the criminal lifestyle by choice," he said. "I wasn't forced into it. ... I just decided from an early age, from 6 years old, that I was going to rebel against what my parents were instilling in me mainly because I got left back in the first grade. So, when I got left back in first grade it definitely changed the way I looked at life. I felt alone, embarrassed, ashamed and angry so I made a conscious decision at 6 years old to rebel against everything my parents were trying to instill in me."
At 19, he was arrested for being an accomplice in a murder and for armed bank robbery. During his time in prison, he learned enough about the law to file some appeals. He was successful and was released from prison.
In prison, he discovered the power of education and a new purpose for his life. He earned his GED and then took correspondent college classes and became a paralegal.
"What education did for me as far as higher education, it showed me life was so much bigger than my eight-block radius where I lived," he said. "It showed me the world is such a bigger place. It opened my eyes to new possibilities and new opportunities, which I would never have known if I didn't pursue higher education when I was incarcerated."
Waterman, now 42 and married, has been one of those imprisoned each day according to the Bureau of Justice Statistics, 2.2 million people are incarcerated each year, with about 34 percent of those being African-Americans. Many are held while awaiting trial, and a large number face only minor charges.
"This is personal, and this is my purpose, and this is why I do this work. I do this for the countless men and women who have untapped potential that are still trapped in our current criminal injustice system," he said. "So, for me, ... this is what I'm supposed to do."
The Issues
HB 439 is a bipartisan bill in the Ohio House of Representatives. No action can be taken on it while a replacement speaker of the house has yet to be appointed following Republican House Speaker Cliff Rosenberger's mid-April resignation. House rules prohibit the chamber from passing legislation without a speaker.
State Reps. Jonathan Dever, R-Madeira, and Tim Ginter, R-Salem, introduced legislation that aims to bring greater fairness and equity to Ohio's bail system. Currently, bail schedules are exclusively based on offense, and there's a lack of uniformity across the state.
HB 439 would allow courts to impose conditions rather than a set monetary bail and would require courts to use a validated risk-assessment tool – which takes into account a person's threat to society and the risk a person will fail to appear in court – before establishing bail.
Further, it would allow courts to set nonmonetary bail and would require courts to collect certain data on bail, pretrial release and sentencing. The Ohio Criminal Sentencing Commission would be charged with compiling a list of risk assessment tools that would be used to determine proper bail procedures.
"When we first heard about this House Bill 439, we knew it was something we wanted to work on because it's just a really important issue that impacts so much of the community," said Debbie Klein, assistant managing director of community relations for the Jewish Federation of Cleveland. "Bail really has such a trickle-down effect for families and individuals, so we approached a lot of different partners that we've worked with on other issues in the community."
Fred Bolotin, an attorney with the Cuyahoga County Office of Reentry, said the issue is not just an inner city one.
"It affects all aspects of the community," he said. "On a personal level, it affects the poor and the minorities a disproportionate amount, but to the larger community, when someone is unable to make bail and sitting in jail for months, taxpayers are the ones who are paying the bill. When people realize that, they'll say we've got to find a better system."
Cecil Lipscomb, executive director of United Black Fund of Greater Cleveland, said lives can be destroyed because of the length of time it takes for someone to reach the bail time frame.
"According to Judge Russo, it takes four days for an individual's life to fall apart, but it takes six to seven days in the Cuyahoga County system to process someone," said Lipscomb, referring to Cuyahoga County Judge John Russo. "If you don't have bail, you don't post with that monetary 10 percent, seven days later you don't have a job, your bills can't be paid (and) you're ultimately in a downward spiral. So, today it's about me learning more about what we can do as an organization."
Michael Jacobson, vice chair of the Federation's CRC, said the issue is important for the community.
"When somebody is sent to jail for even a week, they generally lose their job after four days," he said. "There are family issues. A mother has nobody to leave the kids with when she goes to work, and she ends up losing her job. The kids lose a parent, so all these things are very, very important. We learned today that 23 percent of the female population is in jail for drug possession, not drug trafficking, and under the new bail reform, that would become a misdemeanor and there would not be jail – but they would get help.
The Ohio Department of Rehabilitation and Correction estimates the prison population today is nearly 50,000 and the prison budget is $1.7 billion. This compares to about 8,300 incarcerated in 1974 and a budget of $264 million.
The coalition estimates it costs $25,000 per year for each person incarcerated in Cuyahoga County, while rehabilitation costs are $8,000 per year. U.S. taxpayers spend $13.6 billion on incarcerated people awaiting trial.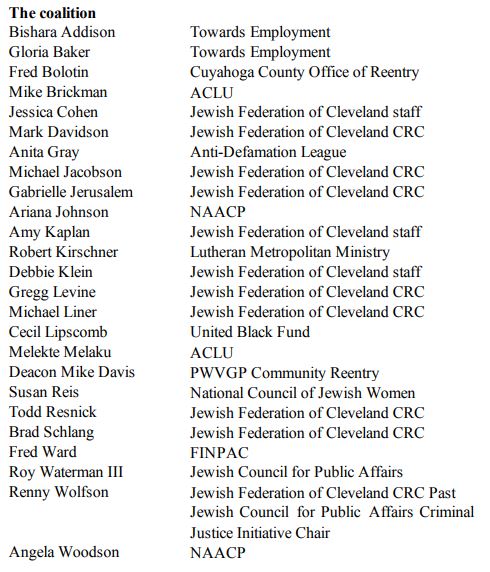 Officials take note
The bus departed from the Federation's Jack, Joseph and Morton Mandel Building in Beachwood, and after clearing security at the Verb Riffe State Office Tower in downtown Columbus, the group spent the next five hours – save for a brief tour of Ohio Holocaust Liberators Memorial on Capitol Square with guide Steve Edelstein of the Jewish Federation of Columbus, learning about the state of incarceration and bail reform in Ohio and advocating for changes to HR439 to legislators.
Among those the coalition met with were Gary Mohr, director of the Ohio Department of Rehabilitation and Corrections; Nick Celebrezze, D-Parma, house ranking minority member; Senate chair John Eklund, R-Munson Township; Senate President Pro Tempore Bob Peterson, R-Washington Court House; and Dever and Ginter.
The officials briefed the coalition, answered questions and heard prepared remarks from Renny Wolfson, past chair of the Federation's CRC and JCPA board member; Robert Kirschner of Lutheran Metropolitan Ministries; and Bishara Addison of Towards Employment, a workforce development organization that serves a population where about 60 percent of those it attempt to help have criminal records, she said.
"It's critically important because this show of force was able to garner a lot of attention from the individuals who came and spoke with us today," Addison said. "They weren't just in and out. They actually came in, talked to us for a while and answered questions – and they also came prepared. I think it's because they knew when you bring this type of coalition together, you got to pay attention. This bill is a good start, but there's a lot of work that needs to be done on it."
Klein said, "Ultimately, we could do as much advocacy as we want, but eventually it's going to be out of our hands and in the hands of our legislators. But showing a strong coalition goes a long way toward influencing our legislators and I felt like today they heard what we had to say, and hopefully, we could help move it in the right direction."
Building relationships
The Federation looked for an issue to wrap its arms around last December, and a few months later, the coalition began to take shape. A two-hour meeting was held May 22, attended by many of the 25 who traveled to Columbus as well as others who couldn't make the advocacy trip. They got to know each other, learned about HB 439, discussed strategy and heard Waterman share his story.
"We had the right representatives that were very well-versed on the issues related to bail reform and this issue in particular," said Brad Schlang, chair of the Federation's CRC. "We had the right participants on the trip, and for me, the key message was the Jewish community, the Latino community and the African-American community joining together to come to Columbus to advocate on an issue that's critical to all of Greater Cleveland.
"This is part of tikkun olam, repairing the world. It's repairing our corner and the entire state of Ohio. We built on the relationships we've established within the African-America and Latino communities and other faith-based organizations – work we've been doing for the 70-year history of the CRC – and this is just another example of where we can make a difference by joining together as a broad community."
Lipscomb participated in a trip to Israel with the Federation last year and views this coalition as an extension of that partnership.
"For me, this is a continuation of the relationship I established with them," he said. "To be able to come to Columbus with a unified voice that crosses many sections of our community, it is very powerful. It shows that it's the issues that drive, it's the humanity that drives the commonality between us. There are very few differences when it boils down to it.
"Just in my day here, I've heard of individuals already teaming up to do things like petitions, getting signatures, and advocating on gun issues and voting issues. All the things we were doing in a silo, I'm seeing go between communities now. They're cross-sections."
The Jewish support
Having the Jewish communities support on this issue is invaluable, said Waterman, who admitted to having little contact with Jewish people until accepting his role with the JCPA.
"It's very important to have the Jewish community support on this issue, because the Jewish community knows what it's like to be marginalized," he said. "They know what it's like to be segregated against as well, so this is something communities of color have been facing since they were brought here to this country 300 to 400 years ago."
"The Jewish community, when they came to this country, they were ostracized, they were dehumanized, they were called names and had to use separate bathrooms, so they know what it's like personally to feel dehumanized. And us, just based off of our history of oppression in this country, there's so much commonality, there's so many ways there is intersectionality and identifying slavery and morphing it into mass incarceration and the trauma that's associated with slavery.
"I also talk about the Holocaust, the trauma associated with the Holocaust and how the Jewish community needed a lot of healing in order to cope with the trauma and to move on from that. Similarily, it is very difficult for African-Americans to move on from slavery because it has morphed into another beast, which we call mass incarceration. So now, by the Jewish community being involved with this movement, it's saying, 'We are you and you are us.' It's saying we are only successful as our most marginalized community."
What's next?
"This is new space, and a space I hopefully will remain in for the issues, because you have to get to the root cause," Lipscomb said. "We fund organizations, we organize our nonprofit organizations, but when you get down to it, you have to hit the public sector to address and change policies at a grassroots/ground level."
Klein said, "Today has been really successful. We had the opportunity to show that we are a strong coalition from Cleveland, that we're a diverse group, that we care about the issue of bail reform very deeply and we're committed to seeing it through.
"It's important that we've had several representatives, both from the House and the Senate, who could listen to what we have to say. ... I think they're moving in the right direction. Hopefully, we can help inform and make improvements to the bill as it stands."
The coalition left Beachwood under cloudy skies and a few raindrops and returned to the Federation building under bright, sunny skies. As the Cleveland contingency walked off the bus, they did so with a renewed sense of optimism that they will likely make a difference in bail reform in Ohio.
On the road to bail reform photos