11/25/2019
Remembering Barbara A. Mandel
We are saddened to share the loss of Barbara Mandel z"l, a life-long volunteer, highly respected philanthropist, social justice advocate, wife of 70 years to Morton L. Mandel z"l, and Federation Life Trustee.  Mrs. Mandel was a self-proclaimed feminist and a born leader with a true philanthropic spirit intent on making a difference.
Our thoughts are with the entire Mandel family during this difficult time. Baruch Dayan Emet - May her memory be for a blessing.
---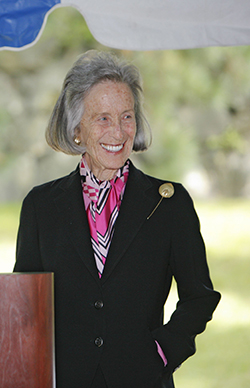 Philanthropist Barbara A. Mandel, Widow of Mort Mandel, Dies
Please read the Cleveland Jewish News article, reprinted with permission. Text provided below:
by Jane Kaufman | Staff Reporter
Philanthropist Barbara A. Mandel, 93, widow of Morton L. Mandel, died Nov. 21 at her Palm Beach, Fla., home.
She had made her last trip to Israel in October to attend her husband's memorial service in Jerusalem and to attend a board meeting at Hebrew University. She returned from Israel on Nov. 12 greatly weakened. Her son, Thom Mandel, said she traveled against doctor's orders.
He said his mother and father worked alongside each other on different projects, frequently in the same room. He said his mother was competitive and businesslike.
"My dad could do warmth a whole lot better than my mom could," he said in a Nov. 22 interview with the Cleveland Jewish News. "Not that she didn't have a sense of humor, but she was much more businesslike than he was, and he was pretty businesslike. She was always, always working on one of her projects."
Mort Mandel, 98, died Oct. 16 at the home in Palm Beach.
"She was a force of nature," Thom Mandel said. "She had this thing going on inside her that no matter what she did she had to be the best."
He said his maternal grandmother told him that when his mother was in second grade, "The teacher wasn't in the room. The place was chaos. My mom took control and had everybody in their seats and quiet by the time somebody got there to look after the room. This would have been I don't know, 1930, 1932."
Caroline Baumann, director of Cooper Hewitt Smithsonian Design Museum in New York City, which received $10 million from the Morton and Barbara Mandel Family Foundation in 2014, recalled a moment that showed Barbara Mandel's character.
"Cooper Hewitt was really part of her DNA," Baumann said of Mandel, who served on its board. "One of the events during the renovation announcing our progress, we had a very feisty audience and she took off her shoe and beat the podium to get people's attention. For me, that is 100% Barbara. You know, focused attention and really getting people to rally to meet the needs at a particular moment with emotion and conviction."
Barbara Mandel was an avid knitter. When she learned her favorite knit shop in New York City was going out of business, bought the store, changed the name to Stitches and moved the operation to Midtown Manhattan. It was through her interest in design and her connection to the late Harvey Krueger, who served on Cooper Hewitt's board, that she began her affiliation with the museum.
Thom Mandel said she knit the pieces for the window display in the approximately 15 years that she owned the store, which was at Lexington Avenue and 58th Street or 59th Street, around the corner from Mort and Barbara Mandel's New York apartment.
"It was great," he said. "She wasn't offering the sweaters to us anymore, and she found a professional way to pursue her hobby."
The Jack, Joseph and Morton Mandel Foundation and Barbara Mandel made a $22.5 million gift to Brandeis in 2007 to build the Mandel Center for Humanities.
"Barbara Mandel was a remarkable woman – a dedicated philanthropist and humanist, who gave of her time and resources to improve the lives of others," Brandeis University President Ron Liebowitz said in a statement. "We were most fortunate to have her as a fully engaged and long-term trustee. All members of the Brandeis community benefited enormously from her wisdom and experience gained over a lifetime of volunteer work with Jewish, Israeli and educational nonprofit organizations. She will be greatly missed."
Named to the Ohio Women's Hall of Fame, Barbara Mandel was president of the National Council of Jewish Women for two terms and with her husband, founded the Morton and Barbara Family Foundation.
Peggy Wasserstrom, who like Barbara Mandel, served as president of the Cleveland section of NCJW, remembered learning from her.
"Barbara, through Mort, taught us all how to administer and how to run a community service organization," Wasserstrom said. "Anything I learned about administration or running a community service organization, I learned from Barbara. And she ran a tight ship and she made us very professional."
Wasserstrom also spoke of Mandel's dedication to the cause.
"She had severe back problems. And some of our meetings took place in her bedroom while she was in bed flat on her back. It was all very businesslike, but … she was a very fine teacher," Wasserstrom said.
"She was an embodiment of NCJW values and a staunch supporter of leadership development in the Cleveland section," Elaine Geller, NCJW/CLE president. "Barbara was a light in the Cleveland community. She will leave an incredible mark in so many lives and her legacy will continue through many organizations – including our own – doing transformative work because of her vision, support and generosity."
Born in Cleveland on Dec. 13, 1925, Mandel was confirmed at The Temple in Cleveland and graduated from Shaker Heights High School. Her father died when she was very young and her mother, Lilian, remarried Leonard Abrams when she was very young.
She met her husband-to-be on a blind date set up by a friend, although Thom Mandel said his father told him, "He knew who she was but had never met her."
The two married at Wade Park Manor Feb. 27, 1949. They raised their family first in Cleveland Heights, relocated to Palm Beach, then returned to Shaker Heights, when their oldest daughter, Amy, was ready to go to high school.
Mandel's activities in Cleveland included serving as chair of leadership development and project renewal a for the Jewish Federation of Cleveland.
Other major North American activities included serving as national vice president, National Women's Division of the United Jewish Appeal; national president of the American Friends of Hebrew University; trustee and executive committee member and co-chair of Brandeis University's capital campaign; board member of the West Palm Beach Library Foundation; and trustee and vice chair of the Mandel Foundation.
Overseas, her philanthropic activities included serving as deputy chair of the executive committee, board of governors and chair of the international campaign at Hebrew University.
She was awarded an honorary degree from Hebrew University. Additional awards include the NCJW Hannah G. Soloman Award and life trustee of the Jewish Federation of Cleveland. She attended Radcliffe College of Harvard University in Cambridge, Mass., and Flora Stone Mather College of Case Western Reserve University in Cleveland from which she received a bachelor's degree.
At NCJW, she presided over 200 sections with a membership of 100,000. She procured grants to support the NCJW advocacy and community service programs, testifying before the U.S. Congress on issues concerning women, particularly on fair practices for women in the insurance industry; and conferring with President Ronald Reagan and his administration on issues relating to Israel, the Middle East and Soviet Jewry.