05/10/2016
Remembering Israel's Fallen Soldiers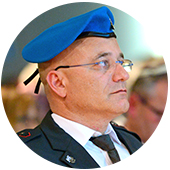 Over 450 Clevelanders gathered to remember Israel's fallen soldiers and civilian victims of terror at Yom Hazikaron, Israel's Memorial Day. Israeli soldiers, like Colonel Ran Keinan shared these remarks.
To the esteemed members of the Cleveland community: Shalom.
My name is Ran Keinan. I have been an officer in the Israel Defense Forces (IDF) for the past 28 years. I am currently the head of the IDF logistic school, and head of the 2016 IDF delegation to Cleveland. It is a great honor for me to be here with you.
I want to take this opportunity to thank the Jewish Federation and the Cleveland community for its ongoing support and cooperation with the IDF and specially the education corps over the years.
In the week of remembrance and Independence Day, we lower our heads and flags in memory of more than 23,000 men and women who gave their lives in the wars of Israel. Ever since the establishment of Israel 68 years ago, we have been paying a high price for its existence.
In Israel, Yom Hazikaron begins countrywide with the sound of siren declaring a two minute silence during which all activity and traffic cease.
Flags are flown at half-mast and memorial ceremonies are held all over the country. Ending at sundown, the gloomy reflective mood of Yom Hazikaron gives way to the celebration of Yom Ha'atzmaut, a transition which emphasizes the lasting tie between the sacrifice of the country fallen and the continues existence of the dynamic State of Israel.
This is the first time that I'm commemorating Yom Hazikaron abroad, away from my friends and family.
This year I will not visit the graves nor the bereaved families of my fallen friends.
Today I am standing here, among our friends in Cleveland, with an understanding and a feeling of the strong connection between Israel and the Jews throughout the world. I feel the powerful connection of our common religion, history, values and destiny.
I deeply pray for better days. I pray for times of peacefulness and safety with no further bloodshed in Israel and around the world.
ה' עוז לעמו ,ייתן ה' יברך את עמו בשלום. May God give his people strength, may God bless his people with peace. יהי זיכרם ברוך.
---
Related Items