04/15/2019
Remembering Louis Rosenblum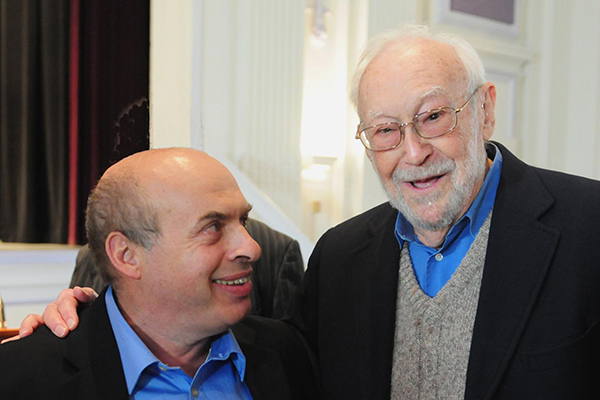 We are saddened to share the loss of Louis Rosenblum z"l, a leader in the creation of the Cleveland Council on Soviet Anti-Semitism and the national Soviet Jewry movement. Lou's legacy is a reminder of what we can do when united and what one heroic man can achieve for the Jewish people.
Our thoughts are with the entire Rosenblum family during this difficult time. Baruch Dayan Emet - May Lou's memory be for a blessing.
Read the Cleveland.com article.
Please read the Cleveland Jewish News article, reprinted with permission. Text provided below:
Louis 'Lou' Rosenblum: Nov. 15, 1923 – April 4, 2019
by Alyssa Schmitt | Staff Reporter
Pioneer in Soviet Jewry movement, a founder of West Temple
Louis "Lou" Rosenblum, a pioneer in the Soviet Jewry movement which led to the freedom of emigration of Soviet Jews and a founding member of Beth Israel-The West Temple, was remembered for his ability to move mountains and took action when others stood still. He died April 4 at age 95.
At Beth Israel, Rosenblum was part of a small group of men that formed a social action committee that would later become the Cleveland Council for Soviet Jews. Among its major accomplishments was its lobbying in Washington, D.C., which led to the Jackson-Vanik amendment to the Trade Act of 1974. The amendment was intended to affect U.S. trade relations with countries with non-market economies that restrict freedom of emigration and other human rights.
In the early days of the action committee, formed around 1961, the Holocaust was a prominent figure in its studies and deliberations. What struck the group was the lack of response of the dire predicament of European Jews from the U.S. government and American Jewish leadership. In 1963, it led them to question if a major Jewish population was at risk. What they found was the plight of 3 million Jews in the Soviet Union.
"They started to investigate who's speaking out for these people ... they were finding no one," said his daughter, Miriam Rosenblum. "They approached the major rabbis of the day and other Jewish leaders to ask, 'There seems to be this problem, why isn't the Jewish community doing something?' It was after quite a bit of time when they were clearly coming against their own wall that they decided well if no one else is doing something, we're going to start making some inroads in this."
The first task of the group was a major public relations campaign to tell what was happening to Soviet Jews to Americans and American Jews, said Herb Caron, a member of the committee. After sending a telegram through Western Union with a letter signed by about
17 prominent Cleveland rabbis, the news of Soviet Jews was garnering attention and caused Rosenblum to take a leading role in the committee.
"When he joined, he joined full force and really shook things up," Caron said. "Without Lou, I don't think these things would have happened. Without our public relations work, this wouldn't have happened either. It was the public relations victories of making this a national issue so that it was on the presidential campaign platforms of all parties."
The committee formally organized the Cleveland Committee on Soviet Anti-Semitism in October 1963 and gathered members from varying races and religious backgrounds to join the board, said Sheldon Benjamin, Rosenblum's son-in-law. The committee would create publications describing the Soviet Jewish problem and placed ads in Cleveland newspapers. In an article Rosenblum published describing the history of the Soviet Jewry Movement, he wrote, "Strange as it seems, our small operation was in contact with people across America, who sought information and advice or to exchange experiences."
In a rebranding initiative to give the group more credibility on a national level, the committee enlisted well-known Jews and changed its name to the Cleveland Council on Soviet Anti-Semitism.
While he was leading the grass roots movement, Rosenblum was also working at the then-NASA Lewis Research Center (now known as the NASA John H. Glenn Research Center), where he would come to direct the solar and electrochemistry division, Miriam Rosenblum said. Louis Rosenblum moved to Wellesley Hills, Mass., about six years ago.
"He would come home every night at 6 p.m., kiss my mother, have some dinner and then he descended in our lower level where he had a large office devoted to his Soviet Jewry work," she said. "He would sit at the then-typewriter and write correspondence and place phone calls and have his meetings into the wee hours of the morning."
When he would need to travel for work, Miriam Rosenblum said he would schedule his trips to fall close to the weekends so he could take advantage of the free time to speak with other's around the nation about Soviet Jewry. This would set the foundation for the 32 chapters that formed the Union of Council for Soviet Jews and continued the movement.
Throughout the two decades Louis Rosenblum actively worked in the movement, he started a mailing campaign with a partnership through American Greetings and the Jewish Federation of Cleveland. A package of five holiday cards were given to American Jews along with a list of Soviet Jews for the cards to be sent to, which humanized the cause. He also found out that Soviet Jews were taking Hebrew classes. Those Hebrew teachers would be arrested in the Soviet Union for not having a teaching license. Rosenblum partnered with the late Henry Margolis, a Jewish educator, to offer licensing to those teachers.
"Lou was providing the links with the people and pushing the (U.S.) State Department, the American government to do something to help the Soviet Jews, because everyone else was saying leave it to the professional," said Eti Ganin, a Soviet Jew who immigrated to Israel in 1972 and moved to the Cleveland area in 1984. "We really owe a depth of gratitude to Lou. And when I say we, it's not only Soviet Jews, it's all the Jewish establishments, the Federation and everyone."
Rosenblum was the father of Jan, Miriam (Sheldon Benjamin), Diane (Henry Gordon) and Daniel (Sharon Waxman). He had eight grandchildren and three great-grandchildren. He was predeceased by Evy, his wife of 64 years, and his brother, Myron.