01/22/2019
Remembering Morton Gross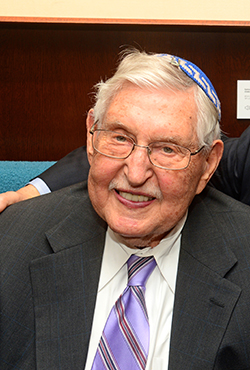 We are saddened to report the death of Morton J. Gross (z"l), former Federation Board member, father of Board Chair Gary Gross, past Board Chair and Life Trustee Harley Gross, and grandfather of current Board member Sarah Zimmerman.
Mort was a devoted husband to Toby and the loving father of a large, Jewishly committed and philanthropic family. A true patriarch in every sense of the word, he was passionate about Jewish education and continuity. This passion is both symbolized by his commitment to the school that bears the family's name - Gross Schechter Day School - and through his work as past president and long-time community leader at Congregation B'nai Jeshurun, where he was instrumental in building the congregation's new synagogue in Pepper Pike.
Mort was also a dedicated former board member of Jewish National Fund and Cleveland Hebrew Schools, as well as a former member of the Federation's Endowment Fund Committee and Real Estate Committee.
Our thoughts are with the entire Gross family during this difficult time. May Mort's memory forever be a blessing.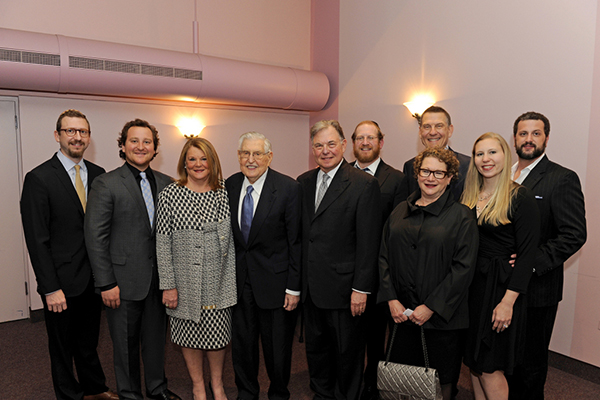 Please read the Cleveland Jewish News article, reprinted with permission. Text provided below:
Morton Gross recalled for affection for family, Jewish education, Israel
by Ed Carroll, Staff Reporter
Morton Gross, who died Jan. 19 at age 94, was remembered for his commitment to his family, Jewish education and Israel.
Gross, who lived in Shaker Heights, was the owner of Gross Builders in North Royalton, a construction and property management company. He was a leading donor to Gross Schechter Day School, prompting the school to be partially named in his honor. According to his sons, the creation of the school was a badge of pride for him.
"It was very much a source of pride for him," Harley Gross said. "He was very proud of it. He used to go to graduation day and help hand out diplomas. He helped with their scholarship funds to send eighth graders to Israel on their class trip and had a continuing interest in the school."
Gross also said that interest led Morton Gross to be involved in Gross Schechter Day School's annual Kosher Rib Burn Off, held over Labor Day weekend, well into his 90s.
"He would always be there as part of that," Gross said. "We would come, set up a chair for him in some shade and he would contribute."
He was also an early supporter of Cleveland Hebrew Schools, according to his sons Harley and Jeffrey Gross. In addition to his generosity in Cleveland, Gross also endowed a training institute for Hebrew school teachers at the Jewish Theological Seminary in New York City.
Gross showed his commitment to Israel early, making a trip to the country for the first time along with his wife, Toby, in 1960 and returning many times with family or on Jewish Federation of Cleveland mission trips. Gross also made purchases of Israel bonds and was a leader of the Cleveland chapter of the Jewish National Fund.
Gross was a founder of B'nai Jeshurun Congregation's young people's congregation and later president of the synagogue, helping with fundraising and construction of the building on Fairmount Boulevard.
"Mort was a pillar of our synagogue, whose leadership and vision shaped the best of everything B'nai Jeshurun is today," said Rabbi Stephen Weiss, senior rabbi at B'nai Jeshurun. "He led the charge to move to Pepper Pike, overcoming significant opposition because he saw how critical it would be to our future. He helped lead the cutting-edge design of our campus that broke with traditional models and created a flexible, engaging space that encouraged engagement and community, as well as a sanctuary with a low, accessible bimah that thrust slightly into the congregation.
"These changes broke down barriers between clergy and daveners, and created the sense of intimacy and 'family' that characterizes B'nai Jeshurun's culture to this day. At the same time, he was devoted to traditional egalitarian Conservative Judaism and helped keep our religious identity focused and strong. He advocated for the complete inclusion of women in services and leadership. He fought for the inclusion of young people in leadership."
Weiss described Gross as "extraordinarily devoted to his family" and said his family embodies the values he passed on to them.
"This is a deep personal loss for me as well," Weiss said. "Mort and Toby were very precious friends, and Mort was an important confidant and mentor who offered me invaluable guidance. I would not be who I am as a rabbi today without Mort's influence and support. I will be forever indebted to him, and I will miss him greatly."
Harley Gross said his father's greatest legacy lay in the family that survives him.
"We are – and his grandchildren and great-grandchildren – we are his most precious legacy," Harley Gross said. "He encouraged us to live Jewish lives, to participate in Jewish community life and synagogue life, in Jewish education and fundraising. I think he was most defined by his commitment to Jewish life and his family."
Gross is survived by his wife, Toby; sons, Harley (Rochelle), Jeffrey (Laurel), Gary (Cari) and David (Marjory) Gross; grandchildren, Gene, Abraham (Aviva) and Aaron Gross, Margaret (Josh) Michaelson, Zack (Sheera) Gross, Sarah (Scott) Zimmerman, Emily (Andrew) Fuchs, Rachel Gross, Gleena (Dan) Fix and Carolyn Gross and 24 great-grandchildren.
Services were held Jan. 21 at B'nai Jeshurun, with about 500 people attending. Interment was at Chesterland Memorial Park in Chester Township.