09/15/2017
Security Training Increase as High Holy Days Near
Article reprinted with permission from Cleveland Jewish News.
By Alyssa Schmitt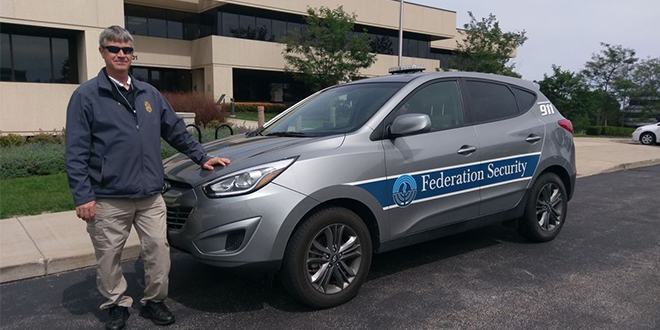 For years, security has been a factor when planning a local Jewish event because of the rise in anti-Semitic and terror attacks. The High Holy Days are no different.
The best way to combat any threat is preparedness. As the holidays near, Jewish agencies have been conducting training with local police departments and the Jewish Federation of Cleveland in areas like active shooting, bomb threats and situational awareness.
"Every temple should have a plan," said Jim Hartnett, director of community wide security at the Jewish Federation of Cleveland and a former FBI agent. "We prepare for the unexpected as best we can. We've got to be open and accessible, but monitor people coming into our temples."
In each training, the common theme is to stay aware of surroundings and ways to respond. If the community is thinking security, identifying an individual that seems out of place becomes easier and leads to the appropriate reaction, whether it be stopping and talking to the individual and if concerned, calling the police.
"The two most important things we emphasize over and over again is make sure you're reporting suspicious activity – you're aware of your surroundings," Hartnett said. "And that every agency should be getting training from the police on what do you do if you get a hostile intruder in your building."
Continuing its goal of raising awareness of safety practices, the Federation began annual High Holy Days security planning meetings to make law enforcement aware of the High Holy Days importance.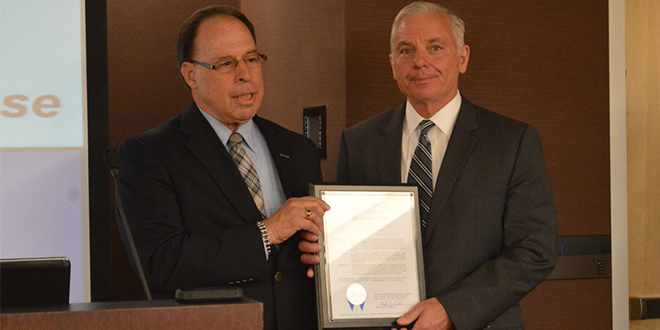 In its first year, 30 people attended. Its latest meeting on Sept. 8 attracted more than 125 people, including high ranking members of local police departments and Justin Herdman, the U.S. Attorney for the Northern District of Ohio.
"It's grown to the point where literally people are calling me and asking to come," Hartnett told the Cleveland Jewish News after the meeting. "The fact that (Herdman) showed up … that, to me, shows the level of support we're getting from top security executives from the area."
Speakers included members from the Cleveland FBI, U.S. Department of Homeland Security, Ohio Homeland Security and a local emergency dispatcher.
"Our most fundamental mission at the department of justice is always to protect the public," said Herdman, who began his current role in August. "If there are threats to our public … we will be in position to protect the public, all the public."
The Jewish community faces threats from three categories, said special agent John Breen of the Cleveland FBI joint terrorism taskforce during the meeting, including international terrorism, domestic and hate crimes, and he stressed prevention, preparation and how to respond.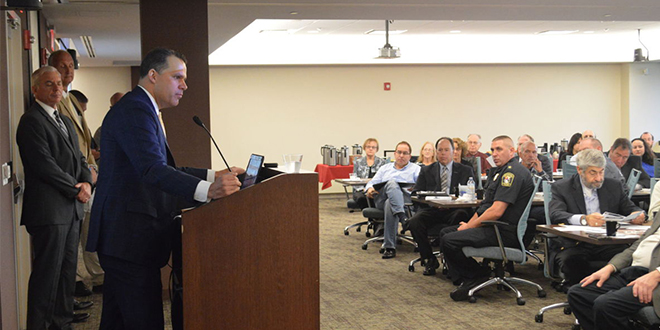 "All religious communities, especially in this day and age, are at risk for violence," he said. "I think the Jewish community is unique. … I don't really know of another organization out there that faces threats from multiple categories."
To increase preparedness, Breen suggested stronger access control to buildings, referring to locks on doors going into the building, but also to the sanctuary. Numbers above doors should be installed for responders to navigate an unfamiliar location quickly.
Breen referred to the 2016 Pulse nightclub shooting in Orlando, Fla., as a reason to install fully equipped first aid kits. Many of the victims injured in the attack would have benefitted from having immediate access to first-aid equipment.
Five security camera units will be scattered through the community in pre-planned locations designated as high-traffic areas, said Nick Dicico, the director of Chagrin Valley Regional Dispatch. The cameras will monitor the areas around the Jewish community to provide an additional layer of protection.
When speaking during the meeting, Christopher Jeresko from the U.S. Department of Homeland Security followed suit of many of the presentations by highlighting the importance of awareness and added to look out for suspicious individuals or vehicles that look out of place.
The Federation's recommendation for organizations to hire off-duty police to serve as additional security have been followed by a majority of the synagogues.
"We do have Beachwood police and other surrounding area policeman that will be on duty," said Martha Sivertson, executive director at Congregation Shaarey Tikvah in Beachwood. "We also have the Beachwood Police Department running the ALICE training for us."
For the first time, Congregation Shaarey Tikvah requests its members wear name tags when attending services. Sivertson said it's a way for members to get to know each other, while also adding an extra layer of protection by pointing out people who may not belong.
Beachwood Police Chief Gary Haba said his officers will have a heightened awareness while patrolling and will make extra rounds as they see fit.
"We always give the temples special attention, just like we would for anybody else that is having an event expecting a lot of people," he said.
There will be constant police presence by all area police departments that have temples in their jurisdictions, including Cleveland Heights, Lyndhurst, Mayfield Heights, Orange, Pepper Pike, Solon and University Heights, along with neighboring departments deploying officers if needed from Highland Heights, Shaker Heights and South Euclid. The Federation's security will also have its offices working throughout the High Holy Days.
Safety measures have increased over the years, but Hartnett said there is no imminent threat to the community for the High Holy Days. He reminds individuals to stay aware and if you "see something, say something, do something."
"Keep calm and carry on," Hartnett said. "Over time, we've had these incidents that get ramped up, we will evaluate our security concerns. But really, the Jewish community should be paying attention all the time."
Beachwood Mayor Merle S. Gorden also attended the annual event and announced Sept. 8 as Jim Hartnett Day to honor his ongoing commitment of creating a safe community.
---
Related Items