04/28/2017
Shabbat Message from Steve Hoffman
Message from Stephen H. Hoffman
A siren wailed for two minutes. The streets of Rehovot came to a complete stop. People stood in silence on the sidewalks, drivers stopped their cars on the street and climbed out and stood at the door – everyone thinking of the memory of the six million Jews lost in the Holocaust. And then it was over, everyone just resumed their walk, their drive, their sales transactions in the shops.
Except for a group of Clevelanders.
We are here with a select group of banking leaders, heads of accounting and law firms, executives of important nonprofits, and the owner of the Cleveland Indians, among others. It's a Federation/Israel Bonds group learning about Israel.
We needed to spend a few more minutes reflecting on what we had just experienced as our guide explained some of the significance of the Holocaust in the Israeli mind.
It was one of the many moments needing to be unpacked as we toured the modern state of Israel wrapped in biblical imagery.
As many times as I come, it's always different when traveling with first-timers and folks from the general community, seeing Israel through their eyes. The wondrous vitality of Tel Aviv with the venture capitalists, start up nation innovators, and amazing cultural offerings (not to mention Mediterranean beaches), startles everyone.
And that just keeps happening wherever we go – exploring the complicated nature of Israeli society and the region's geopolitical conflict.
I spend most of my days in Cleveland contending with the challenges that need to be overcome in our local community, then the constant reaction to the latest twists and turns in the situation of Israel. In short, I focus a lot on problems.
But being here with neighbors has allowed me to once again see what an incredible place Israel has become in just 69 years of independence. To play a role in that development through Israel Bonds and Federation is a real privilege.
To breathe the air of Jerusalem on the eve of Shabbat – well, heavenly.
Shabbat Shalom.
Stephen H. Hoffman
President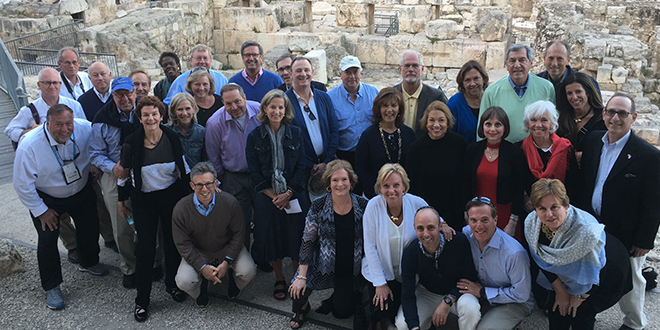 ---
Related Items