02/22/2019
The World Is Her Oyster, But Her Heart Is in Cleveland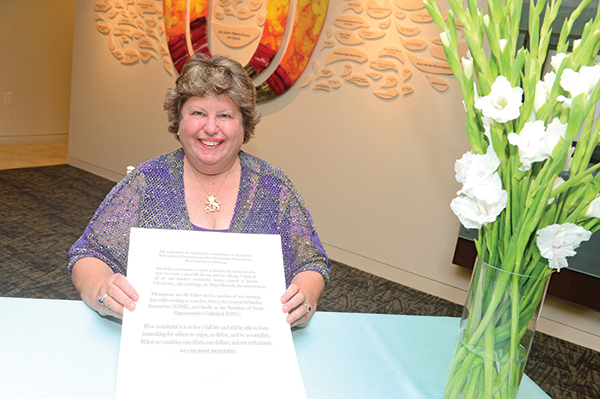 Growing up, Carol Rivchun spent many hours at her family's jewelry store – Chas. S. Rivchun & Sons Jewelers. Her mother worked alongside her father. Her grandfather, her uncle, and their wives worked there as well. The family business gave Carol front row seats to some very special customers such as George Szell, the conductor of the Cleveland Orchestra, Don Effler, the pioneering Cleveland Clinic heart surgeon, and even the Crown Prince of Arabia! It was through the store that Carol got to know the Cleveland general and the Jewish community alike.
Community service and caring for others was an important value in Carol's family – with an emphasis on giving of your time and helping people. Carol's father served on various community boards, and also showed Carol the value of helping one individual, one family. When Soviet Jews first arrived in Cleveland in the 1970s, Carol's father created a position for a jeweler at the store and hired Sima, who worked there for decades.
The value of helping one person is clearly deeply rooted in Carol. She recently retired after 20 years as President and CEO of the non-profit Youth Opportunities Unlimited (Y.O.U.). After a job at the Council of Smaller Enterprises (COSE), where she managed the small business education program, she heard about an opening at Y.O.U. and realized she could really make an impact there by leveraging all of the connections she had made at COSE.
During her tenure, she expanded and enriched the program exponentially. Y.O.U. became a United Way agency, and collaborated with the City of Cleveland and Cuyahoga County. Under Carol's leadership, Y.O.U. helped over 150,000 young people.
Carol didn't let her busy professional life get in the way of participating in the community. She has served on the boards of the Ohio Chamber Orchestra, Mt. Sinai Health Care Foundation, the Cleveland Jewish News, the Jewish Agency For Israel, and the Jewish Federation of Cleveland. In fact, it was during a board meeting at the Federation that Carol first got the idea to make a Legacy gift. She was listening to a presentation about the different ways to fund a gift, and realized she could join the Legacy Society simply by making the Federation the beneficiary of her IRA.
What inspired her to leave this gift? Carol explains, "As you get older, you realize that you don't need all the money that you think you will. Once you are comfortable, what more do you need?" Carol wanted to be able to support Jewish Cleveland – and is gratified to know that her gift will help her community even when she is no longer around.
As an experienced non-profit professional, Carol was impressed with the Federation – "they are good at making money with money and they know how to spend money well." She was inclined to leave her gift to the Unrestricted Endowment Fund. "I feel very comfortable that Federation will scrutinize how to spend the money even better than I would have. They are rational and never react in a knee-jerk way." According to Carol, programs like jHUB – which connects interfaith families and couples to Jewish life in Greater Cleveland – demonstrate the Federation's strategic planning at its best.
Carol has loved to travel ever since she was a child, "My parents raised me to think of the world as my oyster. I could go anywhere and do anything." She is excited to have the time, now that she is retired, to go on even more adventures. "I consider myself a citizen of the world, but Cleveland is my home base." A home base that will be made better by her decision to make a Legacy gift.
---
Related Items