06/29/2018
Volunteer of the Month: Marc Jaffe
Find out how Marc Jaffe is making an IMPACT! on volunteering.
Q – How did you learn about IMPACT!?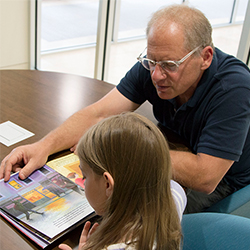 I have been connected with the Jewish Federation of Cleveland since I can remember. One of my passions has been Federation's Public Education Initiative (PEI), which I've been involved with for years. PEI is a volunteer program focusing mostly on literacy enrichment in Cleveland Metropolitan School District schools. Through IMPACT! emails, I'm able to see other volunteer opportunities I can give my time to.
Q – Why is it important for you to volunteer in the Cleveland community?
The Cleveland Jewish community is more than just who is living near us. Our community is so much bigger than that – it's all of us. I'm lucky to have the time and flexibility to make our community better. With PEI, I've been tutoring students for nearly 15 years. The disparity between the education and support that most of the children in the Jewish community get and those that inner city kids get is enormous. I think tutoring is a small but tangible way I can help give the inner-city kids a better chance. Developing a relationship with the kids – not only do they become better readers, but they get more confident, inquisitive, and expand their world by spending time with someone they wouldn't otherwise.
Q – How has the IMPACT! volunteer initiative assisted you in choosing your volunteer options?
IMPACT! makes it easy to find volunteer opportunities and participate when it fits my schedule. I like tutoring, feeding the needy, and clean-up projects like the Done in a Day opportunities. I'll be volunteering at the Hebrew Cultural Garden soon to help clean and spruce up that amazing piece of our Greater Cleveland community.
Related Items