02/04/2019
Volunteers of the Month: Joyce & George Becker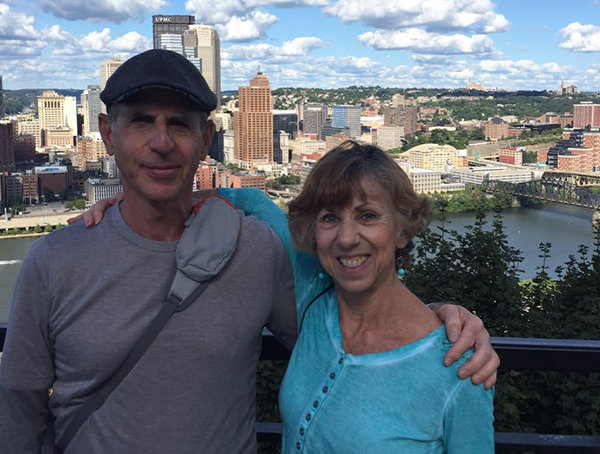 Find out how Joyce and George Becker are making an IMPACT! by volunteering.
Q – Why is it important for you to volunteer in the community? 
Volunteering, especially with IMPACT!, brightens the day of George and Joyce Becker because of the friendships they have made with the people they volunteer with. "I look forward to our getting together," said George. "It's been something we've done our entire life, and to now be able to make volunteering more of a priority – it's the greatest thrill." Joyce was a librarian for the Shaker Heights Public Library for 27 years; her biggest thrill was helping customers find whatever they needed or wanted. George likes working with visitors to our country, since he is curious about other languages and cultures. So IMPACT's ties to Conversation Partners, a program sponsored by English Language Services (ELS) has been a perfect fit.
Q – What IMPACT! volunteer opportunities have you been a part of?
For the past 3-4 years, George and Joyce have volunteered with Chinese students who are part of Conversation Partners based out of the Case Western Reserve University campus. George speaks some Chinese, so this has made it a good fit. They meet for approximately one hour each week. Over the years, the Beckers have invited students to their block party, held every summer on their street in Shaker Heights.
"The students I've met are brave and open to adventure," Joyce said. "They've made me laugh and learn far more than vice versa. They come here alone, have no idea what it'll be like to be here, so have lots to figure out. English fluency is only part of this. What started as partnering with these students has evolved from studying English to so much more as they find friends in each other, participate with our families and engage in our communities. They're so willing and eager to succeed. George and I share a joy in this experience, knowing we're learning from them!"
Joyce also volunteers with the Friends of the Shaker Library, sorting donations for the book sales. Both George and Joyce volunteer at B'nai Jeshurun Congregation as well.
Q – How has IMPACT! assisted you in choosing your volunteer options?
IMPACT! has helped the Beckers find organizations where they're able to receive as much joy out of volunteering as they are giving. "We are thrilled to represent not only the United States, but as important – Cleveland's Jewish community," George notes. "We become, in meaningful ways, their surrogate families here. The students open up to us about personal issues and living in Cleveland. It's not always a smooth road for them. They ask nothing in return. We are touched by their generosity and spirit."
For volunteer opportunities or more information on how you can become a Conversation Partner, contact Susan Hyman at 216-593-2887 or shyman@jcfcleve.org.
Related Items