Maccabi Electra Tel Aviv vs. Cavaliers
When:
October 5, 2014 6:00 PM
Where:
Quicken Loans Arena
1 Center Court
Cleveland, OH 44115
Summary:
Cheer on the Euroleague Champions, Maccabi Electra Tel Aviv, and show your solidarity with Israel!
Event Details
Description
Following the game, join us for a special "Chalk Talk" with Cavaliers Head Coach David Blatt and Maccabi Electra Tel Aviv Head Coach Guy Goodes, moderated by Sports Commentator Les Levine.

Special edition Cavs/Maccabi t-shirt included only with this offer! Please mention code JFED.

To order tickets, please call Scott MacDonald with the Cavaliers at 216-420-2019 or smacdonald@cavs.com.*

Limited seating availability. Order today!

*Tickets are ONLY available through the Cleveland Cavaliers and Quicken Loans Arena. The Jewish Federation of Cleveland and Cleveland Jewish News do not have access to ticket inventory.
Address
Quicken Loans Arena
1 Center Court
Cleveland, OH 44115
Directions
Get detailed directions and more on Google Maps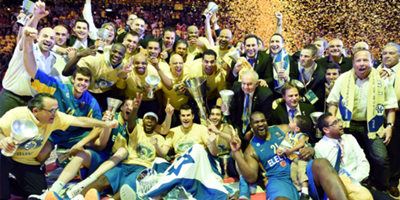 Actions
2014-10-05 18:00:00 2014-10-05 18:00:00 America/New_York Maccabi Electra Tel Aviv vs. Cavaliers Cheer on the Euroleague Champions, Maccabi Electra Tel Aviv, and show your solidarity with Israel! (http://www.jewishcleveland.org/news/upcoming-events/maccabi_electra_tel_aviv_vs_cleveland_cavaliers) Quicken Loans Arena