09/24/2019
Federation Security, Police Ready for High Holy Days
Article reprinted with permission from Cleveland Jewish News.
By Jane Kaufman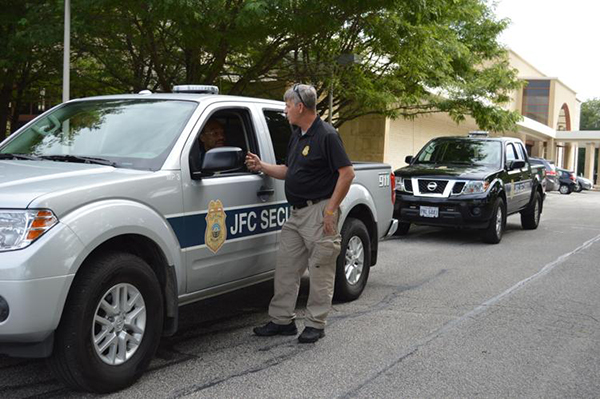 As congregants prepare to engage in perhaps the most introspective time of the year, those charged with safeguarding synagogues are preparing to do so in light of a "new normal."
"The turning point was Pittsburgh," said Oren Baratz, senior vice president of external affairs at the Jewish Federation of Cleveland in Beachwood, whose security staff and Bart Bookatz, chair of the security committee, presented a heightened security plan to the officers of the Federation 10 days after the Oct. 27, 2018, fatal shootings at the Tree of Life Congregation in Pittsburgh's Squirrel Hill neighborhood.
"The reason we were able to present that plan is that we had already planned two years prior to that in the case that we needed to increase security," he said. "We had a plan that I would say was about 70% baked and we needed to adjust it."
In addition, the community security operations doubled its mobile patrol unit, from two to four vehicles and bolstered its budget to $1.25 million in 2019. The current budget for security is $3.25 million.
More recent shootings across the country, including the one at Chabad of Poway in Poway, Calif., on April 27 have only re-emphasized the need for heightened security, Baratz said.
"The importance of agencies and synagogues of making sure they adhere to security protocols, for example, making sure that doors are locked and that routes for getting evacuated from buildings are open and that people know what to do," he said. "And the first thing is the importance of the ability to communicate to different segments in the community when situations like this happen."
Since then, congregants at synagogues have taken part in trainings at different levels, including active-shooter training and developing a core group of volunteers that he said, "will create another layer of security."
"Where we are now, we understand that security is beyond the local," he said. "If you think about what happened in El Paso, the guy traveled 10 hours to El Paso in order to commit the atrocity that he wanted to do."
Suspect Patrick Crusius told police he drove 10 hours to an El Paso Walmart prior to the Aug. 3 shootings that killed 22 people.
Baratz said that the security team is establishing links with federations in Youngstown and Cincinnati, Detroit and Pittsburgh. In addition, the Federation maintains links to the Secure Community Network, the security arm of the Jewish Federations of North America, based in Chicago.
Those partnerships will help bolster security regionally in a few ways, Baratz said, by streamlining security across the region and by sharing work and resources.
"Thirdly, we feel that we in the Cleveland Jewish community have a robust security system, we have a responsibility to those communities who are not able like us and see how we can help them," he said. "I can say that we are already in discussions with at least one federation around here about creating a pilot of how we can work together and assist them."
Area police beef up patrols
Police chiefs in Northeast Ohio said they would step up patrols at High Holy Days and provide off-duty officers to synagogues hoping to step up security.
In Beachwood, which has the highest concentration of Jews and synagogues of any Cleveland suburb, Chief Gary Haba said police will be in and at synagogues.
"It's very important to us because we have so many facilities in our town," he said. "We're pretty much flooding the side streets with patrols so that the folks who are walking to and from feel safer and actually are safer. And, if there's an incident, they'll be right around the corner." In Pepper Pike, Chief Joe Mariola said his department coordinates with Federation.
"We're monitoring social media and we're keeping our ears open and staying vigilant to what's occurring obviously not just in our area but throughout the country and worldwide," he said. "Again, we have to be prepared. Just because we're not seeing it, doesn't mean we're not preparing for it."
Bath Township is home to two of Greater Akron's synagogues.
"Obviously, with three synagogues in our community, the awareness of kind of the national tragedies that have happened are certainly weighing on everyone's minds, certainly ours," said Vito Sinopoli, who is township administrator and police chief. "Last year, we held a worship service meeting at Grace Church in Bath Township and invited representatives from all faiths, including the synagogues, to join us in looking at safety and security throughout the community."
Sinopoli said Anshe Sfard Revere Road Synagogue and Temple Israel synagogues have already taken the initiative to enhance security, working with police.
"Obviously, we've met with representatives from each of the synagogues, and we certainly want to make everyone aware that our police department is willing to do whatever is necessary to provide a level of comfort for everyone of all faiths," he said. "Particularly during the high holy times … we will be available if there's anybody on the properties or any other concerns. We're going to respond to those and take those very seriously."
Akron Capt. David Laughlin said his department is ready to respond.
"Generally, they'll reach out to us, let us know of particular times outside of normal service where they'd either like to have an officer working in a secondary employment, so adding security on that," he said. "We would also then have our district officers make additional patrols in that area. We also have neighborhood response officers. Depending on the time and the day, they can also partner if it's necessary or needed or wanted."
---
Related Items