04/24/2019
Jason Wuliger Receives Yanowitz Award
Jason Wuliger has been awarded the 2018 Bennett and Donna Yanowitz Leadership Award by the Jewish Federation of Cleveland. The award recognizes and honors an outstanding young individual who has demonstrated commitment, involvement, and leadership within Cleveland's Jewish community. Wuliger will be presented with the award at the Federation's Board meeting on April 30.
"Bennett and Donna Yanowitz epitomize what it means to be a force for good and I am incredibly honored to receive this award in their names," Wuliger said. "My parents and grandparents set an inspiring example for me that demonstrated the importance of being active in both the Jewish community and the community at large. I am proud to carry on their tradition and hope to leave my children the same legacy they left me, as well as a better world."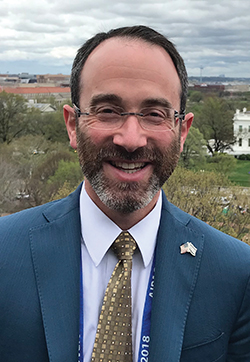 Wuliger has been involved in the Federation and the local Cleveland community in a variety of capacities. He is a current member of the Federation's Board of Trustees. He has been active with the Federation's Community Relations Committee as co-chair of the annual Yom Ha'atzmaut (Israel's Independence Day) Celebration. Wuliger is also involved with the Federation's Government Relations Committee, serving as a past co-chair for a Mission to Washington, D.C., as well as a member of the Marketing and Communications Committee and Security Committee.
Wuliger is involved in the national Jewish community as a member of National Young Leadership Cabinet, the Jewish Federations of North America's (JFNA) elite leadership training program for young adults. It was through this program that he was appointed as Ambassador to the JFNA Washington Office, and later became a member of its Domestic Policy and Government Affairs Council. He also serves as a member of the American Israel Public Affairs Committee's (AIPAC) National Council, is a member of their New Leadership Network, and is AIPAC Cleveland Council's Political Chair.
In the general community, Wuliger is a vice chair of the Lakeland Community College Foundation. He is also vice president of the Lake County Blue Coats and a trustee of the Western Reserve Conservation Education Fund. He previously served as president of the Lake County Bar Association and the Fine Arts Association.
Wuliger and his wife, Allison, live in Kirtland with their three children. He is the President of Nachshon Ventures LLC. The Yanowitz Award has been given annually since the early 1960's. As recipient of the award, Wuliger is invited to join the Cleveland delegation to a General Assembly of the Jewish Federations of North America.
---
Related Items