10/31/2016
Lipstadt Puts "History on Trial"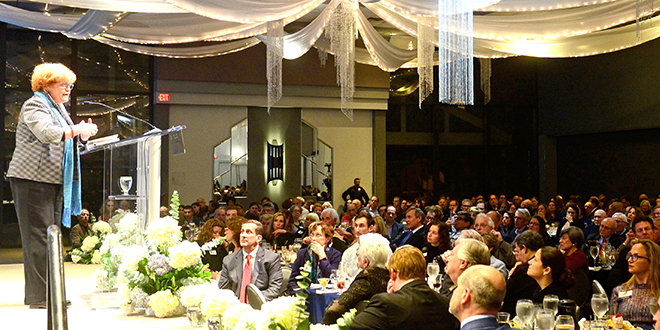 Article reprinted with permission from Cleveland Jewish News.
By Amanda Koehn
Deborah E. Lipstadt, Jewish history professor and author, discussed her work and experiences battling a Holocaust denier in court, which inspired the new film "Denial," Oct. 27 at Landerhaven in Mayfield Heights.
About 400 people attended "History on Trial," a program put on by the Jewish Federation of Cleveland, where Lipstadt discussed her path toward becoming a Jewish historian and writing the book, "Denying the Holocaust."
"When you see something wrong, you've got to do something. Whether it's bullying on the playground, or racism at the conference table in your office or some sort of prejudicial remark, we as Jews especially have to not let those things stand," Lipstadt said.
David Irving, a Holocaust denier, alleged that Lipstadt libeled him in the book. Irving filed a suit in an English court so Lipstadt had to prove that Irving distorted evidence, as the burden of proof was on the defendant, whereas in the U.S. it is on the plaintiff. The trial took years, however Lipstadt won; she continues to write on the subject and teaches at Emory University in Atlanta. "Denial," which is playing in theaters across Cleveland and the United States, is based on her story.
"One of the things that quickly became clear to me is that Holocaust denial, at its heart, is not but a form of anti-Semitism," Lipstadt said. "Many people think there are two sides to every story. Well the fact of the matter is there aren't always two sides. Slavery happened, the Black Death happened, the Holocaust happened – and Elvis is dead."
She also discussed how she teaches students about the Holocaust, having them inspect documents and make their own conclusions about Holocaust denier's falsified "evidence."
"You can destroy their arguments with documentation, but you can also destroy their arguments with reasoning," she said.
When Lipstadt visits Cleveland, she stays with her cousin Debbe Deutch Rabinowitz of Beachwood, who attended the event.
"I've heard her speak many, many times and she's just an amazing speaker and she just captivates an audience. I really look forward to hearing her speak- it's that interesting," said Deutch Rabinowitz, who runs her own interior design company, Rooms for Improvement.
"(Lipstadt) is great, especially with making sure your voice is heard. If you see something that's not appropriate, speak out," said Suellen Kadis, a co-chair for "History on Trial."
Kadis first met Lipstadt during a Federation trip to Poland and Israel in 2008; Lipstadt was the scholar in residence for the group.
"I'd love to be back in college taking a course from her," Kadis said. "I think she was more humorous than I expected. Not only is she bright and poised and articulate, but has a sense of humor and that Jewish brain."
Lipstadt said she no longer seeks new information about Irving, yet people often report to her about him.
"He's not just an anti-Semite, he's a racist, he's a misogynist- they come in packages. And sometimes we think that person is only attacking that group and, 'I'm safe,' that's not the case. One bleeds into the other," Lipstadt said.
She also spoke briefly about the boycott, divestment and sanctions movement saying, "I don't think everyone who follows it fully realizes it but BDS is a form of anti-Semitism."
As far as the accuracy of the film "Denial," Lipstadt said, "a tremendous amount is true."
Lipstadt also developed a connection with Rachel Weisz, who plays her in the film. Deutch Rabinowitz said a silver ring Lipstadt wears was replicated for Weisz to wear in the film and now she, "wears it all the time."
"It's a real connection for the two of them," Deutch Rabinowitz said.
Lipstadt said during and after the trial Holocaust survivors would thank her, however she found it very uncomfortable.
"I fought a battle- it was difficult, it was trying, it was lonely, it was frightening, but it doesn't compare one iota to what survivors went through," Lipstadt said.
"The one act that can't be reciprocated is taking care of the dead … I'm grateful I had the opportunity."
---
Related Items