10/24/2019
Teens Making a Difference: Saltzman Youth Panel Blog
Blogs from the 2019-2020 Saltzman Youth Panel
The Jewish Federation of Cleveland's Saltzman Youth Panel a program that educates Jewish Cleveland students about the philanthropic process and responding to Jewish and general community needs. The panelists, made up of high school juniors and seniors, recommend the distribution of up to $50,000 in grant funding to worth programs in the Jewish and general communities. Through this program, participants develop their leadership and group consensus building skills as they learn about the community decision-making, leadership, and most importantly, tzedakah.
Rylan Polster, a member of the 2019-20 Saltzman Youth Panel cohort, shares a reflection from their recent session:
My name is Rylan Polster and I am one of the Saltzman Youth Panelists this year. We met for the first time this past Sunday at Bellefaire JCB to learn about the goals of the program and what our roles would be as participants.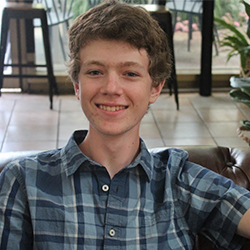 Like any youth program, we started with an icebreaker to get to know each other. In this case, the question was "If you had 1 million dollars, what is one cause you would donate the money to?" Already, this was not your typical "get to know each other" question.
Personally, I chose to give money to education, as that is something that I'm very passionate about, but it was interesting to see what other people found important. While there were a few other people who were also focused on education, other categories had significantly more interest. In fact, Jewish organizations were probably the most popular category. Whether it was donating to the Jewish Federation directly or to a camp or school, many people decided that this is where their 1 million dollars should go. Another popular category was focused on helping populations in need. This category included services such as homeless shelters or food banks. I have to say, I'm not surprised that this was a popular category. In my experience, teens today are often very aware of other people in need, so I'm proud to see that teens in our community are ready to take action.
The other major activity that we completed was to create a Brit Lashon Hatov, or a Community Commitment; in other words, a contract that dictates how we will operate during this program. Initially, we selected our favorites from a list of prepared statements but quickly found that we weren't able to narrow down our options, and we would need to write our own. It ended up being a difficult process to come up with the wording we wanted. Some people seemed to prefer more general phrasing while others wanted to be very clear about the wording. I found myself thinking about how to rephrase other people's thoughts in a way that included the feelings of different people.
I'm glad to say that I thought highly of the experience overall. I got to know the people in the program, and I am excited to learn more about the process of allocating funds and making a difference in our community.
---
Rylan Polster is a junior at Shaker Heights High School. He is a member of B'nai Jeshurun Congregation and an israel.cleveland.next (icnext) participant. Rylan is a participant of the Mini Mussar with JFX and a member of the Academic Challenge club at his school. In his free time, Rylan volunteers as a software developer with Case Western Reserve and Cleveland Clinic.
---
Check back soon for more updates from the 2019-2020 Saltzman Youth Panel!
Related Items