02/28/2019
Artist Blog: Dance as a Cultural Diplomat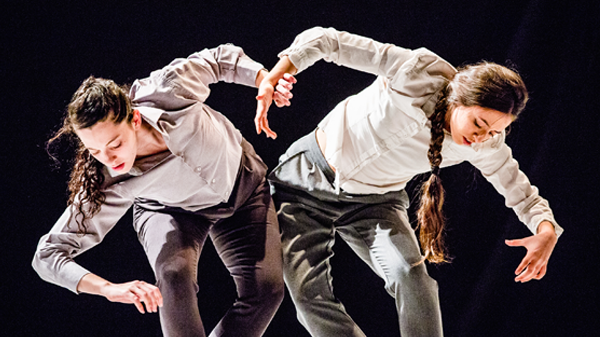 On March 7, the Cleveland Israel Arts Connection, a program of the Jewish Federation of Cleveland, will host "Dancing Conversation: Cultural Diplomacy." This event will explore how dancers' experiences performing in the United States, Israel, and around the world have informed their expression and in some cases, changed their lives. Register Now >>
We invited artists to share their perspectives on how Americans and Israelis connect through dance – an impactful cultural exchange. Read their blogs below:
Experience the Power and Impact of Israeli Artist Residencies
by Flo Low, Associate Director, Arts Programs at the Israel Institute
Artists generate transformative experiences that have the power to move hearts and expose audiences to new perspectives and ideas. As the Associate Director of Arts Programs at the Israel Institute, I have the privilege of witnessing the long-term impact of direct engagement with Israeli art and artists on dozens of communities and thousands of students throughout North America. This spring, Alon Karniel and Gil Kerer, a dancer-choreographer duo, are Israel Institute Artists-in-Residence at Oberlin College, sharing their work from Israel with students and community members in Ohio. Through weekly technique and repertory classes, guest lectures and masterclasses, Oberlin students have the opportunity to study with and learn from one of Israel's most generous and respected teams. Audiences in the greater Cleveland area will be able to experience Kerer's award-winning choreography, staged by Karniel and Kerer, at Oberlin College's "Spring Back" Showcase April 11-13, 2019 at 8:00pm at the Warner Center (click here for tickets and details).
Karniel and Kerer are participating in the Israel Institute's Visiting Artists Program, which brings leading Israeli artists in dance, film, music, literature and visual arts to American campuses, giving college students the opportunity to study with luminaries from various disciplines. These exchanges also enrich local communities, whose members benefit from the artists' many public lectures, exhibitions, screenings, readings, and performances on and beyond campus.
By sharing vibrant Israeli art with students, campuses, and communities, the Israel Institute's Visiting Artist Program facilitates conversations and ongoing cultural exchanges that reflect the power of art and artists. I invite you to join the discussion at Oberlin College's "Spring Back" performances, learn more about our current cohort of artists, and reach out to us to bring an artist to speak or perform in your local community.
Follow the Visiting Artist Program on Facebook to stay informed about events in your community, or contact Flo Low at flo@israelinstitute.org.
The Israel Institute is an independent, nonpartisan and non-advocacy 501(c)(3) organization that advances rigorous teaching, research, and discourse about modern Israel in partnership with leading academic, research, and cultural institutions.
---
by Megan Wright, NCC Akron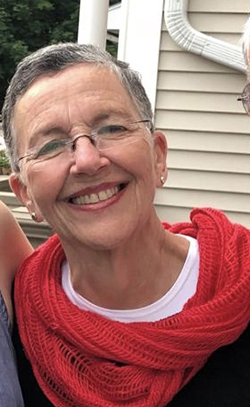 Renée Schreiber remembers her first time watching dance: "When I was a child, my mother took me to see the Bolshoi Ballet— Galina Ulanova in Swan Lake, at the old Metropolitan Opera House on 39th Street."
This was during the Bolshoi's 1959 tour to New York, a carefully arranged feat of international relations during the thaw between the United States and the Soviet Union after Stalin's death six years earlier. Schreiber's mother may not have known it, but she was laying the foundation for her daughter's own career in cultural diplomacy. Schreiber is now Director of Performing Arts and Music for the Consulate General of Israel.
Schreiber began at the Consulate as a volunteer in 1991, at the height of the first Gulf War. She recalls seeing footage of violinist Isaac Stern performing with the Israeli Philharmonic Orchestra in Jerusalem. After an air raid siren went off, the audience donned gas masks but stayed in their seats to watch Stern play a solo Bach sarabande. "It showed me that culture is as important as oxygen," says Schreiber.
After the Gulf War ended, Schreiber stayed on, no longer a volunteer. Her work in the Office of Cultural Affairs has included a long-standing relationship with International Exposure, the annual platform for Israeli contemporary dance founded by Yair Vardi. Today, International Exposure hosts over 200 presenters from around the world at the Suzanne Dellal Centre in Tel Aviv, and will celebrate its 25th anniversary this year.
International Exposure is dear to Schreiber's heart, as it brings dance presenters and curators together to see dance live in an age of digital interaction. "Dance is not something you look at on a 2-inch screen!" she says. "You need to see the passion in the dancer's eyes."
Schreiber oversees and coordinates performing arts programming for the Israeli missions in North America with a special focus on New York, New Jersey, Pennsylvania, Ohio, and Delaware. Most of her work goes towards supporting touring for artists based in Israel — and not simply for one-off performances, either. "The ripple effect is the most important thing," she says. "Don't just bow and go home! Come back again! Art is our best ambassador."
Schreiber will be at the Jewish Federation of Cleveland on Thursday, March 7, for Dancing Conversation: Cultural Diplomacy, a panel discussion with American and Israeli choreographers and presenters.
Sources: Peterson McDaniel, Cadra. American-Soviet Cultural Diplomacy: The Bolshoi Ballet's American Premiere. Lexington Books, 2015.
Touil-Tartour, Laurent. Isaac Stern VS. Saddam Hussein [video file]. Retrieved from https://www.youtube.com/watch?v=TZFWV0UIuNM.
---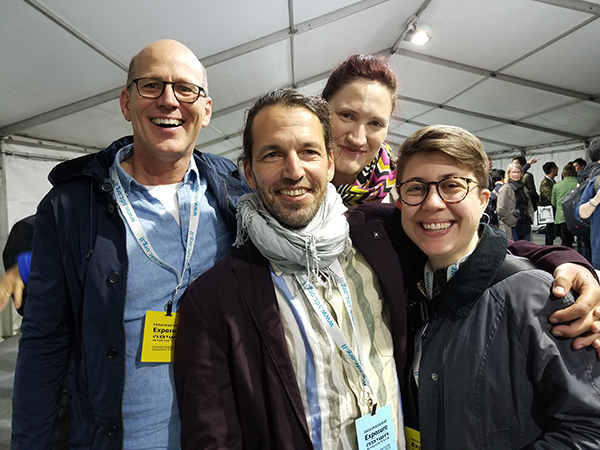 by Christy Bolingbroke, Founding Executive/Artistic Director, National Center for Choreography at The University of Akron (NCCAkron)
In 2010, I attended the International Tanzmesse festival in Dusseldorf, Germany. I went as part of the American delegation that year out of curiosity. But the greatest takeaway was actually realizing my own presumptions about the United States' role in the global dance ecology. While some of dance's trailblazers and influencers like Martha Graham, Merce Cunningham, and Alvin Ailey were American, the idea that the U.S. or any one country is at the forefront of dance today is actually an outdated, 20th century notion. Dance's ability to travel from country to country, body to body, has created a broader horizontal, ongoing evolution rather than a vertical, static hierarchy.
In 2014, I attended Israel's International Exposure. Again, I went out of curiosity, and specifically with a question – is there anything other than Batsheva Dance Company? Batsheva had become such a prolific and monolithic presence, but the answer is there are many more Israeli contemporary dance artists. And the 2015 release of Mr. Gaga revealed Batsheva's renowned choreographer Ohad Naharin's own connections and experiences with American dance.
So as part of a horizontal landscape where we can only truly insert ourselves somewhere in the middle, we ask – What has been the influence of Israeli dance on American choreography? And vice versa? Does national identity shape the artistic voice? And how might artists represent a nation?
Join us on this journey with a very special symposium of events considering Dance as Cultural Diplomat (March 6-10, 2019) in Northeast Ohio.
Christy Bolingbroke, Founding Executive/Artistic Director at the National Center for Choreography at The University of Akron (NCCAkron), the second center of its kind in the United States offering research and development opportunities in professional dance.
---
David Shimotakahara of GroundWorks Dance Theatre shares videos of his work Shadowbox, made in collaboration with Israeli composer Oded Zehavi and commissioned by the Maltz Museum for the Violins of Hope project; and After Chorus, made for GroundWorks by Israeli choreographer Noa Zuk.
---
by Megan Wright, NCC Akron
When Pamela Young took the reins at DanceCleveland in 2003, she was plunged right into cross-cultural programming: "the first company coming on the season I joined was DanceBrazil" — the Afro-Brazilian troupe based in New York, whose work fused contemporary dance and capoeira. But this was to be expected. DanceCleveland has had a commitment to bringing in work from around the world to Northeast Ohio since its founding in 1956. Its track record of international programming especially, says Young, "was always part of who we were as an organization."
Young's addition to that track record reads like an atlas. Compagnie Jant Bi from Senegal, Compagnie Käfig and Ballet Biarritz from France, Che Malambo from Argentina, Malpaso from Cuba, Beijing Dance Theater from China, and more. "It's important to experience difference," says Young. "To see what dance looks like when it comes from other places, to see how people embed dance in their bodies — it expands what we think dance can be, and shapes how we think about other cultures."
DanceCleveland has presented four Israeli companies over the past ten years: Batsheva Dance Company. Inbal Pinto & Avshalom Pollak, Kibbutz Contemporary Dance Company, and Vertigo Dance Company (this Saturday, March 9, at the Ohio Theatre in Cleveland). While she is careful to give artists room to self-define outside their nationalities, she's also able to observe similarity across the Israeli companies. "There is this hard, driving sensibility. It's bold and urgent."
Young is also sensitive to the specific cultural and organizational frameworks of each company she brings. Osnel Delgado of Malpaso Dance worked in the relative cultural isolation of Cuba under American embargos. Beijing Dance Theater's artistic director Wang Yuanyuan graduated from the Beijing Dance Academy in 1992, in the first class of modern dance students since Mao's Cultural Revolution. Vertigo Dance Company's home on an "eco-art village" outside of Jerusalem contributes to what Young sees as "a holistic sense, an intimacy, and an awareness of how a global ecology shapes their work."
While Young says that programming international dance "doesn't go without a lot of challenges, from small to enormous," the Cleveland Heights native is keenly aware of the importance of her work. "We have every possible culture residing in Northeast Ohio. But people don't necessarily go out of the sweet spot of who they know — their neighborhood, the parents at their kid's school. How many people in Cleveland ask questions and get up close and personal with people from other cultures? Exporting the arts gives people that opportunity to be person-on-person. It's eye-opening, and it builds goodwill and community."
DANCECleveland was founded in 1956 with a mission to bring to bring the passion and verve of modern and contemporary dance into the hearts and minds of the people of Northeast Ohio.Today, as one of only a handful of stand-alone-dance-only presenters in the United States, DANCECleveland continues to curate a dance series that brings world-renowned dance companies to the region for performances, master classes, educational residencies and lectures. DANCECleveland presents Vertigo Dance Company (Jerusalem, Israel) on Saturday, March 9 2019 at 7:30pm at the Ohio Theatre in Cleveland.
NCCAkron has programmed a symposium of events considering Dance as Cultural Diplomat (March 6-10, 2019) in Northeast Ohio to coincide with Vertigo's performance.
---
Related Items