An Insider's Guide to Beit Shean
Cleveland has a sister. She lives in Israel, and her name is Beit Shean, which means House of Tranquility. Located in the Galilee region up north, it's about an hour and a half drive from Tel Aviv, near the Jordanian border. Our sister city is older than Cleveland. Ancient, in fact; it is believed the city has been continually inhabited since the Early Bronze Age (3200-3000 B.C.). Cleveland and Beit Shean share many traits, as sisters often do. Neither is known primarily as a tourist destination, yet both have much to offer visitors. There are some real gems to be discovered in Beit Shean; in its surrounding nature, in its history, and within its people's Guide to Beit Shean
A few of our favorite things about Beit Shean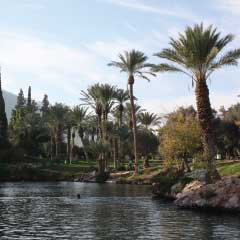 Swim in the Sachne
Gan Hashlosha National Park (also known as Sachne) is one of the most beautiful places in Israel. Some people believe it is the real-world location of the Garden of Eden. The constant 82-degree temperature allows year-round swimming amongst waterfalls and stone bridges. There is a museum and a small archeological site as well, but it is probably the natural whirlpool found beneath one of the waterfalls that made Time Magazine list this site as a favorite in Israel.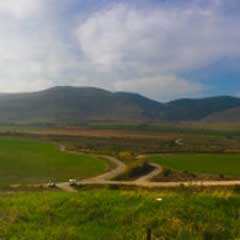 Get Close to Nature
Experience breathtaking scenery as you drive or hike up Mount Gilboa, featuring beautiful views across the Beit Shean valley. Kayaking and rafting are great ways to experience the River Jordan. Two nearby kibbutzim offer guided trips that are popular with both families and thrill-seekers. Plus, the International Birdwatching Center of the Jordan Valley is just outside Beit Shean, where over 300 species migrate through the region.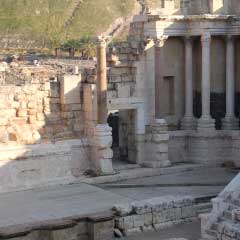 Tour the Ancient Ruins
The Archeological National Park is Beit Shean's largest attraction, enjoyed by over 300,000 visitors a year. Some of the country's most spectacular artifacts dating back to the Bronze Age are on exhibit. Visitors tour a beautifully preserved 7,000 seat amphitheater, a Byzantine-era colonnaded street, a pottery workshop, ritual baths, a basilica, a Roman-era temple, ancient artisan workshops, and more.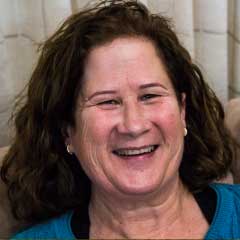 Make an Israeli Friend
Through the Jewish Federation of Cleveland, you can personally connect with the people of Beit Shean for a meaningful experience that will stay with you for a lifetime. Meet the people whose lives are touched by the Campaign for Jewish Needs while enjoying hometown hospitality. You will come away with a deep appreciation for our sister city in Israel.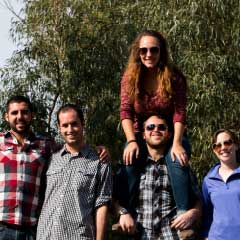 Volunteer in the Community
Want to have a totally unique Israel experience? You can volunteer in the Beit Shean community. Participate in grass-roots, hands-on activities like tree plantings, mural paintings in city parks and street cleanings or teach English and expand an Israeli's language skills to change a life forever.
Tables & Tales
Opportunity to experience an authentic Israeli meal from cooks who come from various Jewish cultures. Th will delight you with their cooking and tales of their heritage.
Meet the People
Beit Shean's population is diverse and multicultural, representing centuries of cultures and peoples dating back at least 6,000 years. Today, we help support economic development, community building and more, so that the people of Beit Shean can thrive.
Cleveland Loves Beit Shean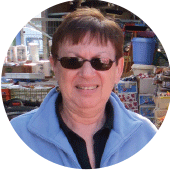 Arlene
"Our favorite part of our Beit Shean experience was making personal connections with the residents. People were very aware of the commitment that the Cleveland Jewish community has to their community."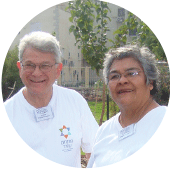 Aurelia & Julio
"We were impressed by the thermal waters, the kibbutz Sde Eliyahu, the archeological digs, but most of all with the warmhearted people of Beit Shean."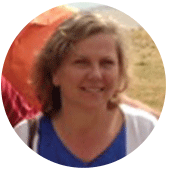 Jill
"The most meaningful part of our trip was making strong people to people connections."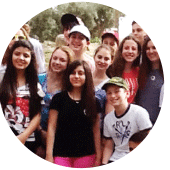 Tracy
"The children really bonded and were very sad to say goodbye to each other. New friendships were strengthened and connections made for many years to come."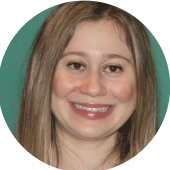 Elena
"I came to Beit Shean to teach English as a volunteer and as a stranger, but I left with a second home. This sense of connection is what the sister city partnership is all about. Israel and especially Beit Shean will always have a special place in my heart."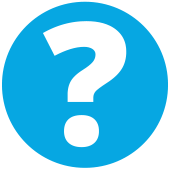 You?
What will you think of Beit Shean when you visit?
Want to know more about Beit Shean?
Contact Tal, Manager, International Programs and your Beit Shean connection