Our Sister City of St. Petersburg
Our Cleveland community entered into a strategic partnership with the city of St. Petersburg to help renew Jewish life where Judaism was forbidden during 70 years of Communist rule. We forged a personal and powerful connection, assisting the people of St. Petersburg in becoming an organized and flourishing Diaspora Jewish community. We have helped build Jewish institutions and create a vibrant Jewish community with the aim to establish self-sufficiency so that Jewish life lives on.
Here's how we're doing it

Meet our Russian Community
Our Cleveland community extends its hands to the people of Russia and together we are building a stronger, more vibrant Jewish community. It's because of our volunteers and donors that we are able to make such a great impact in others lives. See how we're inspiring the next generation of Jewish leaders in Russia. Watch our video.

YESOD
We helped build the YESOD (Hebrew for foundation). It was the first Jewish building to be constructed in Russia in almost 100 years. A 75,000 sq. ft. building in the center of St Petersburg, it serves as the hub of Jewish communal life and is a symbol of Jewish renaissance for the people of St. Petersburg.
100K
100,000 Jews call St. Petersburg home and all have access to an array of social services through the YESOD.
40+
We support more than 40 Jewish renewal programs in St. Petersburg for children, families, and seniors.
THOUSANDS
Tens of thousands of Russian Jews are touched by the services and programs offered through the YESOD in St. Petersburg.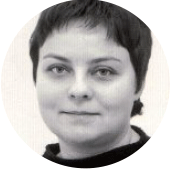 "For most people who walk through our doors it is their first entry into Jewish life. We haven't had three generations grow up in our JCC. It is extremely difficult to cultivate a sense of responsibility in others and it takes a great deal of time. Communal responsibility is a lesson in every program, part of every discussion."
―Masha Aryeva of the YESOD Jewish Community Center
Caring for the Elderly: Hesed
Hesed is Hebrew for "compassion". For tens of thousands of destitute elderly Jews across the former Soviet Union (FSU), each day is a bitter struggle for survival and they are in need of great compassion. We help provide it. Protein sources and critical medicines are unaffordable luxuries; the choice between going to bed hungry or shivering cold is the unthinkable reality. Nominal pensions and rising inflation plunges these elderly well below the poverty line, with no family or social safety net to break their fall. Despite having survived decades of Communist repression and Nazi terror, their last years are being spent as some of the poorest Jews in the world. Here is just a few ways we help.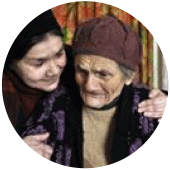 Comforting the Sick
Visits from a Hesed homecare worker help to break the loneliness and isolation for homebound elderly.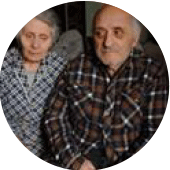 Feeding the Hungry
For some of the neediest elderly Jews, Hesed assistance means not having to choose between food and medicine to survive day to day.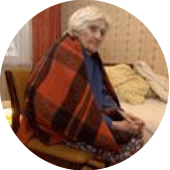 Caring for Elderly
Blankets, warm clothing, heating fuel, and other Hesed winter relief services help frail elderly to bear the bitter cold.
Jewish Family Center Adain Lo
Genia Lvova started St. Petersburg's Jewish Family Center Adain Lo, a diverse Jewish community organization that offers a full range of services for more than 4,000 people, from her kitchen table in 1991. Genia and her friends were mostly underground Jewish activists and wished to reach out to impoverished St. Petersburg families and children. When asked if they practiced some Jewish rituals, the family center's first members replied, "adain lo" (Hebrew for not yet), which became their incentive to learn more and gave the organization its name.
Through our support of Adain Lo, we are developing a community that was dormant of Jewish values due to the regime. Today, we are educating a new generation and developing a strong cohort of Jewish communal professionals so that the people of St. Petersburg can thrive.
400
Each year, approximately 400 children attend Jewish Kindergarten at Adain Lo, receiving a foundation for building their Jewish identity from an early age.
500
An estimated 500 children and adults access the Family Computer Center, helping build necessary skills to further education and vocation, including a focus on children with special needs.
200
The Visual Art School and Teen Club are safe spaces for over 200 people who are exploring Judaism through art and architecture as well as leadership training and volunteerism.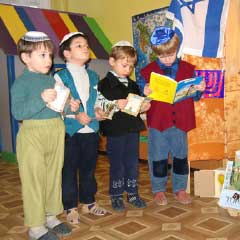 AWARD-WINNING: Jewish Family Center
"Adain Lo" was awarded the inaugural Roderman Prize in Disability that "recognizes the best in inclusive opportunities for people with disabilities" in 2012.
Jewish Family Center Adain Lo in St. Petersburg, Russia, is among the largest provider of Jewish programs for children and families in the city. The center's model of Jewish education with pluralism, a holistic approach to the family, creativity, independence and self-sufficiency is being studied by organizations in Israel and the U.S. The Center was among the first in Russia to hire people with disabilities, and is a vocal advocate on this topic.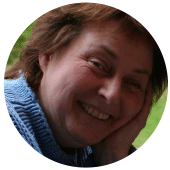 "This is a big honor. We strongly believe that the Jewish community should be open and welcoming for all…regardless of physical, social or financial conditions."
―Genia Lvova of Jewish Family Center Adain Lo

Hillel Student Center
In the Former Soviet Union, Hillel embraces Jewish students from a diversity of backgrounds, including those who have had little or no Jewish involvement or education. Many are grateful for the opportunity to explore and discover their Jewish roots for the first time. With our support, Hillel in the Former Soviet Union has sent more than 3,000 participants on Taglit-Birthright Israel trips, and facilitates ongoing Jewish growth and involvement upon return.
600
Fun events are designed for nearly 600 college aged kids each year, to help them develop a greater comfort level with participation in Jewish community activities.
150
15 volunteer Hillel leaders engage up to 150 college students through activities that help the community thrive, such as hands-on volunteering for children and seniors in need.
300
On holidays and on Shabbat, as many as 300 college kids participate in religious services every year, thanks to Hillel's accessible programming for young adults.
Meet Students at St. Petersburg Hillel
One of 27 Hillels in the former Soviet Union, the St. Petersburg students show that they are taking ownership of their Jewish identity and finding new and creative ways to celebrate. It may be snowy, but that doesn't stop our students from dancing in the street. Watch their fun video!

Leadership Development: Capacity Building Initiative & Lehava Group
We recently pioneered a new effort, the first and only Capacity Building Project, to help St. Petersburg's Jewish community become more self-sufficient. In 2014, volunteer and professional leaders from the Lehava Group joined us in Cleveland to learn how we collaborate, fundraise and plan for the Jewish future.

Rubenstein Jewish Community Center
Located two steps from the main street of the city—Nevsky Prospect—Rubenstein Jewish Community Center is not only a venue for holding lectures and talks, showing videos and exhibitions, but also a place where people can receive information about Jewish life, buy Jewish newspapers and magazines, and simply get together. The Center also carries on its own cultural and educational programs in the city's most prestigious theaters, concert halls, and exhibition galleries. We are proud to support this arts, culture, and education resource for the people of St. Petersburg.
25,000
The Jewish Library housed in the JCC has over 25,000 volumes (including the world's second largest collection of post-Soviet Jewish periodicals) that are enjoyed by an annual readership of 800.
12
Monthly Jewish art exhibitions on various themes attract large numbers of community members. The exhibitions are now listed in the prestigious St. Petersburg guide to Museums, Exhibition Halls, and Galleries.
1,000
Adult Education Programs offer weekly lectures on Jewish history, traditions, art, poetry and literature and Jewish life from across the world including Israel that seek to reach out to unaffiliated Jews and connect them to their roots. The program reaches approximately 1000 people each year.

Arts, Culture, and Literature
We support an array of arts and culture events so that both affiliated and uninvolved community members can explore Jewish history and heritage comfortably. These activities and events strengthen the Jewish community, bringing people together to celebrate holidays, enjoy traditional dance and music, and more.
30+
At the Eva Music Theater, 30+ children explore Jewish life and culture through dance, music and theater. At least four times per year, these children perform for wider community audiences.
24
My People (Ami) Community Newspaper is published twice monthly and is available to all Jewish community members and shares news and events that celebrates and engages the Jewish people.
500+
Each year, 500+ veterans who are former prisoners, ghetto and concentration camp survivors, unite to commemorate important anniversaries and share their stories for important social interactions.
Perpetuating Jewish Life: Summer Camp & Jewish Identity
In Russia, many Jewish communities face significant challenges in accessing formal and informal Jewish education. Reaching young Jews is becoming increasingly difficult due to their remote locations, far from the hubs of Jewish activity. In order to secure a Jewish future for the vulnerable communities surrounding our sister city of St. Petersburg, we focus on members of the next generation who will be the leaders in reestablishing Jewish life and culture in these periphery communities. One way we do this is through Jewish camp experiences, that bring young Jews from all over the St. Petersburg area & periphery together to learn more about who they are.
600K
An estimated 600,000 Jews live in the FSU, and are unaffiliated with the Jewish community. We provide a bridge to Jewish life for people in periphery communities.
160K
Over the last two decades, 160,000 Jewish youth from periphery communities participated in Jewish summer camp sessions, building Jewish identity through leadership development and educational experiences.
15K
This year nearly 15,000 children and adults will participate in Jewish summer camp programs, which will include over 130 camps in 20 countries across Central and Eastern Europe and the FSU.

-->