04/13/2016
112th Annual Meeting Inspires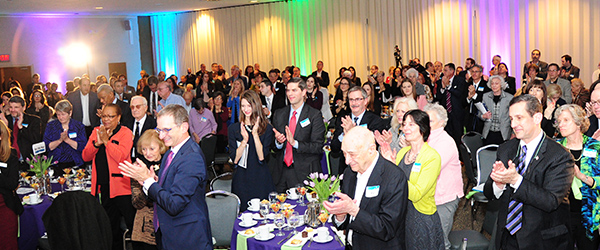 What a night! Over 300 community members joined together to celebrate the strength of a community and the power of a people at the Jewish Federation of Cleveland's 112th Annual Meeting, honoring two of Cleveland's most respected leaders.
Our highest civic honor, the Charles Eisenman Award, was presented to Rev. Dr. Otis Moss, Jr., who is a true living legend. His lifetime of service and achievement in issues of civil rights, voting rights, and economic inequality have put him at the forefront of positive change.
"We must continue to teach and share our diverse and collective journeys, and as we do this, I believe we can enrich other's lives as well as enrich our own lives," he said last night, receiving a standing ovation.
Also receiving a standing ovation for three exemplary years of service was outgoing Board Chair Reneé Chelm, who was credited with helping create a more inclusive Jewish community where everyone can feel welcome. "There is no 'us' and 'them' — there is only 'us'! And we can create opportunities for all kinds of people to connect in all kinds of ways," she said.
Special thanks to Renny Wolfson, Event Chair, and all of inspirational speakers and guests for joining us to celebrate 112 years of community!
If you missed this event, or can't wait to see us again, we hope you will join us for Yom Ha'atzmaut, Israel's Independence Day Celebration on May 12.
---
Related Items