11/16/2023
1,800 Clevelanders Among 290,000 at DC Rally for Israel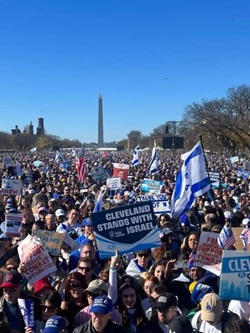 JANE KAUFMAN
Article reprinted with permission from Cleveland Jewish News
WASHINGTON – More than 1,800 Clevelanders took part in a historic pro-Israel rally that drew an estimated 290,000 people from across North America to the National Mall Nov. 14. Twenty-five charter buses left early in the morning from the Cleveland area to bring supporters to the rally.
The "March for Israel" aimed to demonstrate solidarity with Israel, demand the release of the hostages held by Hamas and stand against rising antisemitism amid the war that began Oct. 7. The rally was organized by the Jewish Federations of North America and other national Jewish organizations.
Erika B. Rudin-Luria, president of the Jewish Federation of Cleveland, spoke with the Cleveland Jewish News about the importance of the event. The Federation provided the bus trip at no cost to Clevelanders who wanted to ride to D.C.
"My hope is that raising our voices together empowered our elected officials to support Israel and demand the release of the hostages, that it strengthens our resolve to defend Israel's right to defend herself and our resolve to rid the United States of Jew hatred," Rudin-Luria told the CJN.
She spoke of the strength of Cleveland's Jewish community and its deep connections to Israel.
"I felt the strength of our community in combination with other communities," Rudin-Luria said of the rally. "It's energizing."
She noted there is "a lot of work to do to support Israel and the Jewish people as we go through our greatest trauma since the Holocaust."
She added that Jews must press elected officials and the International Red Cross to demand the release of the 230 hostages still being held by Hamas after the Oct. 7 massacre which left 1,200 Israelis dead. "We have a lot of work to do to fight hate," Rudin-Luria said.
Dan Zelman, board chair of the Federation, called being at the event "phenomenal." He said he was particularly moved by hearing the mothers and relatives of hostages speak.
Asked whether he felt the event would have an impact on the rising tension and antisemitism in the United States, Zelman said, "It's really hard to know that. I think it was important that we do this, to show people that we are standing up in the face of all this growing antisemitism, but it's hard to know if this will have an impact or not."
William Daroff, CEO of the Conference of Presidents of Major American Jewish Organizations, and Eric Fingerhut, president and CEO of the Jewish Federations of North America, announced the crowd estimates. Daroff said another 250,000 watched via livestream and on C-SPAN, and that 900 people who planned to ride there with the Jewish Federation of Detroit could not attend the rally because their bus drivers refused to take them to a pro-Israel rally. Daroff and Fingerhut are both former Clevelanders.
Just as the event had started, Fingerhut told the CJN he found the response "overwhelming," marveling that people were still coming in with more than 200,000 on the mall.
"It's such a show of support for Israel and for the hostages' families, and to just show that we're not scared of antisemitism," Fingerhut said. "We're going to stand tall."
Rabbi Ben Berger, vice president of Jewish education and who works with Jewish college students at Hillel International in Washington, D.C., previously worked at The Ohio State University Hillel in Columbus and at the Wexner Foundation, headquartered in New Albany, a Columbus suburb.
"Campus is hard right now," Berger told the CJN. "There's no mincing words about that," adding that there is an "explosion of antisemitism all over the world and particularly on college campuses in America."
He said Jewish students are coming together to support each other, to support Israel and to be supported in a community.
College campuses in North America have been the flash point of antisemitism since the war began. Approximately 352 incidents have been reported on campuses since Oct. 7, representing a more than 600% increase from the same period in 2022, according to Adam Lehman, president and CEO of Hillel International, who grew up in Shaker Heights. Ahead of the Nov. 14 event, he said the most common incidents have been hate speech, both in person and online, vandalism and harassment.
"That said, incidents since Oct. 7 have also included 27 reports of physical assault," Lehman wrote in an email to the CJN.
Zac Young, a student at York University in Toronto, said there have been protests on campus and that his college president, who is pro-Israel, is being targeted.
"It's like a verbal war zone," he told the CJN.
Gregg Levine, who attended the rally and is a member of the Cleveland Jewish Publication Company Board of Directors as well as a member of the Federation's board of trustees, said he is concerned about the plight of college students today, contrasting their experience with his when he was a student at OSU.
"I cannot believe in 2023 we see this huge, huge increase in antisemitism," he said. "Now, as I'm talking to younger people at Cleveland State University or at Oberlin, or Case Western Reserve, they're really afraid to be themselves. They're really afraid to wear a kippah. They're afraid to wear a Jewish star. This is just so appalling to me."
Alizza and Ronnie Shulman of Beachwood snagged a spot at the front of the so-called blue zone, just outside the press area.
"Our cemetery got vandalized," Alizza said, referring to Chesed Shel Emeth Cemetery in Brooklyn, where gravestones were covered with swastikas over the weekend. At the same time, she said Christians have reached out to her. "I read about the hate, but I've experienced the love."
She also said she wanted to support the safe return of the hostages.
Ezra Smith, 16, a student at Fuchs Mizrachi School in Beachwood, came with his entire school.
"Our enemies don't sleep," he said of the overnight trip. "Why should we?"
Beachwood City Schools Superintendent Robert P. Hardis said he attended partly for personal reasons.
"Israel's very close to my heart," Hardis told the CJN. "I have many good friends there, some who graduated from Beachwood High School fighting with the IDF (Israel Defense Forces) right now. And I think about every one of them every day. I worry about them, and this is the small little thing we can do to show them our support."
Debbie Michelson of Cleveland Heights met her daughter, Mariah Steiger, who lives in Cincinnati, at the event. Michelson said she wanted to make sure that "every Israeli knows they're supported."
She also said she attended "to show our elected representatives that we have a voice and we will use it."
Rabbi Paul Kerbel of Cranford, N.J., sported an OSU Buckeyes hat. He lived in Cleveland in the 1990s, where he was the associate rabbi at B'nai Jeshurun Congregation in Pepper Pike for four years. His son went to OSU, where he had been chairman of Buckeyes for Israel.
"I'm just very pro-Israel and felt it was my duty to be here with my fellow Jews," Kerbel said.
Julie Tilson Stanley, president and interim CEO of JewishColumbus, said 500 people from Columbus attended the event and that five students from OSU along with Columbus Jewish leaders met with representatives in Congress prior to the rally to seek support and discuss "how they can help protect us with funds and stand strong and fight antisemitism." She said three buses were bringing day school students, two were bringing OSU Hillel and Chabad students, along with a bus from New Albany and two that left from the Jewish Community Center.
About 50 people from Akron came and were part of Ohio Jewish Communities meetings, Daniel Blain, CEO of JewishAkron, told the CJN.
"I saw that it was a very powerful experience being part of such a huge national effort," Blain said. "That demonstrated the diversity within the Jewish community and the diversity of support for Israel."
He said he was moved by the spirit and tone of the messages, but also the peacefulness and warmth of the crowd.
Blain has a brother, nieces and nephews in Israel, including one nephew who lives near Israel's southern border.
"By the grace of G-d, his community was spared," Blain said. "Now he and his wife and his seven children are living in a hotel in Jerusalem."
Singer and rapper Matisyahu sang "One Day," near the end of the event, and Blain said that was a particularly poignant moment for Akron Jews, as the community hosted the artist in May for its Yom Ha'atzmaut concert celebrating Israel's 75th anniversary.
"Even though that was only five months ago, it feels like the world is in an entirely different place," Blain said