12/09/2021
2022 Campaign for Jewish Needs Raises Record $34M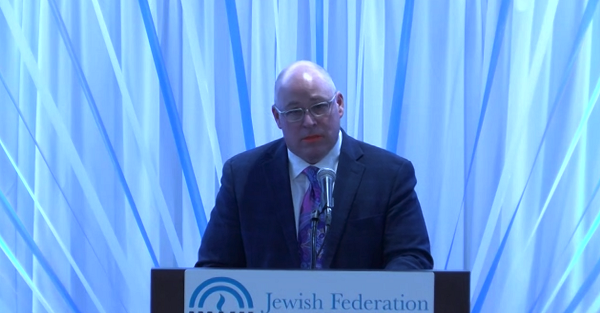 BECKY RASPE | STAFF REPORTER
Article reprinted with permission from Cleveland Jewish News
The Jewish Federation of Cleveland raised a record $34,023,524 in its 2022 annual Campaign for Jewish Needs.
Announced at its Dec. 8 closing celebration held on Zoom, the Federation said the final amount was made up of 8,398 gifts from more than 11,379 donors. Of those donors and dollars raised, Women IN Philanthropy raised $4,670,211 from 2,741 donors; Young Leadership Division raised $645,220 from 1,198 donors; and high school and college students raised $42,653 from 613 donors.
The total increased from last year's $33,105,529.
The campaign received gifts from 975 new donors while 151 existing donors increased their gifts to a new giving society level, according to a news release. In increasing their gifts, these donations were able to take advantage of the "Brunswick Bonus" by Brunswick Companies of Garfield Heights, which made a $1,000 gift to the Campaign for Jewish News for every donor that increased their giving society level, up to $75,000.
The Campaign for Jewish Needs is the time of the year when Jewish Clevelanders come together to fund all the programs and services that make our community a special place," Bradley A. Sherman, outgoing general chair of the 2022 Campaign for Jewish Needs, said in the release.
"We've been through a lot in the past two years, and the reason why we will come out of the pandemic stronger is because of the generous community support of the annual campaign. It is amazing what we can do when we work together."
In addition to announcing fundraising totals for the 2022 campaign, Beth Wain Brandon was tapped to serve as chair for the 2023 and 2024 Campaign for Jewish Needs. In this volunteer role, Brandon will be responsible for providing leadership, vision and strategy for the Federation's annual campaign. A community volunteer, Brandon serves as a Federation board of trustees vice chair. Her previous Federation involvement includes allocation committee chair, government relations committee chair and Women IN Philanthropy chair, the release said.
"Becoming campaign chair is truly an honor, and I am grateful to serve our community in this manner," Brandon said in the release. "My father, of blessed memory, also served in this capacity in the 1990s. It's an incredible privilege to continue the tradition of leading a successful fundraising effort just like my dad and the many others before me. I look forward to working together with Federation's leadership team and dedicated volunteers to change and improve thousands of lives."
Outside of the Federation, Brandon has served on several community boards, including the Mt. Sinai Health Foundation, Bellefaire JCB, the Maltz Museum of Jewish Heritage and Ohio Jewish Communities. She was also named a "Woman of Achievement" by the YWCA of Greater Cleveland in 2014 and is involved at Planned Parenthood. Brandon is a past board chair of Recovery Resources, a Cleveland-based nonprofit organization that provides services for drug addiction, substance abuse, mental illness and behavioral healthcare.
Brandon has been a "dedicated leader within the Cleveland community for many years, and her steadfast commitment to the Campaign for Jewish News is evident through the leadership roles she has taken on," Federation board chair J. David Heller said in the release.
"We are thrilled to have her lead this critical community initiative," Heller said. "On behalf of our board of trustees and our community, I sincerely thank outgoing campaign chair Bradley Sherman for leading Jewish Cleveland with enthusiasm, optimism, and unprecedented success during these uncertain times."
In addition to the unveiling of the totals and the appointment of Brandon as incoming campaign chair, attorney Abbie Pappas, chair of the Federation's Young Leadership Division, was honored with the 2021 Amb. Milton A. and Roslyn Z. Wolf Young Campaigner of the Year Award. Pappas is an associate at the Beachwood firm of Singerman, Mills, Desberg & Kauntz Co., L.P.A.