05/18/2023
2,200 People Help Celebrate Independence Day at IsraelFest
COURTNEY BYRNES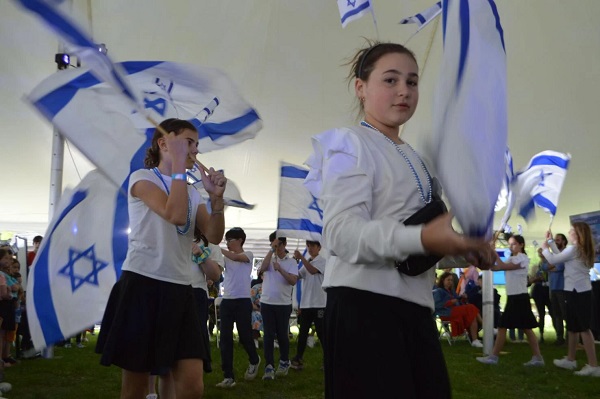 Article reprinted with permission from Cleveland Jewish News
As families celebrated their mothers on Mother's Day, more than 2,200 people joined the Jewish community to also celebrate Israel's 75th independence day at the Jewish Federation of Cleveland's IsraelFest May 14 at the Mandel Jewish Community Center in Beachwood.
"We're thrilled to welcome you all to IsraelFest," event co-chair Adam Wallenstein said in his opening remarks. "Thank you for taking time out of your Mother's Day to celebrate 75 years since the signing of the Israeli declaration of independence, which was this day in 1948. Our community has such a deep and strong connection with Israel, and it's wonderful to see that the love of Israel is standing for generations and generations."
With activities for the whole family to enjoy, attendees saw performances by IsraBand, flag dances by local Jewish day school students and a SoCo Tahini demonstration with chef Douglas Katz and Dana Harary, owner of SoCo Tahini.
Making it a truly festive occasion, there were face painters, airbrush and glitter "tattoo" artists, balloon artists, magicians and stilt walkers engaging with young families. Children enjoyed inflatables like obstacle courses, slides, a bounce house and a surfing simulator, as well as arts and crafts, bubble blowing and a petting zoo.
Ori Stern, 7, told the Cleveland Jewish News his favorite part of IsraelFest was the mechanical surfing simulator, "because I liked when it went around very fast and it was fun to try and keep the balance." He said he also enjoyed the ice cream and bubbles.
Co-chaired by David and Shaina Leb and Adam and Jill Wallenstein, the two families welcomed the attendees before Bianca Kayat sang "The Star-Spangled Banner" and an Israeli delegation of professionals from Youth Futures and the Israel Defense Forces Education Corps sang "Hatikvah," Israel's national anthem.
The flag dances were spread out throughout the day with students from the Joseph and Florence Mandel Jewish Day School performing first, followed later by Fuchs Mizrachi School students and closing out the event with Gross Schechter Day School students.
Beth Abramov, with daughters Liora, 10, and Ilana, 8, told the CJN, "It's just super wonderful to celebrate with the Jewish community and to have such a festive environment to celebrate Israel."
Liora and Ilana showed off the airbrush and glitter tattoos and face paint they got and said they enjoyed all the activities and food at IsraelFest.
Levi Halberstam attended IsraelFest with his wife, Avigayil, and kids, Ari, 3, and Juda, 5. He told the CJN, "It's such a beautiful day to spend with the family in Beachwood. We feel so privileged that we have such a wonderful community. Happy birthday, Israel!"