05/15/2017
40 Cleveland Leaders to Visit Israel
Article reprinted with permission from the Cleveland Jewish News.
By Amanda Koehn
Forty Cleveland nonprofit leaders will travel in July to Israel, via the new Thomas and Joann Adler Civic Leaders Israel Mission.
The biennial weeklong mission launched by Tom and Joanie Adler of Shaker Heights was established through an endowment at the Jewish Federation of Cleveland in Beachwood. The trip is meant introduce participants to Israel's economic and community development, education and support of at-risk populations, and to create partnership opportunities.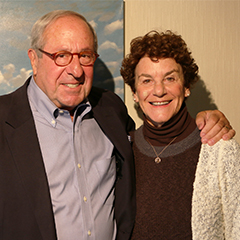 Tom Adler said after going on the Federation's business leadership mission trip recently as a co-chair, he thought it was important that nonprofit leaders have the same opportunity, despite the fact that many may not be able to fund their travel. Moreover, when approached by the Federation to endow the trip, it was a clear match because of the Adlers' own involvement with nonprofit work.
"Cleveland is a little bit unusual in that its nonprofit leaders bring a hugely important role in the general community," said Adler, adding that after he retired he transitioned "100 percent of my time" to the nonprofit world. "So it's not just the CEOs that are the big leaders, these nonprofit leaders … are hugely important in Cleveland."
Adler was a member of the 2016 class of Cleveland Jewish News 18 Difference Makers.
Felton Thomas, Cleveland Public Library CEO and mission co-chair, said in the news release that he looks forward to exploring how Israeli leaders use innovation to improve their cities and country.
"Israel is full of young innovators who are re-imagining how government works with the private sector," Thomas said.
Other co-chairs Cheryl Davis, recently retired vice president of the Federal Reserve Bank of Cleveland, and Victor Ruiz, executive director of Esperanza, Inc. in Cleveland, also have ambitions for the trip.
"I'm interested in how Israel is addressing underserved communities and the role government plays in addressing at-risk youth within different ethnic communities," Ruiz said. Esperanza, Inc. is an educational advocacy group for Hispanic students.
Trip participants will attend seminars with high-level officials to explore issues facing Israeli society and learn about the complexities of the region. They also will meet with Israeli counterparts to facilitate institutional and one-on-one relationship building.
"Every person I've spoken to wants to take everything from this experience and figure out how to strengthen our community here in Cleveland for years to come," said Davis, who is immediate past chair of Federation's community relations committee.
The trip is part of the Federation's CRC, which works to strengthen the ties of the Jewish community to the general community.
For the Adlers, who are members of Suburban Temple-Kol Ami in Beachwood, the trip seems like a good way to not only increase local excitement about Israel, but also will improve collaboration among the leaders going.
"They are getting to know each other and are going to combine their interests, so it gets the nonprofits to work together in Cleveland," Joanie Adler said.
---
Related Items