08/09/2022
5 Questions With … Oren Jacobson
One of Federation's core priorities is "Share Our Perspectives" – which ensures diverse points of view throughout our community are heard and respected. We often look to bring in subject-matter experts to help inform the discussions around us.
"This is part of our mission to protect, preserve, and promote a just, democratic, and pluralistic American society and to fight growing antisemitism," said Gregg A. Levine, chair of Federation's Community Relations Committee.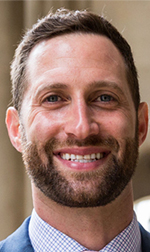 To that end, Oren Jacobson, co-founder and executive director of Project Shema, a non-profit organization that helps train Jewish communities to combat antisemitism and debate openly about Israel/Palestine, recently came to Cleveland to provide his insight and counsel on how our community can better discuss the Israel/Palestine conflict and fight antisemitism.
"The work of Project Shema has helped us better understand perspectives of some folks who we may share a mutual vision for our community and yet not have the context of the Palestine/Israel challenge and not fully understand antisemitism," said Levine.
Here is Five Questions With … Oren Jacobson:
Q: Why did you create Project Shema?
A: The essence of Project Shema comes directly from the meaning of the Hebrew word 'shema' which is to hear, to listen, to understand. We started the organization to navigate the spaces inside the progressive ecosystem and help all of us to look at the Israel/Palestine conflict in a different context. We started to think about the dialogue surrounding it and how we need to expand the conversation in our community. My partner and I began training and educating Jewish communities around the country through different workshops for Jewish and non-Jewish people to understand antisemitism and the Jewish experience. We're focused on deepening an understanding across communal lines – on a very difficult topic – and how that is playing out in modern times.
Q: How does Project Shema guide these difficult conversations?
A: We don't want to close our hearts to the issues that are hurting the Palestinian people or the issues hurting the Israeli people. Because of that, we try to create a greater space in order to navigate the problems that exist. That said, there's a lot of fear that makes engaging this conversation hard to talk about and you still have to deal with the increasing volume of antisemitism. But there is no future for people living in peace that doesn't begin with trust. So you're either building trust or eroding the trust.
Q: What do you want communities to get out of Project Shema's discussions?
A: The goal of these presentations and why we come to different communities is about trying to help the community better understand the world view, the framework, contextual gaps, and the forces that are shaping the conversation we are finding ourselves in. This is a situation that is hard to talk about; I want the people in the room to be like 'Ok, I get why this is happening beyond the antisemitism.' We want to equip Jewish leaders with the understanding and with the skills they need to navigate this dialogue to deepen our understanding of the broader community.
An example of this is people coming to our presentations will see we're using a lot of words to describe what we're actually saying. We don't use the word 'Zionist' or 'anti-Zionist' because those words spark a vision immediately and doesn't always mean exactly what people are thinking. We don't use one word, unless one word is exactly what you're trying to say. We use many words to talk about what we're trying to explain.
Q: What made Jewish Cleveland an ideal community to bring Project Shema to?
A: We began a partnership in Cleveland and saw different dynamics of painting a picture of what each community is experiencing and trying to figure out what we do and what we can offer. It was about assembling a group of cities that could paint a nice broader picture of what all cities are experiencing. Cleveland made sense because it provides a good space where it has diverse cultures and communities, strong ties across the communal landscape – Jewish and non-Jewish communities. That provides a rich texture that create a different and unique place to come.
Q: What is the future of Project Shema's work and how people can discuss the conflict and antisemitism?
A: I think about the future often. It's about the people in power; the average Israel citizen and the average Palestinian citizen want to live in peace. The rhetoric we have today includes words that are weaponizing – that dehumanizes and delegitimizes Israel, that dehumanizes the Jewish people. We're not ignorant to what's going on in Israel, but our concern is how loaded language is being used against the Jewish people and, if you allow those words to spread it's problematic. That can lead you into a situation where Jews are isolated. It's important for the Jewish community to think about collective risk as opposed to individual risk, and recognizing the problem is coming from all directions – not just the 'left' or 'right.' We need to be dealing with the problem in front of us because we need to see when this is manifesting in our own communities. We must remain safe in American society and call out antisemitism in front of us. We must also continue to fight for the Israeli people to feel peace and to live in peace.
To learn more about the Federation's efforts to combat antisemitism, contact Debbie Klein at dklein@jewishcleveland.org or 216-593-2834.