04/18/2018
700 Attend Yom Hashoah Event at Park Synagogue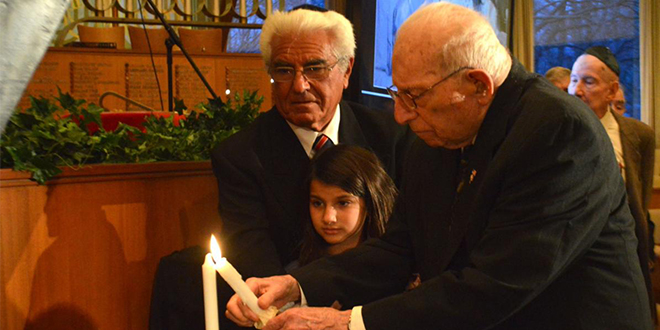 Article reprinted with permission from Cleveland Jewish News.
By Alyssa Schmitt
More than 700 people gathered April 11 at Park Synagogue Main in Cleveland Heights for the Cleveland area's Yom Hashoah V'Hagvurah, or Holocaust Remembrance Day, to hear the stories of local survivors and remember the 6 million Jews who died in the Holocaust.
Unlike previous years, the program focused on Kristallnacht, the night of broken glass, when thousands of synagogue and Jewish business were destroyed the night of Nov. 9, 1938, to signify the 80th anniversary of Kristallnacht. Each of the survivors who lit a candle had a personal connection with Kristallnacht.
"Kristallnacht marks a serious turning point in Nazi Germany," said Joshua Kramer, co-chair of the event committee and a member of CJN Tomorrow, a Cleveland Jewish News initiative to grow the voice of up-and-coming leaders in Northeast Ohio, during his opening remarks. "It marks the moment that the persecution of Jews transitioned from economic, political and social persecution to physical and murderous persecution."
The program was presented by the Jewish Federation of Cleveland and Kol Israel Foundation.
The six Holocaust survivors who lit memorial candles were George Kronenberg, Harold Koppel, Lissa Keller, Walter Wertheim, Harry J. Abraham and Marlit Polsky. When each one was called up to light a candle, one of their descendants told their story of surviving Kristallnacht and the Holocaust as children.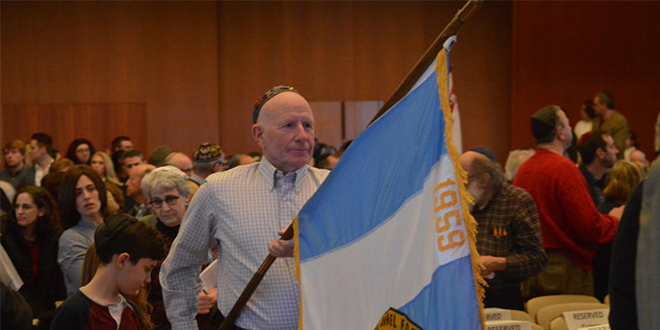 U.S. Army veteran James Malatesta, who was a liberator and fought in the Battle of the Bulge, lit the liberator candle. The final candle was lit by Yuval Ganot, a third-generation survivor, and her father Azrikam Ganot of Israel in memory of children who died in the Holocaust.
Muriel Weber, the president of the Kol Israel Foundation and chairperson of membership and community outreach, told the attendees of Kol Israel's initiative to video record the stories of Holocaust survivors to have for future generations.
"We know that in a few years we will face a world where there will no longer be eyewitness survivors of the Holocaust who can tell their own stories," she said. "But I want to ensure everyone that Kol Israel is taking the steps needed so that those stories will live on."
The night ended with the HaZamir Cleveland chapter singing "Song of the Partisans," prayer, the singing of "Hatikva" and a recession of the colors by Jewish war veterans of the U.S.
---
Related Items