03/26/2018
Celebrating Israel at 70 with "70 Facts about Israel"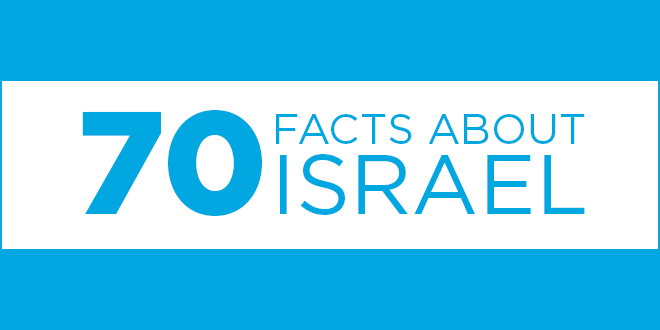 Want to impress your friends with your trivia skills? Check out these 70 facts about Israel, in celebration of Israel's milestone anniversary of independence!
Want to help us celebrate Israel's 70th birthday? Visit our Israel at 70 web page to see all of our upcoming events!
1. Over 2,000 Clevelanders gather each year to celebrate Yom Ha'atzmaut, Israel's Independence Day - we stand with Israel
2. Over a million notes and prayers are placed in the Western Wall each year, twice a year these notes are collected (but never read) and buried on the Mount of Olives.
3. In just a 70-year history, three Israeli Prime Ministers have won the Nobel Peace Prize.
4. Israel developed the first ever USB flash drive.
5. Israel has two official languages: Hebrew and Arabic.
6. Israel is the world leader in the use of solar energy per capita with 85% of the households today using solar thermal systems. This has saved the country an estimated 2 million barrels of oil a year.
7. The game Rummikub, which has been the top-selling game in 6 countries, was invented in Israel.
8. Former Cleveland Cavaliers forward Omri Casspi was the first Israeli to play for the NBA.
9. Israel produces 93% of the food it eats, requiring very few ingredients to be imported and helping themselves to be a self-sustaining country.
10. The glue on Israeli stamps is kosher.
11. Because of Bamba, an Israeli peanut butter flavored snack, babies in Israel are 10 times less likely to suffer from peanut allergies.
12. In 1984 and 1991, Israel airlifted a total of 22,000 Ethiopian Jews at risk in Ethiopia to safety in Israel.
13. When Golda Meir was elected Prime Minister of Israel in 1969, she became the world's second elected female leader of a country in modern times.
14. Relative to its population, Israel is the largest immigrant-absorbing nation on earth. Immigrants come in search of democracy, religious freedom, and economic opportunity.
15. Israel has the third highest rate of entrepreneurship and start-up companies in the world - and the highest rate among women and among people over 55 - in the world.
16. Mighty Morphin' Power Rangers was produced by Haim Saban, an Israeli whose family fled persecution in Egypt.
17. Israel was the first nation in the world to adopt the Kimberly process, an international standard that certifies diamonds as "conflict free."
18. According to industry officials, Israel designed the airline industry's most impenetrable flight security, which is being used as a model by most other countries.
19. Israel is the only country in the world that entered the 21st century with a net gain in its number of trees.
20. The highest concentration of hi-tech companies in the world (apart from Silicon Valley) are in Israel, making it a leader in future technology.
21. Most of the Windows operating system was developed by Microsoft-Israel.
22. Israel has more museums per capita than any other country.
23. Next time you leave a message after the beep, remind yourself that voice mail technology was developed in Israel.
24. Israeli researchers developed a device that helps the heart pump blood, an innovation that will save lives among those with congestive heart failure.
25 . In response to their serious water shortages, Israeli engineers developed a revolutionary irrigation system to minimize the amount of water used to grow crops.
26. The paper money in Israel has brail on them so blind people can identify them.
27. Each year, more than 500 Clevelanders visit our partner city of Beit Shean.
28. Christopher Reeve called Israel the "world center" for research on paralysis treatment.
29. An Israeli-developed algorithm enabled NASA to transmit images from Mars.
30. Each year the Federation helps send between 450-550 young adults from Cleveland on Israel travel experiences such as Birthright Israel, Onward Israel and Masa Israel.
31. The made-in-Israel cable TV channel for dogs (yes FOR dogs!) went live in Israel, following a highly successful six-month pilot in San Diego, California.
32. There are over 150 nature reserves and 65 national parks in Israel.
33. Israel is only 1/6 of 1% of the landmass of the Middle East.
34. Over 140 countries have benefited from Israeli humanitarian aid.
35. Albert Einstein was one of the founders of the Hebrew University of Jerusalem.
36. An Israeli inventor made a system to help dyslexic readers. This system is currently being used all over the US and Europe.
37. Jewish and Arab students at Hebrew University participate in the 'Billy Crystal Workshops - Peace Through the Performing Arts' project.
38. A 'super-sensor' invented in Israel has been installed in Sealy mattresses to control snoring problems.
39. More than 85% of solid waste in Israel is treated in an environmentally sound manner.
40. An Israeli company has developed sensors that pick up signs of stress in plants, knowing this has made plant growth more successful.
41. In 2017, over 3.6 million people visited Israel for everything from business, to vacation, to historical discovery.
42. Israel's stem-cell technology is being used in the U.S. to regenerate heart tissue.
43. The Dead Sea in Israel is the lowest point on earth.
44. Israeli scientists have discovered how to turn mismatched cells into cancer fighters.
45. Jericho is the oldest continuously inhabited town in the world.
46. Israel makes up only 2% of the population of the Middle East.
47. Hebrew is the only case of a dead national language being revived. Now it is the native language of millions.
48. The look of the Israeli flag is based on the tallit (prayer shawl.)
49. Israel engineered the cherry tomato.
50. Tel Aviv has been a city for over 100 years. The city was founded in 1909 by a tiny group of Jews who had been living in nearby Jaffa.
51. The Carmelit, Haifa's subway system, holds the world record for smallest subway system in the world.
52. Israel has four holy cities: Jerusalem, Hebron, Safed, and Tiberias. These thriving cities are known for their connection to Jewish text and tradition.
53. In U.S. geography terms, Israel is slightly bigger than Massachusetts.
54. Jews have lived continuously in the land of Israel for thousands of years. Modern day immigration to Israel began in the 1820s providing a safe haven for Jews as they fled anti-Semitism and persecution throughout the 19th and 20th centuries
55. Henrietta Szold, founder of Hadassah, immigrated to Palestine in 1933 and helped run Youth Aliyah, bringing more than 30,000 Jewish children to Palestine from Nazi Europe.
56. In 1991, during the Gulf War, the Israel Philharmonic Orchestra played a concert wearing gas masks as scud missiles fell on Tel Aviv.
57. Many of the bus stops in busy areas have Tzedakah (charity) boxes.
58.The topography, and therefore the weather, of Israel is so varied that you can easily surf and ski on the same day without travelling far.
59. Israel is a great place to get a fast food fix. McDonalds, Burger King, Kentucky Fried Chicken and Pizza Hut are all kosher there. (Did you know there are 40 kosher McDonald's restaurants in Israel?!)
60. Very few places in the world have the cultural diversity of Israel. In one week you often see festivals and ceremonies from many different cultures and religions.
61. A gene recently discovered by Israeli researchers may help find a drug therapy for patients with liver disease.
62. The Biblical Zoo in Jerusalem collects and takes care of wildlife mentioned in the Bible, reintroducing it to the present day Land of Israel.
63. Israeli researchers may have developed a test that can "sniff out" stomach cancer. The test is based on existing "electronic nose" technology. According to the researchers, cancerous molecules have a specific smell that can be identified using this electronic nose.
64. The cell phone was developed in Israel by Motorola.
65. The Mount of Olives in Jerusalem is the world's oldest continuously used cemetery. The Mount has been used as a Jewish cemetery for over 3,000 years and holds approximately 150,000 graves, making it central in the tradition of Jewish cemeteries.
66. Apart from the US and Canada, Israel has the largest number of NASDAQ listed companies.
67. There are 12,000 acres of vineyards in Israel.
68. Microsoft developed the first free computer antivirus system (MSAV) in 1993.
69. Israelis, per capita, are the world's biggest consumers of fruits and vegetables.
70. On May 14, 1948, David Ben-Gurion read the Declaration of Independence in Tel Aviv, officially declaring the modern-day state of Israel.