02/05/2020
73rd Annual Meeting of the Community Relations Committee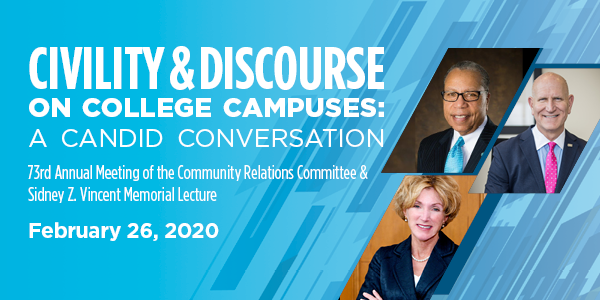 On Wednesday, February 26, the Jewish Federation of Cleveland will host a panel discussion on civility and discourse on college campuses at the 73rd Annual Meeting of the Federation's Community Relations Committee (CRC) and Sidney Z. Vincent Memorial Lecture.
Panelists include Dr. Alex Johnson, president of Cuyahoga Community College (Tri-C); Harlan Sands, president of Cleveland State University; and Barbara Snyder, president of Case Western Reserve University. Federation Board Chair J. David Heller will serve as the moderator for this event.
"Perhaps no time in our modern history has the need for civil discourse been greater," said Gregg Levine, chair of Federation's CRC. "We are thrilled to bring together these highly respected leaders in education for a candid discussion about ways can bridge divides and build collaborative relationships by improving the level of discourse taking place on campuses across the country."
The 73rd Annual Meeting of the Community Relations Committee is free and open to the public. The program begins at 7:00 PM.
Cuyahoga Community College
Corporate College East Campus
4400 Richmond Rd
Warrensville Heights, OH 44128
Click here to register. For more information on the CRC, contact Debbie Klein at dklein@jcfcleve.org or 216-593-2834.