08/14/2018
Erika Rudin-Luria to Succeed Stephen H. Hoffman as President of the Jewish Federation of Cleveland
Rudin-Luria Becomes Only Fifth President in Organization's 115-year History
Hoffman to Retire as President on December 31, 2018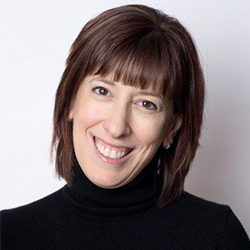 The Jewish Federation of Cleveland today announced that Erika Rudin-Luria has been named President of the organization, effective January 1, 2019. Rudin-Luria (44) the organization's Senior Vice President and Chief Strategy Officer, succeeds Stephen H. Hoffman (67), who will retire from this position at year end. She becomes only the fifth person to hold this title in the Federation's 115-year history. Today's action is in line with the leadership transition plan the Federation announced on February 15, 2018.
"After conducting a thorough, national search, Erika was the clear and enthusiastic choice to lead the Federation into the next chapter of its storied history," said Board Chair Gary L. Gross. "She is a seasoned leader, who possesses a keen insight into the challenges our community faces and the strategic thinking necessary to address them. The Board and I have no doubt that the organization will be in exceptionally skilled hands as we move with our integrated and inclusive growth plan."
In her current role, Rudin-Luria oversees the Federation's strategic planning, community development, allocations, governance, and marketing functions. In this capacity, she provides the vision and direction necessary to drive the organization's planning and research agendas, as well as to develop solutions for evolving community needs. Over the years, she has held a wide-range of positions of increasing responsibility across the organization. Rudin-Luria joined the Federation in 2001 as a Supporting Foundations Manager, Endowment and Foundations. She began her career as a Project Coordinator with UJA-Federation of New York, the largest local philanthropy in the world.
"There is no greater honor or privilege than serving as the president of the Jewish Federation of Cleveland," said Rudin-Luria. "Cleveland is one of the strongest and most passionate Jewish communities in the world. Thanks to the city's deep roots and strong civic pride, we are a community with tremendous opportunities for continued growth. I am excited to work even more closely with volunteer leadership, Federation staff, and our community partners to continue to create innovative solutions that impact people's lives in Cleveland and throughout the world."
Rudin-Luria received her Bachelor of Arts in Politics from Brandeis University. She earned her Masters of Science in Social Work from Columbia University's School of Social Work and her Masters of Arts in Judaic Studies from the Jewish Theological Seminary of America. She and her husband, Rabbi Hal Rudin-Luria, live in Pepper Pike, Ohio with their two sons, Jacob and Ari.
"On behalf of the Board, I would like to express again our deepest appreciation to Steve for his selfless service to the local and global Jewish community," said Gross. "Without question, his leadership has had an immeasurable and indelible positive impact on the Jewish community in Cleveland, Israel, and around the world."
"It has been my distinct honor to have served the Jewish community in this role for close to 35 years," said Hoffman. "I'm proud to have played a part in strengthening the meaningful impact the Jewish Federation of Cleveland has had both here and abroad over the years. It is extremely gratifying to see our volunteer leadership recognize the strength of the professional staff we have nurtured in Cleveland. Erika is absolutely the ideal person to build upon the foundation my predecessors and I helped lay in Jewish Cleveland. I look forward to working closely with Gary and her over the coming months to ensure a smooth and seamless transition."