01/11/2022
Federation Names Mozelle T. Jackson Chief Financial Officer Effective July 1
Jackson succeeds Barry Reis who, as previously announced, will assume a new role within organization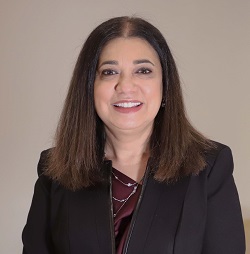 The Jewish Federation of Cleveland today announced that Mozelle T. Jackson has been named its new chief financial officer, effective July 1, 2022. She succeeds Barry Reis, who previously announced his intention to take on a new role within the organization.
Jackson (55) comes to Federation from the Make A Wish Foundation of America – the world's leading children's wish-granting organization – where she's served as its vice president, chief financial officer, and treasurer since 2020. During her tenure, she oversaw a 46-person team and, among other things, helped improve the organization's financial structure, while strengthening its capacity for future growth. Prior to that, she served as the vice president of global finance for Diebold Nixdorf, Inc., a publicly traded financial and retail technology company with worldwide sales of $4.5 billion, after spending eight years as the executive vice president, chief financial officer, and chief administrative officer of Cavaliers Holdings, LLC, a privately held sports and entertainment company that includes the Cleveland Cavaliers and Rocket Mortgage Fieldhouse. She began her career in 1988 as a senior auditor at the former accounting firm of Arthur Andersen LLP.
"We are thrilled to have Mozelle join our team in this critical role," said Erika B. Rudin-Luria, president. "Throughout her diverse and distinguished career, she has consistently combined her superb technical skills and business savvy with a thoughtful and motivating leadership style that brings out the best in her colleagues."
"The Federation has held a special place for my family and me since we arrived in the United States and settled in Cleveland in 1970," said Jackson. "It is an honor to be able to give back to our community in this capacity. I look forward to working with the talented team at Federation and its dedicated community leaders to help keep Jewish Cleveland strong."
In order to ensure a smooth and seamless transition, Jackson will start on March 1, 2022 so that she can have time to work with Reis directly before he takes on his new role. A year ago, the Federation announced Reis' decision to step down as its chief financial officer – a position he's held since 1991 – and assume a new role within the organization. As a special advisor to Rudin-Luria, he will oversee special projects.
Jackson and her husband live in Solon, Ohio with their two children. She currently serves on the boards of The Achievement Centers for Children and the Cuyahoga County Board of Developmental Disabilities, as well as acts as an advisor to the Cleveland Foundation's Audit Committee. Jackson received her bachelor's degree in accountancy from Cleveland State University in 1988 and is a certified public accountant through the State of Ohio.