10/19/2020
Federation's Super Sunday raises $979,315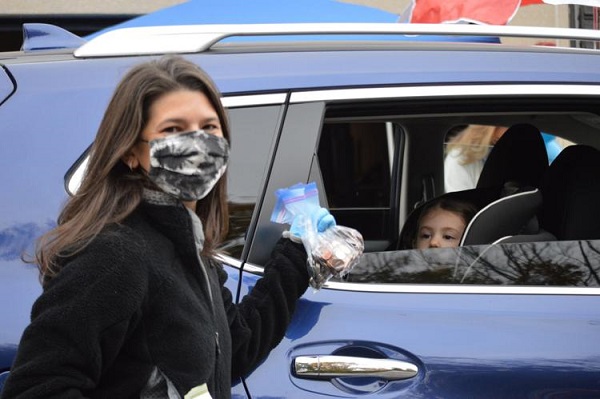 Article reprinted with permission from Cleveland Jewish News
by JANE KAUFMAN | STAFF REPORTER
In its first virtual Super Sunday, the Jewish Federation of Cleveland raised $979,315 from 900 gifts for its Campaign for Jewish Needs on Oct. 18.
"This campaign does not happen without everyone who is on this call," said Bradley Sherman, 2021 Campaign for Jewish Needs chair. "You showed why this Jewish community is here for good. We're tackling this once in a generation challenge and we're doing it together."
In 2019, Super Sunday raised $1,089,684 from 1,401 donors.
Two matches combined, taken together, tripled the impact of pledges from some donors.
The KeyBank Match doubled the contribution from new donors or increased donations made on Oct. 18.
During the life of the campaign, the Jack, Joseph and Morton Mandel Foundation is matching new or increased donations with an equal contribution to the Federation's Coronavirus Emergency Relief Fund.
In her morning community briefing, Federation President Erika B. Rudin-Luria spoke of the escalating need for services that the COVID-19 pandemic has fueled.
Donning the identical T-shirt that many staffers and volunteers wore, emblazoned with "Jewish Federation of Cleveland Here for Good," Rudin-Luria said attendance at the morning briefing was the highest ever, and welcomed those who were present from Florida, Israel and St. Petersburg, Russia, a city whose Jewish community the Federation supports.
At 9:30 a.m. there were 100 Zoom participants logged in on the call, with the human tally likely being much higher.
"I'm blown both away both by how interconnected we all are but also by the resilience that all of you have shown," Rudin-Luria told those on the call.
She told stories of how Federation's agencies have helped people in need during COVID, including those with mental health issues and those facing financial uncertainty.
"We see that a lot of people are very isolated right now," she said, among them empty nesters. "Some of them were even our best volunteers. ... Now they're not able to get out and do their own grocery shopping or see their friends."
In response to the child of a couple who was isolated and bored, she said the Federation and Jewish agencies connected them with home-delivered meal delivery, taught their daughter to use Instacart and told them about "programs that they're having on line such as zoom bingo and current event discussions and book groups and happy hours. This was a great connection."
She also mentioned taking a call from a woman who was in fear of domestic violence.
"We've seen through COVID, a rise and escalation in domestic violence," Rudin-Luria said. "We've seen a rise in the need for mental health interventions, both at the lighter interventions as well as the deeper-end interventions. We've seen an increase in calls related to Alzheimer's and dementia because people are around their family members, so they can't not see that their spouse or father or mother aren't remembering what's happening."
Close to 500 people volunteered from home at this year's Super Sunday, about half the number that volunteered in 2019 at the Federation.
Sherman said most volunteers solicited this year with a computer-assisted system that streamlined the pledge card system. Some wrote thank-you notes for pledges or performed other tasks.
"We've probably changed fundamentally how Super Sunday will be done in the future," Sherman told the Cleveland Jewish News. "We raised $122,000 an hour this year, which compared to last year was about $108,000, $109,000 an hour. And that happened at the beginning of the campaign when there were a lot more cards to close. This (year) we're five weeks into the campaign."
He said other federations have already reached out to Cleveland's IT staff requesting information about how the pledge system was set up.
"We're kind of on the leading edge of this format," he said.
Because Super Sunday this year came midway through the campaign, rather than at the beginning, Sherman said he was not disappointed by the fact that less was raised since many large donors have already made their gifts.
"Just a real testament to our community and to the federation and to everybody who just worked their tails off today," he said. "We're significantly ahead of where we were last year."
Sherman said he hopes to finish October with more strong fundraising.
He said he spent the day going house to house and logging into Zoom to thank volunteers in different cohorts as the daylong virtual event took place.
"It was a good day for the community," he said. "It's been a wild ride."
The Cleveland Jewish News is a sponsor of Super Sunday.